Highlands Halloween: New Thrills, Old Tradition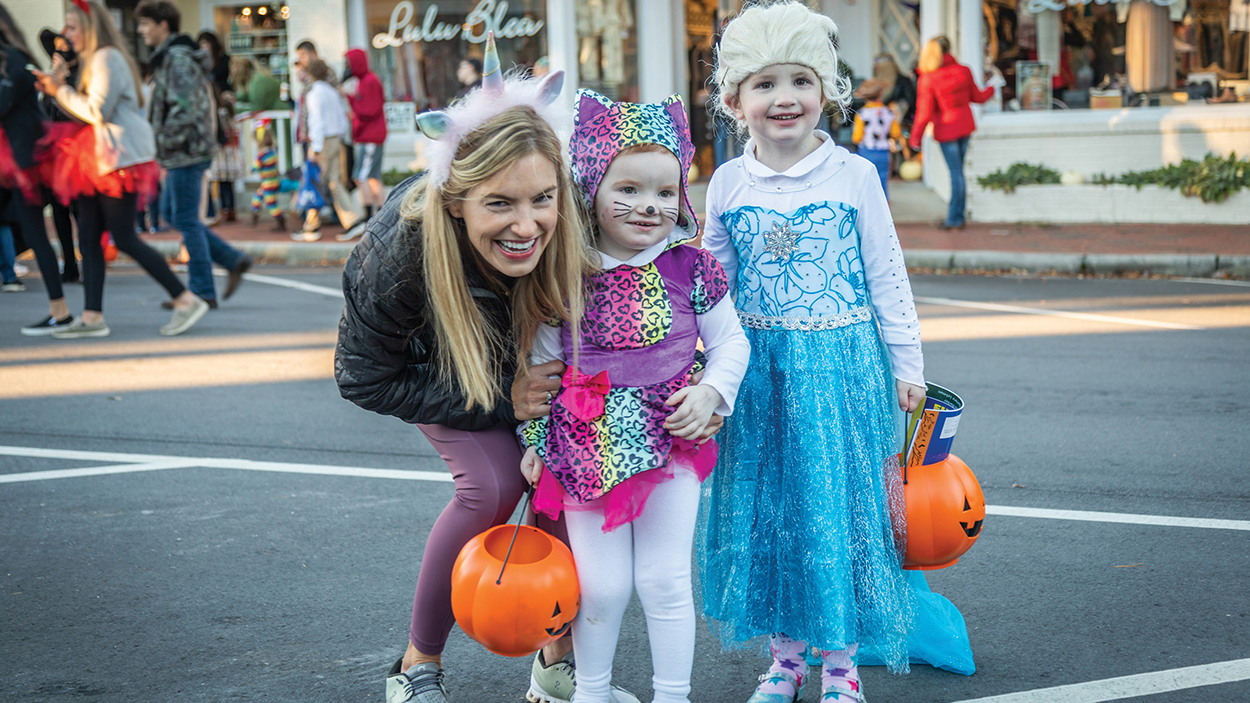 Written By: Luke Osteen | Issue: October 2023
Everyone (the living and the recently departed) is invited to stroll Main Street for Highlands' Halloween on Main, 6:00 P.M. Tuesday, October 31.
---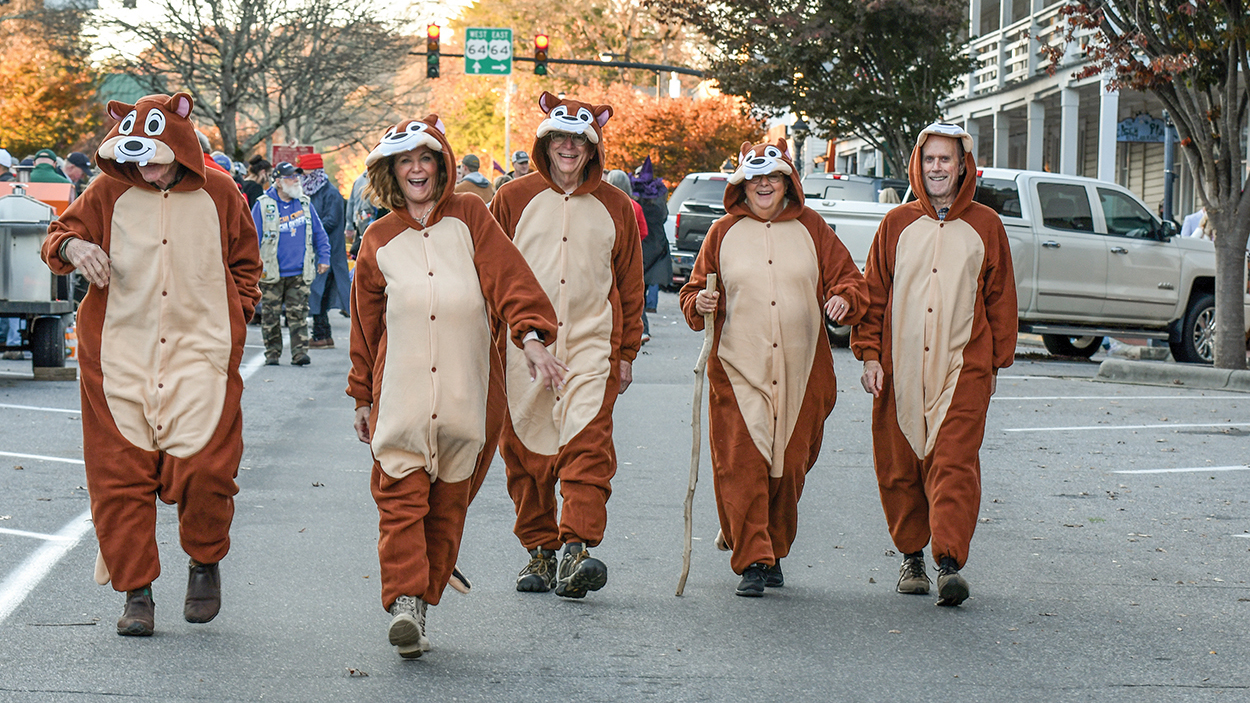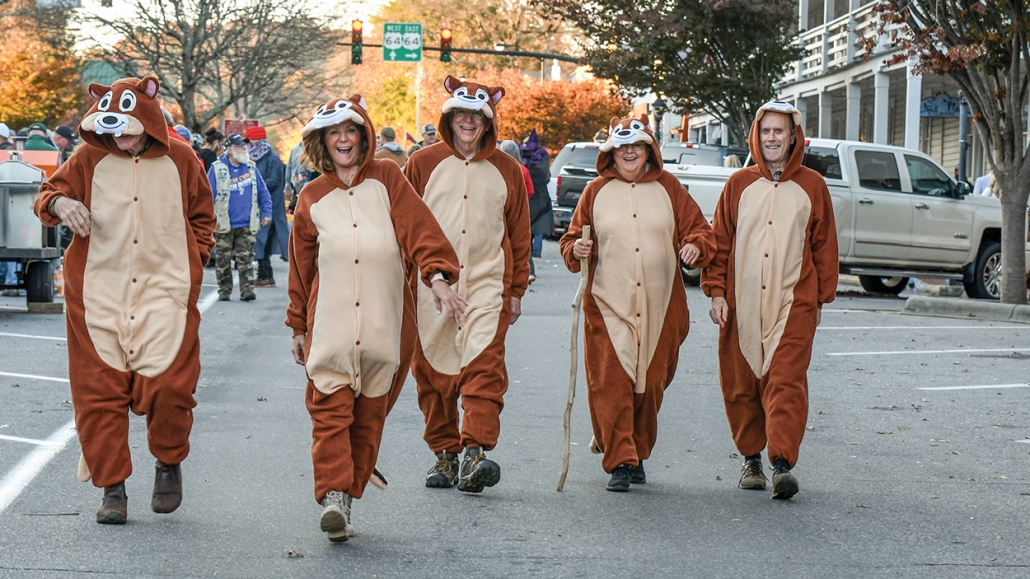 The Laurel's been promoting Highlands' unique downtown Halloween celebration since our inception in 2002.
In fact, you could say that we've been selling its charms since even before there was a Laurel.
That's because the experience was first formulated in 1992 by Katherine Farmer, Selwyn Chalker, and me. 
We were looking for a safe way for local kids to trick or treat in a central location, rather than going down dark, sparsely inhabited neighborhoods looking for homes that were participating. 
(For me, it was personal: my four-year-old Alex and I were nearly flattened the previous Halloween by a pickup going at least 35 as we shambled down the unlit road.)
Selwyn suggested that the Highlands Chamber of Commerce could marshal downtown store owners and local civic groups and nonprofits and churches into handing out candy from the Farmers Market to Town Square, even extending the fun up the hill on Fourth Street.
It was an exhilarating idea, and Katherine believed that the community would rally around this concept, since Highlands has always been blessed with an indefatigable spirit. (After all, who but dreamers and fabulists would have signed up for Kelsey and Hutchinson's out-of-left-field scheme in the first place?) 
Well, Selwyn's wisdom and Katherine's faith in her neighbors proved as sure and sweet as a fistful of candy corn. 
There were a few hiccups, but that first Spooky Night was an immediate success.
Which brings us to 2023 and Main Street Trick or Treat's 31st incarnation. 
And somehow, even after all these years, the Highlands Chamber of Commerce/Visit Highlands, NC has managed to wring a passel of new thrills out of this shivery, silly night.
Creating a safe, fun experience for ghosts and goblins of all ages, Highlands' Main Street (from Second to Fifth Streets) will be open to pedestrians for Halloween on Main from 6:00 to 8:00 P.M. on Tuesday, October 31. 
Participating merchants will distribute candy, some of which is purchased by the Highlands Chamber of Commerce/Visit Highlands, NC and delivered to them by the Interact Club.
Musical performances include the Foxfire Boys in front of Reeves Hardware, High Five in front of Berkshire Hathaway and DJ Mike Murphy next to Kilwin's.
The Kid's Zone will be on Fourth Street with an inflatable slide and an obstacle course, provided by the Highlands School PTO and a kid friendly Haunted House manned by the Highlands Police Department. Popcorn will be provided by the Highlands School Booster Club, hot chocolate and apple cider will be distributed by Big Brothers Big Sisters of the Plateau and volunteers from both rotary organizations, Mountain Top and Highlands, will grill and give away hot dogs. Additional food and drink will be supplied by the Highlands Chamber of Commerce/Visit Highlands, NC, and all civic/nonprofit organizations will collect donations to be used in the community for their respective causes as they manage distribution of the items.
"Halloween on Main is an event where residents, businesses, and visitors of all ages come together." says Chamber of Commerce Executive Director Kaye McHan. "It is a cherished tradition here in Highlands and one we plan to continue year after year."
If you're reading this and you're lamenting the fact that you don't have a young person to bring to this party, don't despair! You're invited, too! Put together a fun costume, invite a clutch of friends and stroll the streets with revelers big and small. 
All events are free and open to the public. Dogs are welcome but should be leashed.
For more information on this happy, silly, scary night, visit highlandschamber.org or call the Welcome Center
at (828) 526-2112.
---
---