Welcome October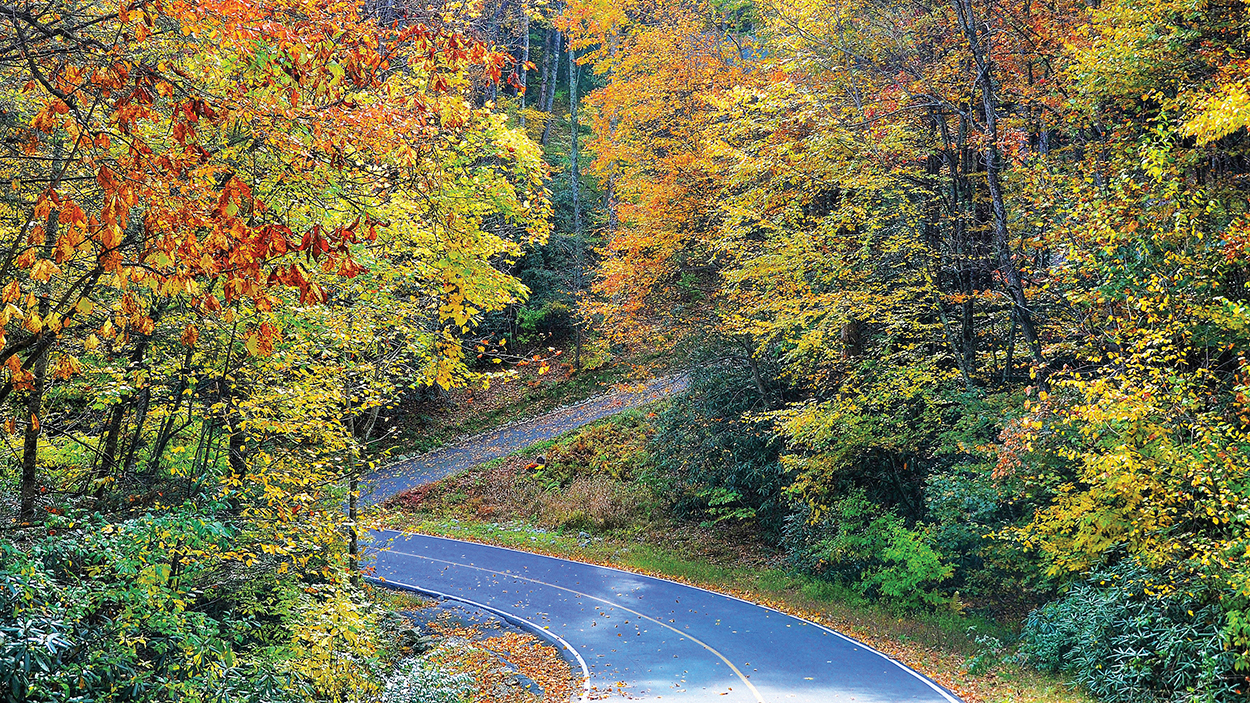 Written By: William McReynolds - Highlands Plateau Audubon Society | Issue: 2021/10 – October | Photograph By: William McReynolds
There's nothing sleepy about this most glorious of months.
---
October is a harvest month. 
The chief crop is indigenous beauty. Having sowed our hopes for a glorious leaf season, we now reap the beauty thereof: the colors of the towering leaves and lingering summer flowers, fall fruit and vegetables, fresh air rustling through the trees, and the spectacle of the birds.
Autumn settles softly upon the forest from the top down. First are barely perceptible changes in the treetops and surroundings that quicken our senses.  The flora is in the afterglow of spring and summer, the reds deepen; the colors become more saturated, more sincere. Beauty overtakes pretty in autumn.
All this grace and glory call for parties, seasonal festivals. Fall festivals appear across North Carolina in October, in many townships and counties, celebrating everything from wooly worms to indie films. 
If you are willing to have an overnight you can attend one of the larger ones with parades, a midway, hundreds of vendors, local food galore, live music, contests, cloggers, and local arts, crafts, and culture in full display. Carolina regional culture is a beauty to behold. Full of grace and glory. And fun. 
Our local Oktoberfests are second to none. These make good day trips. First, the Colorfest in Dillsboro, appropriately named, is October 2, and features Front Street lined with artisan booths featuring local art, food and live music. Dillsboro offers the quaint beauty of a fantastic but real train station on the Smoky Mountain Railroad. Late afternoon and early evening are good times. You might see a steam locomotive all fired up. 
Also on October 2, your choice, is Farm City Day in Hendersonville. This fall festival dates back to 1955 and features modern and antique farm equipment as well as a petting zoo, fishing pond, games and more. These farmers invest hundreds of thousands of dollars in their trucks and lifts and combines, they are proud to be successful farmers or dirt haulers who can buy these huge trucks and take pride in showing them off. I have seen a lavender monster hauler. This is at Jackson Park only on this day from 10 am to 4 pm.
The Cashiers Valley Leaf Festival is October 8-10 at the Village Green. This festival features 75 artists and vendors, stage music, and food in a gorgeous natural park. The quality of the art is quite good. There is a juried art show and the crowd is friendly.  
October 16 is the 34th Annual Apple Harvest Festival in Waynesville. This is big: 200 booths, arts, crafts, food music, cloggers, apple food galore. 
And finally, Saturday, October 30 is the Heart of Brevard Annual Halloweenfest in downtown Brevard. This is Norman Rockwell's America. There is a parade, no less, with vendors and music but the real feature is people, everyday people, children and adults, in Halloween costumes. Expect to see lots of white squirrel costumes. What a joy! Join in. Don a costume yourself.
October is a fine arrival. Beauty abounds in October. 
---
---