Trim our Town | Highlands NC
Written By: Deena Bouknight | Issue: 2021/12 – December | Photograph By: Susan Renfro
Trim Our Town is an ardent way to bring the Jolly to downtown Highlands.
---
The downtown Christmas season in Highlands officially began November 27 with the lighting of the Christmas tree and lights at Kelsey-Hutchinson Founders Park. However, another important initiative launched that day was Trim Our Town.
Said Kaye McHan, director of the Highlands Chamber of Commerce, "The event is a storefront decorating contest and is a People's Choice Award! Voters have a chance to win a $200 gift card by participating."
The goal of Trim Our Town is to encourage residents and visitors to patronize the many boutiques, restaurants, shops, etc., throughout Highlands. Each participating Trim Our Town business will have a distinct poster displayed prominently. 
Officially "founded" in 1875, Highlands has been a place not only of refuge and restoration, but also to discover locally crafted items and exotic goods from afar. Although first inhabited primarily by hardy and industrious tradesmen, many of whom were of Scotch-Irish descent, people from all over the country and the world have set up shop in Highlands.
In fact, there are dozens of unique businesses throughout quaint Highlands, and experiencing the creativity applied to entrances and windows is a delight for young and old alike. There are whimsical scenes, spiritual images, colorful hues, natural settings, and much, much more. 
"If you're looking for a present for your family, just want to make them happy, or just want to make yourself happy, the stores are decked and full of the most endearing gifts for everyone on your holiday shopping list," said McHan. "Spend the day shopping, lunching (with a special holiday drink),  and end your day with ice skating. It's holiday bliss!"
While enjoying Trim Our Town, patrons' children and grandchildren can drop a letter to the North Pole in Santa and Mrs. Claus's special mailbox at Kelsey-Hutchinson Founders Park this year. His mailing address is 123 Elf Road, North Pole 88888. Plus, there is a holiday photo opportunity at the park, where "elves" have decorated Santa's sleigh for the holidays. 
Trim Our Town runs through Christmas Eve, December 24.
---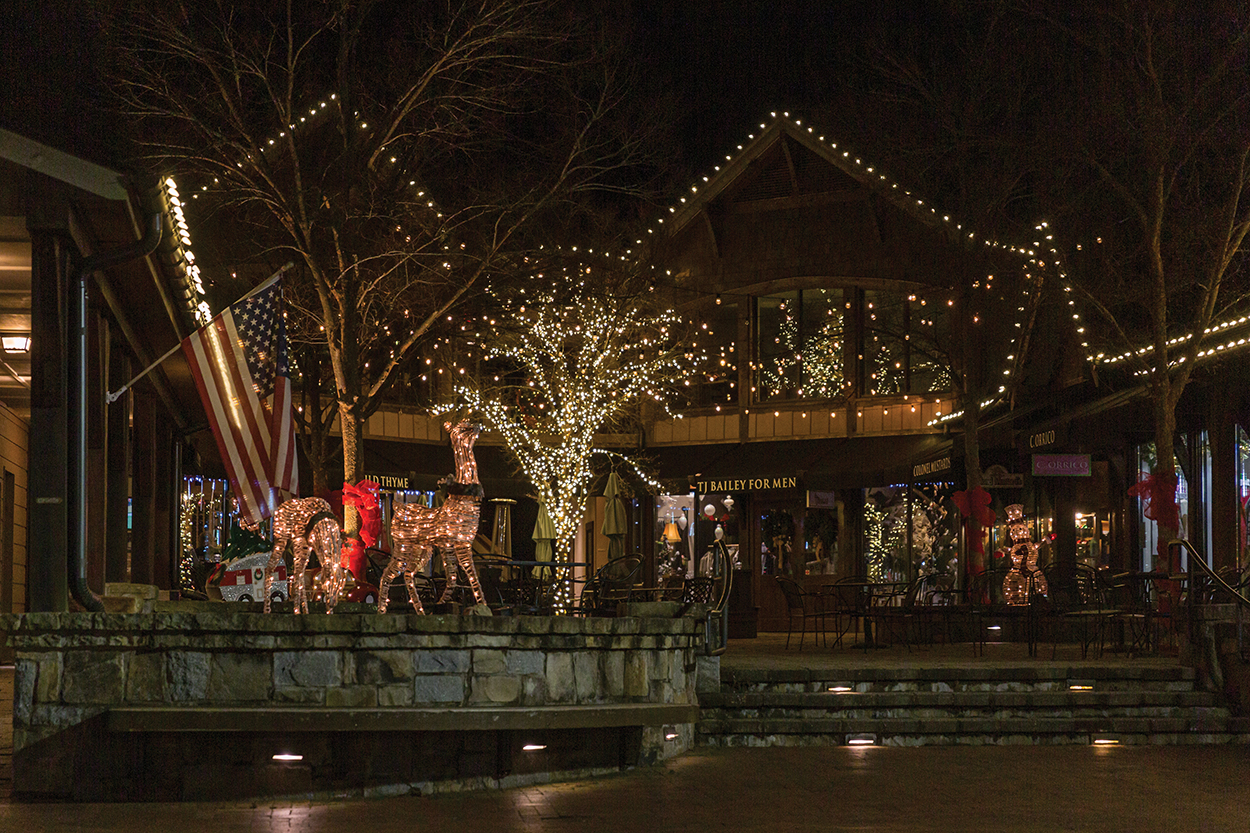 Trim our Town : Highlands NC
Vote for your favorite holiday-decorated storefront - and be in the running to win a $200 Gift card! Watch for our Trim Our Town poster at participating stores to vote...
---