Toe-Tapping Taverns: Highlands NC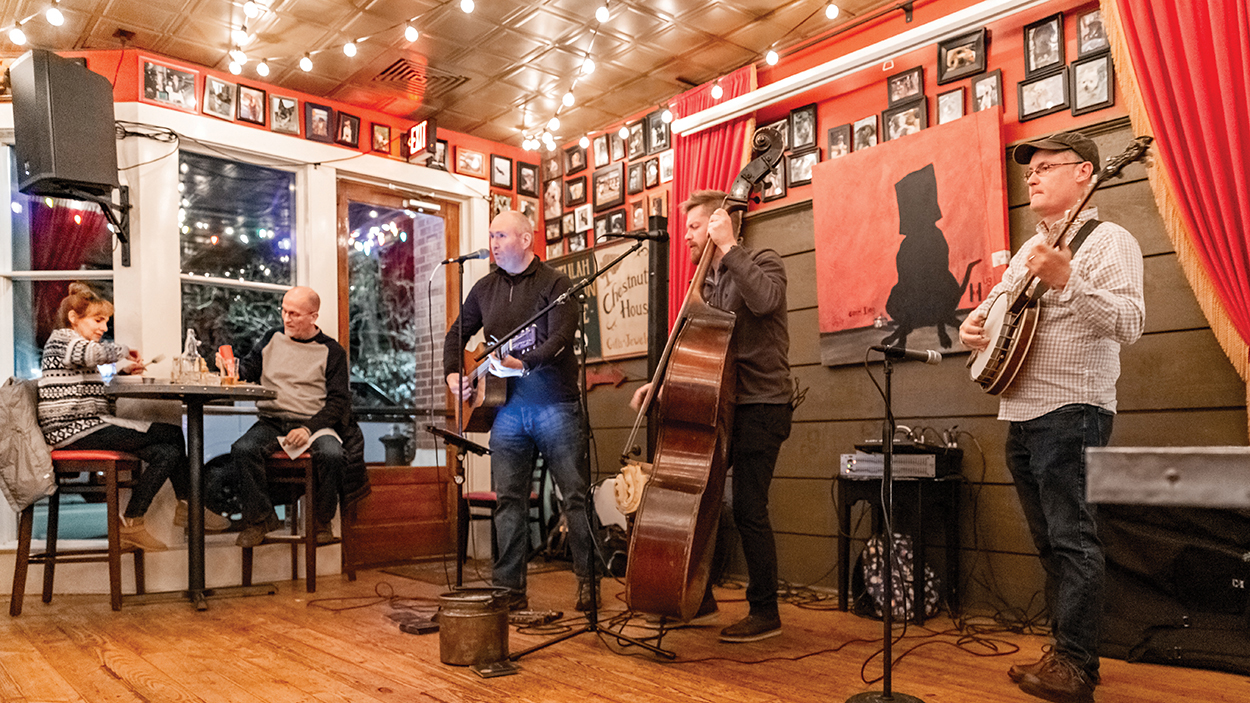 Written By: Marlene Osteen | Issue: March-2022 | Photograph By: Susan Renfro
Both the High Dive and Ugly Dog Public House are keeping the beat with their live music schedules.
---
Ugly Dog Public House is located at 294 South 4th Street and the High Dive at 476 Carolina Way in Highlands.  
These sister properties are our neighborhood's gathering places, offering warmth, comfort, good food, your favorite beverages, friendly service, and live entertainment throughout the year.  
Wednesday night in Highlands has become synonymous with live Bluegrass music thanks to the Ugly Dog and the fabulous Bluegrass band, Nitrograss.  
This acoustic bluegrass band elevates the genre to another level, featuring blistering instrumentals and rich vocal harmonies that blend into the perfect sound.  You can't hear this band just once. You'll come back again and again, and more than likely you'll find yourself hitting the dance floor to try your hand at clogging.  At the very least you'll do some enthusiastic toe tapping. 
The High Dive offers extended hours and live music throughout the year.  Currently D.J. Jimmy Shur spins the tunes on Saturday nights beginning at 9:30 P.M., so this is the spot for the night owls among us. 
Owner Kay Craig says that plans are currently being made for more live music at both locations on Fridays and Saturdays throughout the season.  Keep an eye on their Facebook and Instagram pages to keep up with the latest schedules.
The Ugly Dog may boast of the legendary Wednesday night bluegrass shows but the High Dive has its own claim to fame: Thursday Night Trivia, beginning each Thursday at 7:30 P.M.  Bring your friends and family to form your own team or join an existing team and test your knowledge in a variety of categories such as pop culture, geography, the arts, science, music, and more.  Winners are treated to prizes and the right to lord their knowledge over their friends, until next week when the fun starts again.
Whatever you do, don't miss the fun at the Ugly Dog and High Dive, and if you're at the Ugly Dog on Friday nights we suggest you order the Steak Special. You won't be disappointed.
---
---