Take a Spin on a Tube | Highlands Outpost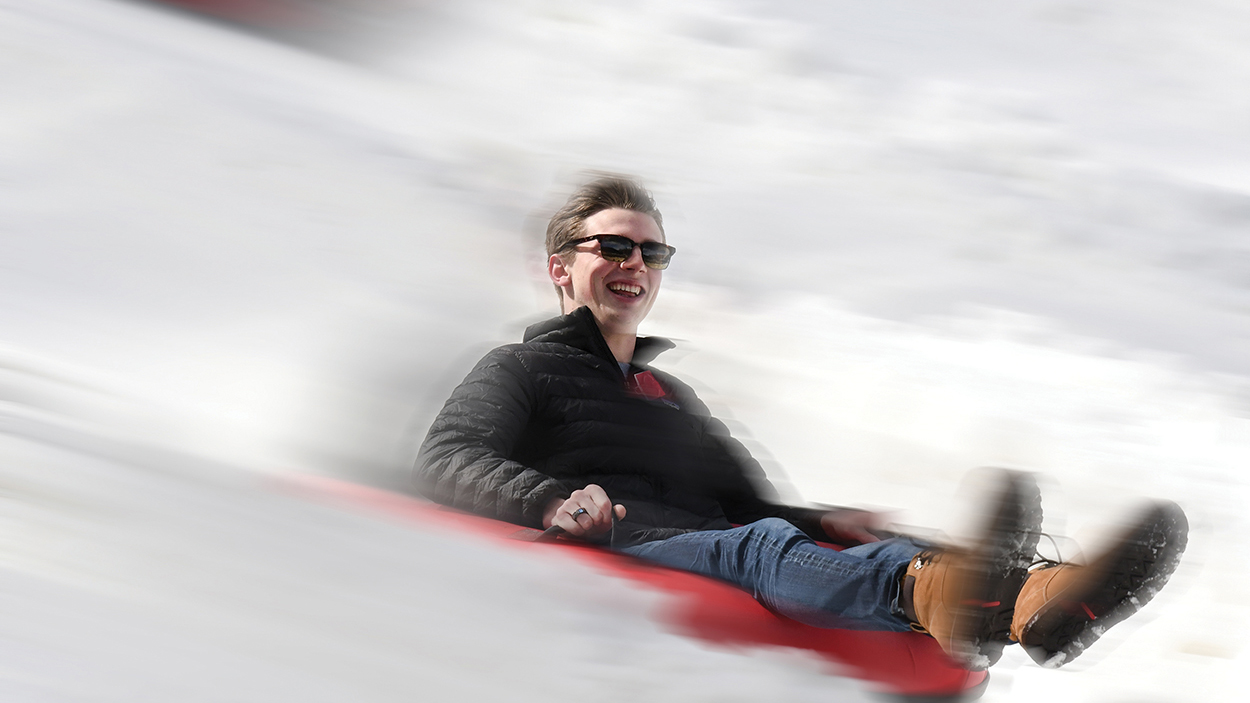 Written By: Marlene Osteen | Issue: Winter 2022
Highlands Outpost in Scaly Mountain has the tonic for whatever wintertime blahs you're trudging through – snow, speed, and a sharp burst of excitement. For hours, rates, and more details, visit highlandsoutpost.com.
---
Here's a little secret – snow tubing.   Sledding is a wonderful right of passage for many kids – all you need is snow, a hill, and a sliding device, but snow tubing at a winter sports center is sledding on steroids.   
Locally, the Alpine tradition of winter tubing, or sledding on inner tubes, was adopted by Highlands Outpost on the Dillard Road so that everyone could enjoy winter – even those folks who don't ski or snowboard.  Featured are super slick lanes with a consistent surface, thanks to snowmaking, and comfy, inflated tubes designed for a maximum rush. Best of all, and a significant difference from hometown sledding, is that you don't have to trudge back to the top of the hill.  Instead, you get pulled up the hill, sitting on the tube, and the course is groomed to make the snow fast and fun.  
Tubing at the Outpost, one of the fastest and steepest snow tubing hills in the region, is a great outdoor activity that the whole family can enjoy.  Adults and kids alike can be seen hurtling down the rolling hills, holding onto the handles on one another's tubes, whooping and laughing as they reach the bottom of the slopes.  Everyone living and visiting the Plateau in winter yearns to get outside at some point, and tubing is fun with family and friends.  
Even before the pandemic nudged more activities outdoors, the Highlands Outpost, formerly named Scaly Mountain Outdoor Center, had long been celebrating winter outdoors. The center initially opened in the 1980s as Ski Scaly, a down-home version of a ski slope during the winter months and a cabbage patch for the owners during the summer.  When it became apparent that there was not enough snow for skiing, snow tubing was introduced.  As the perfect pandemic excursion for the warmly dressed, it continues to reign as one of the best winter sports facilities in the region, churning out man-made snow when nature doesn't provide.  After all, who doesn't love the look of snow – everything pretty and white?
Participants must be 42 inches or taller and four-years old to ride and are urged to wear warm clothes as "fingers and toes get cold fast."  
Kiddie Hill/Snow Play is available for tubers 8 years and younger, and group rates are available for parties of 20 or more.    
After tubing, the Outpost Café is open from 11:00 A.M. to 4:00 P.M. daily to enjoy a hot chocolate, a beer, glass of wine, or a meal. Expanded hours are in place during holidays and select weekends.
---
---