Secrets of Snot Otters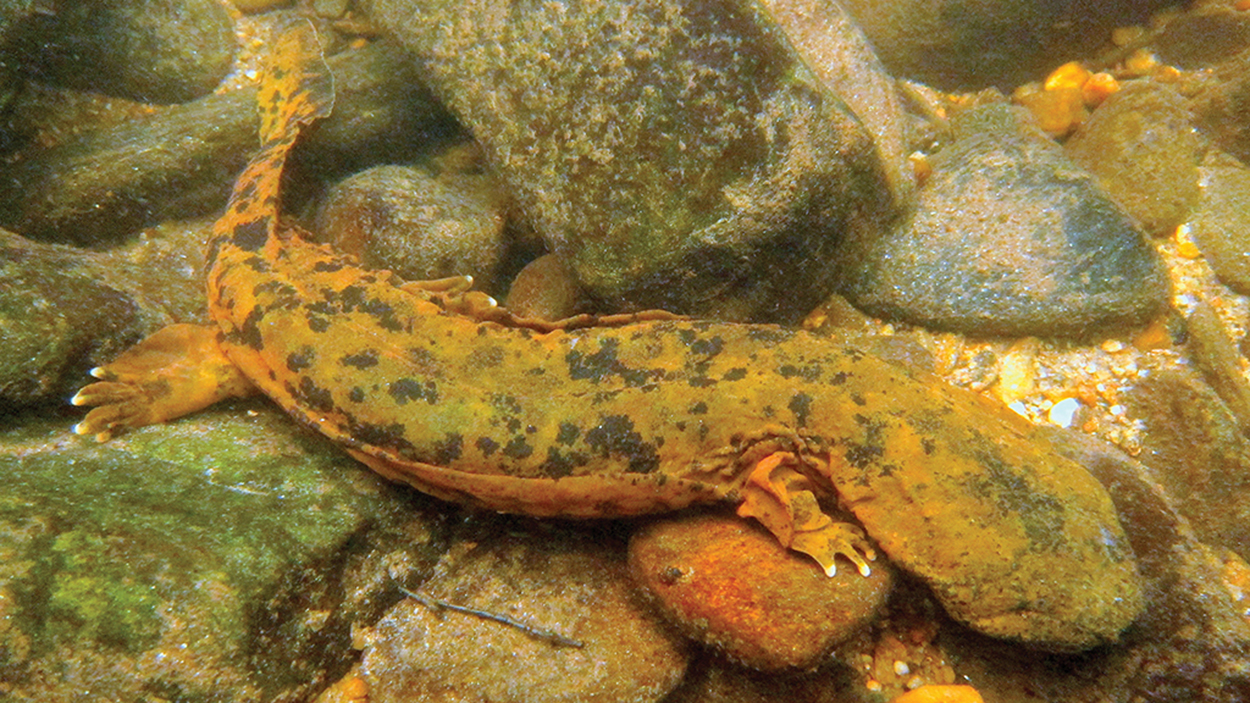 Written By: Sarah Pursel | Issue: 2021/07 – July
We'll bet you didn't know you had a neighbor that goes by the name Snot Otter. You can learn all about these misunderstood creatures at the virtual Village Nature series presentation at 5:00 P.M. July 29. Check HCLT's website or Facebook page for a zoom link to this presentation.
---
"Snot Otter," "devil dog," "lasagna lizard," "mud devil" are just a few of the colorful names used to describe one of the largest, wrinkliest, slimiest and most fascinating salamanders native to the Appalachian Mountains. Hellbenders, as they are commonly called, live in cool, clean, fast flowing streams in the Southern and Central Appalachians. Many of the streams that originate in the Highlands Cashiers Plateau flow into rivers where hellbenders are found. These gray to brown flat salamanders with heavily folded skin can reach over two feet in length as mature adults. Their appearance can be off-putting to some and historic myths that hellbenders were venomous caused many to be killed out of fear. While hellbenders are actually harmless to people, they are important predators of crayfish and other aquatic critters. But hellbenders are at risk. Like all amphibians, hellbenders breathe through their skin and require extremely clean water to survive. Water pollution, run-off, habitat disturbance, and habitat loss have all contributed to decline in hellbender populations across their range. The first step in conservation of these often misunderstood creatures is through education of their habitat, biology, and behavior. 
You can learn more about the "Secrets of Snot Otters" through our virtual Village Nature series presentation on July 29 at 5:00 P.M. as Lori Williams, Wildlife Biologist for the NC Wildlife Resources Commission, delves into the lives of these fascinating beasts. The Village Nature Series (VNS) is a monthly speaker event co-hosted by The Village Green and Highlands-Cashiers Land Trust, featuring experts in their field presenting on wildlife, habitats, conservation, and local cultural heritage. Traditionally, these events are held at The Village Green Commons in Cashiers, NC, however, this presentation will be held virtually. Check HCLT's website or Facebook page for a zoom link to this presentation. 
HCLT is a non-profit conservation organization dedicated to preserving the unique natural resources of the Highlands-Cashiers Plateau through conservation, stewardship and education. To learn more, visit www.hicashlt.org.
by Sarah Pursel, Highlands-Cashiers Land Trust
---
---