Running for Literacy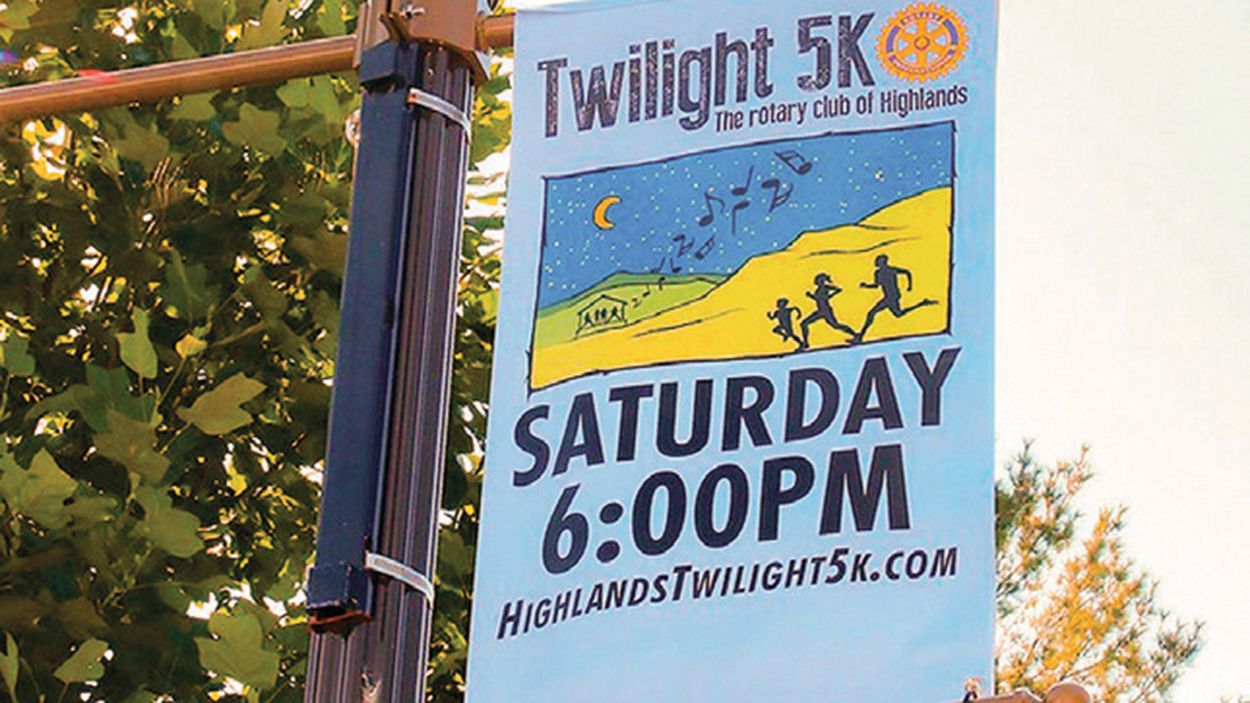 Written By: Deena Bouknight | Issue: June 2023
The Twilight 5K Race is set for August 19. If our calculations are correct, that gives you just enough time to get those abs, hamstrings, glutes and calves into springy shape.And find some comfy shoes, too!
---
Every year, the Twilight 5K provides a fun-filled community run focused on supporting a worthy nonprofit. This year, The Literacy & Learning Center in Highlands will be the beneficiary of proceeds raised by the August 19 event.
Sponsored by the Rotary Club of Highlands, the Twilight 5K "helps with awareness, provides a healthy event for our community, and brings visitors to town," pointed out one of the event's organizers, Derek Taylor, owner of Highlands Decorating Center. "We have been able to raise over $200,000 over the years for Highlands children's education efforts."
The 5K race this year begins at 6:00 P.M. at the Kelsey-Hutchinson Founders Park. While many avid runners will find the course challenging enough, beginners, stroller pushers, and walkers can tackle it without becoming overwhelmed. There are some ascents and descents along the Plateau route (we are in the mountains, after all), and participants will go by Harris Lake at Highlands Park, before doubling back to the finish line at Kelsey Hutchinson Founders Park.
Entry fees for the race will benefit The Literacy & Learning Center. Its mission is "to enrich lives and expand the knowledge of children, adults, and families through diverse educational programs that advance literacy in its many forms and to promote lifelong learning, which results in an informed and empowered community."
Registration and check-in for Twilight 5K will begin at 4:00 P.M. on Saturday the 19th, with early packet pick up the night before the race from 4:00 to 6:00 P.M. at Highlands Recreation Park. Parking will be available around Kelsey-Hutchinson Founders Park, Highlands Recreation Park, Highlands Ballfield, and Highlands Post Office.
People in the community, as well as family members and friends of participants, will often bring chairs, coolers, refreshments, and blankets to cheer everyone on – but will also stay for evening music, which starts around 7:30 P.M.
The race is also kid-friendly, with glow toys presented to children who attend. Plus, kids under 5 years of age can participate in the 5K for free and ages 5 to 9 for $10.
To sign up and for more information visit highlandstwilightrun.com. Contact Taylor at (828) 200-9226 for questions or to sponsor the event.
---
---