Ridge Tops to River Bottoms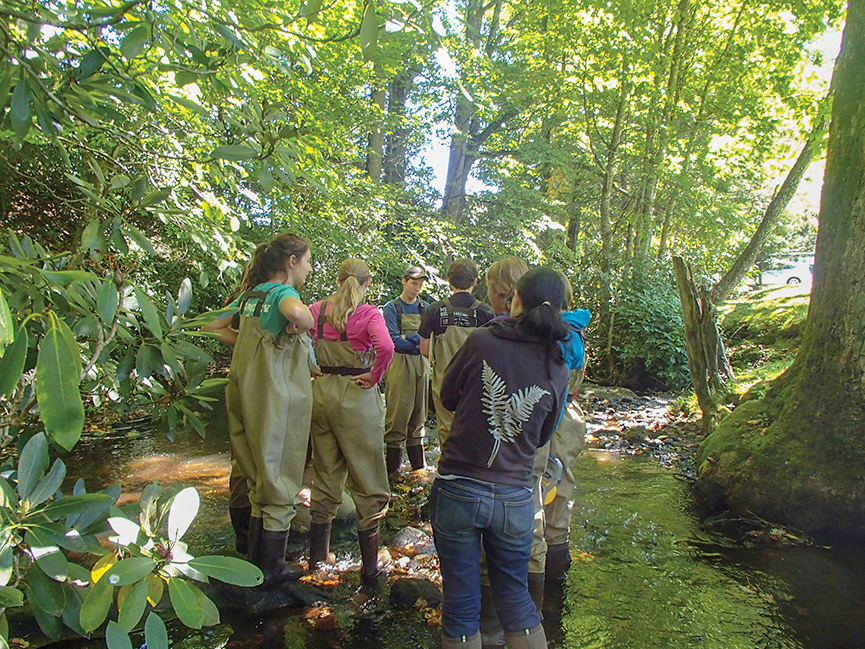 Written By: Madeleine Landrum | Issue: 2015/12 - December
The students in the Highlands Biological Station's fall semester-in-residence program are wrapping up the semester.
The program at HBS, held in cooperation with UNC-Chapel Hill's Institute for the Environment and overseen by HBS Director Jim Costa and Associate Director Karen Kandl, has been going strong
since 2001.
The institute immerses students in their subject of study like no campus-based classes can. In keeping with the educational philosophy of biological field stations like HBS, teaching and learning here is all about getting up close and personal with the fabulously biologically rich region we live in, gaining firsthand experience with organisms and ecosystems. These students spend more time on the trail than in the classroom; in fact, from ridge tops to rivers, the mountain landscape is their classroom.
This year's Highlands-IE class of nine students arrived in mid-August and has been immersed in a full program of study that includes biogeography, conservation biology, GIS (landscape analysis), cultural history, and hands-on research projects. These projects are a highlight of the semester: students work singly or in pairs on an environmental issue or scientific question under the guidance of a mentor. The mentors represent organizations as diverse as the projects themselves – the Highlands-Cashiers Land Trust, Coweeta Hydrological Laboratory, NC Wildlife Resources Commission, US Forest Service, and more. The students also work on a group research project, which in recent years has been an in-depth analysis of a local aquatic system. This year they focused on the health and associated characteristics of the Horsepasture River, from the headwaters near Cashiers to just above the South Carolina state line in Gorges State Park.
To learn more about these projects and meet the students, come join us on Wednesday, December 9th from 2:00 to 4:00 PM in the seminar room of the W. C. Coker Laboratory at the Highlands Biological Station. The students will give short presentations on the results of their individual and capstone research projects. Cheer them on as they conclude their research in Highlands!
---
---