New Looks at Our Local Libraries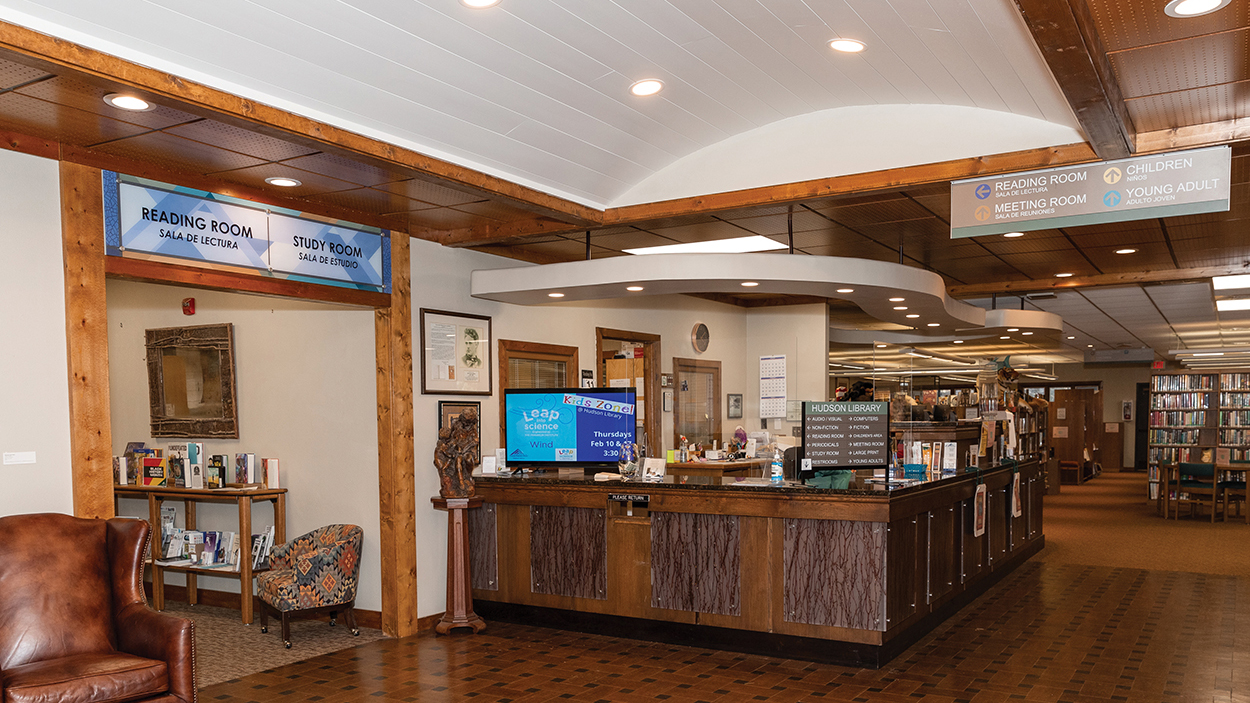 Written By: Deena Bouknight | Issue: March-2022 | Photograph By: Susan Renfro
The twin libraries have used the Quiet Season to spruce up their interiors and their grounds.
---
Activity and traffic slowdown during winter months afforded the Hudson and Albert Carlton-Cashiers Community libraries an opportunity to make repairs, renovate, and refresh their interiors or exteriors . 
At Hudson Library in Highlands, the entryway was renovated to achieve for patrons and visitors a brighter introduction to the space, according to Carlyn Morenus, branch librarian. The vestibule and lobby area ceiling were redone to better illuminate the entrance and create a more welcoming experience for all. And the existing arched ceiling, of dark-tinted curved plexiglass panels, was replaced with white boards; the arch remains, but, again, the renovation resulted in "improved lighting and visibility."
Plus, new signage was installed in keeping with the new look. "The new signage to the interior makes it easier for patrons to locate everything: restrooms, Meeting Room, Study Room, all our collections, etc."
Morenus said the library is appreciative of Cullasaja Women's Outreach's monetary support of the lobby renovation project, as well as Mountain Findings' monetary support of the signage project. Additional funds for the renovation and signage projects were provided by the Hudson Library's board and from an individual, anonymous board member.
"We're really delighted with the results," she said. "It's everything we hoped for and then some!"
The library in Cashiers got a fresh coat of paint. In addition, the roof over the front walkway is slated to be replaced sometime this spring. "And the Friends of the Library have been revitalizing the Friendship Garden with generous contributions from donors and Bartlett Tree Experts," explained Serenity Richards, branch librarian. 
She added, "On the interior of the building, we're doing major shifting projects in our adult collections. We've recently completed non-fiction and are currently shifting fiction. We've also recently reupholstered some of our children's furniture with the generous help of Cullasaja Women's Outreach and American Upholstery."
Cullasaja Women's Outreach is a local non-profit, and members seek to make a difference in the Highlands-Cashiers area. Mountain Findings in Highlands is a non-profit home furnishings resale store. American Upholstery is based in nearby Walhalla, South Carolina. Bartlett Tree Experts is in Highlands. 
---
---