Lake Glenville Fireworks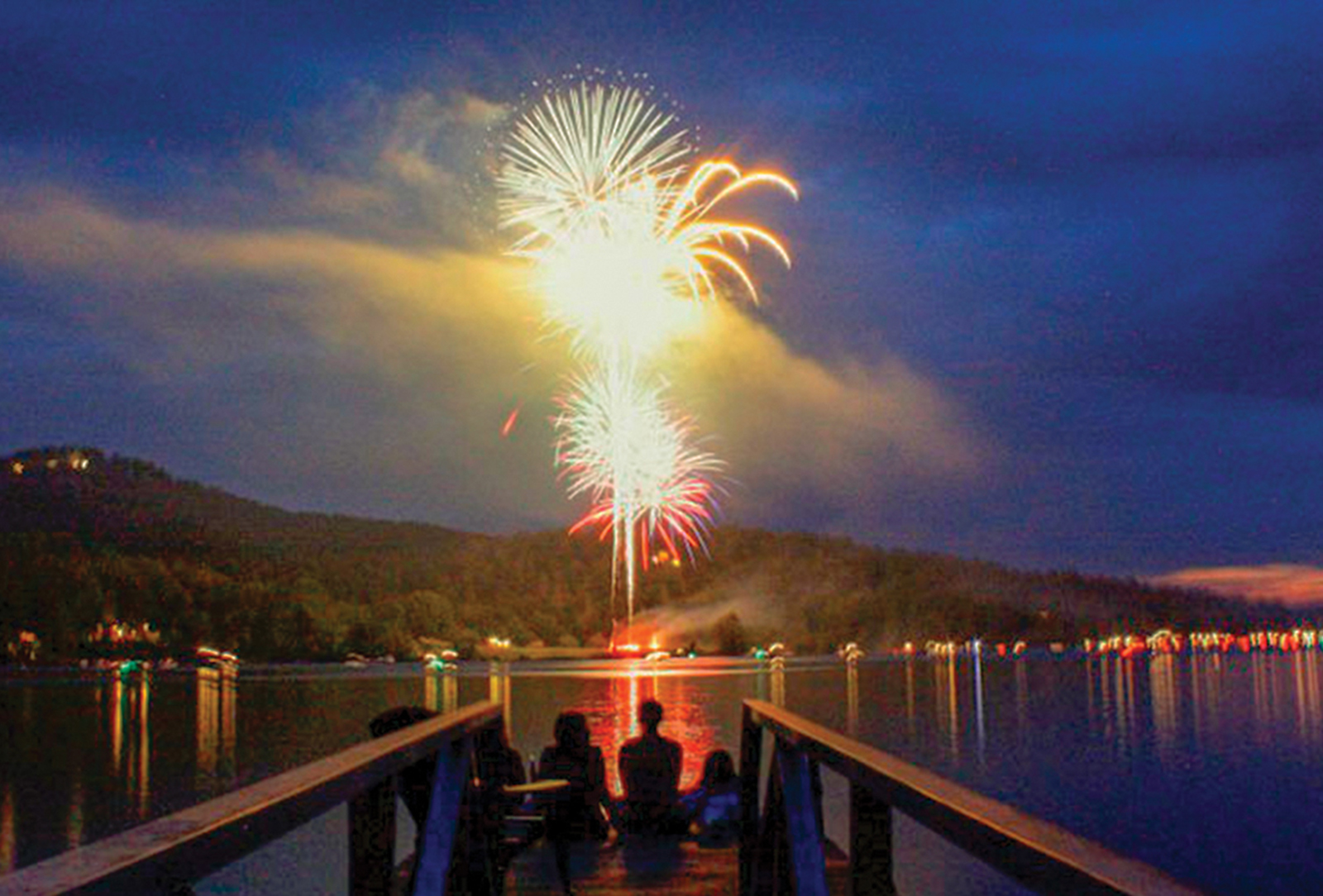 Written By: Ashley Stewart | Issue: 2019/06 - June
In 1997, to celebrate the Fourth of July, Stuart Hall and his friends launched fireworks over Lake Glenville from Tom Turner's Buck Knob Island construction barge. That year, Stuart and Co. also directed a fun boat parade of "The Glenville Navy." The floating parade is no longer part of the festivities, but the fireworks have become one of the most anticipated events of the year.
Ceding the point that firing explosives from a barge wasn't exactly the safest idea, the show moved on shore at The Pointe, which is just north of Trillium's facilities on the Western shore of the lake. The generous homeowners of The Pointe have allowed the show to be launched there ever since.
On Tuesday, July 2, a barrage of booms will echo through the hills surrounding Lake Glenville for the 22nd year in a row. Boats begin to gather in the water well ahead of the show. Their lights reflect on the glassy surface of Lake Glenville, adding to the glittering display that begins at dusk, around 9:30 P.M.
There are also great viewing areas on land along Highway 107 all the way up to Signal Ridge Marina.
The fabulous display is sponsored by Friends of Lake Glenville, with very generous support from their corporate sponsors Signal Ridge Marina and Trillium; as well as support from Mountain View Marine, Sawyer Family Farmstead, Glenville Lake Club, and Mountain Lake and Stream Realty. Help is always welcome to keep this fabulous event going. If you would like to contribute, consider joining Friends of Lake Glenville, becoming a sponsor, or donating to the cause on their website at friendsoflakeglenville.com. There are also donation jars at Signal Ridge Marina and Lakeshore Marina and Sea-Doo Rentals.
The rain date for the show is Saturday, July 6. For up-to-date information on the show and any postponement, visit the Friends of Lake Glenville Facebook page.
---
---