Holidays and Chocolate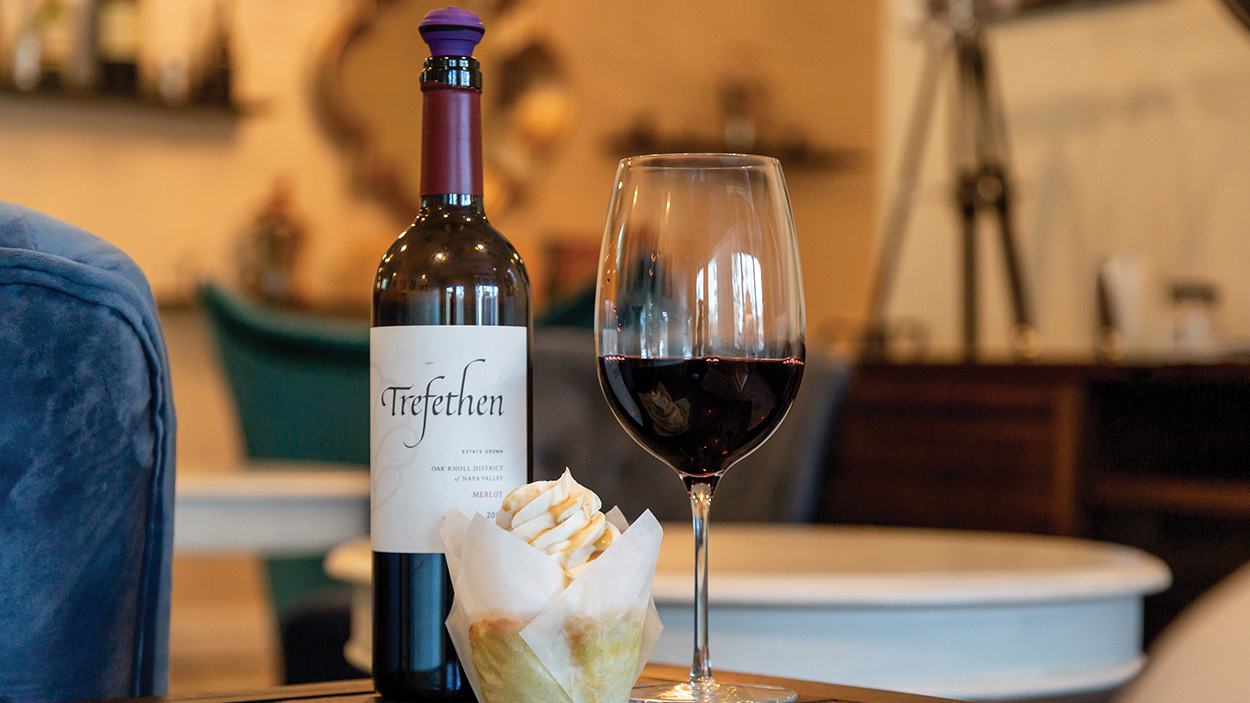 Written By: Marlene Osteen | Issue: 2020/12 - December | Photograph By: Susan Renfro
Cake Bar takes it upon itself to get the entire community into the holiday spirit with a mix of music, exuberance on a lavish scale, and, of course, freshly-baked treats.
---
Since 2014, Krysti and Thomas Henderson, the energetic couple behind The Chocolate Heaven Company, have focused on creating and sharing indulgent, classic baked treats with everyone they meet.  
This love for hospitality and amazing flavors led to the opening of their dessert destination, Cake Bar. With a cozy living room feel full of comfortable places to settle in, Cake Bar offers an opportunity to enjoy their classic treats and desserts, perfectly paired wines, cappuccino, espresso and more. 
During December, they invite you to celebrate the season with a series of events to make your holiday merry and bright.
Fridays in December, and Saturdays after Christmas and New Year's,  enjoy live music with Jazz trio We 3 Swing from 8:00 to 10:00 P.M.
On Saturday, December 12, enjoy a Decadent Christmas Wine Tasting from 2:00 to 4:00 P.M.  Highly enjoyable on their own, wine and chocolate are even more indulgent together. Discover lush reds perfectly paired chocolate treats – from truffles to tortes. It's $25 per person, RSVP not necessary, but appreciated.
The imagination of little ones – hearing hooves on rooftops, seeing twinkly lights and believing stories of Christmas miracles, is Christmas Spirit in it's own right. A reading of the classic The Night Before Christmas may even rekindle a little spirit of your own. It'll be staged Wednesday, December 23 at 4:00 P.M. Cost is $12 per person, which includes Hot Cocoa and scrumptious handmade treats. 
Raise one more glass of cheer to the New Year on Saturday, January 2, with Bubbles and Bellinis. Created by Giuseppe Cipriania at Harry's Bar in Venice and named after Venetian Painter Giovanni Bellini, this cocktail of Prosecco and Peach puree has evolved into the perfect afternoon sipper. Later that evening, join We 3 Swing for live music from 8:00 to 10: P.M.
On Thursday, December 3, 10, and 17, The Holiday Table Tasting at the Cake Bar Kitchen on Dillard Road will offer all things perfect for your Christmas gatherings – from indulgent desserts and delightful snacks to easy savories and more.  No charge, drop in anytime between 11:00 A.M. and 4:00 P.M.
Cake Bar space is limited to 24 attendees per event and fills up quickly.  RSVP's are appreciated but not required. For more information, call (828) 421-2042.
---
---