Growing Hemp in Macon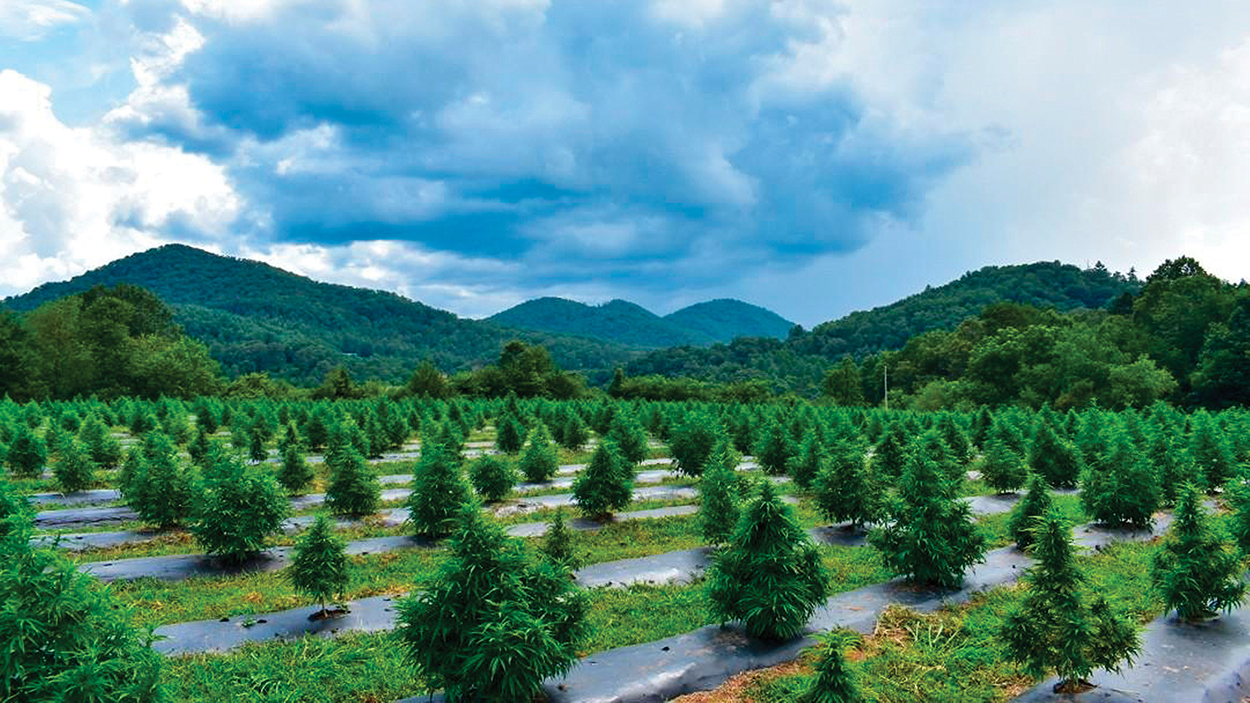 Written By:   Fallon Hovis - Center for Life Enrichment | Issue: 2021/08 – August | Photograph By: Josh Brandell
Though it's been maligned in recent decades, hemp has a long history as a favorite crop of American farmers. CLE offers a tour of a local hemp farm on August 30. Call (828) 526-8811 or register online at clehighlands.com
---
Even those who consider themselves to be in fine tune with their olfactory senses will find it incredibly difficult to describe…does it have a main floral note?  
Maybe you could describe it as having hints of balsam, or was that citrus that you smelled?  Undoubtedly you will smell the hemp flower yards away even before you arrive at the gate of the fields. 
It's hard to imagine that hemp fields were scattered across North America at one time in our history. In fact, in the 1700's farmers were even legally required to grow hemp which was used for different products, such as paper, lamp fuels and ropes.  
After the U.S. passed the Controlled Substances Act in 1970, hemp farming was eventually banned altogether. After decades of being forbidden, hemp and all its derivatives became fully legalized, allowing farming operations like Appalachian Growers to explore some other uses for the plant — its health benefits.  
The Center for Life Enrichment talks with Macon County's very own hemp farmers, Steve Yuzzi and Lori Lacy of Appalachian Growers.  
Lori enthusiastically describes how they became involved in the industry, "Appalachian Growers became a reality in 2017 once North Carolina started the Industrial Hemp Research Program.  The quest to cultivate the purest hemp was the most important mission for our team.  My daughter introduced me to CBD oil in helping her manage inflammation from two auto-immune diseases.  I began using CBD oil to assist me in improving my sleep issues…I was a believer after the first night!  We found that many products on the market at the time were not made with the purest and tested materials."
Join CLE for a unique tour of Appalachian Growers hemp farm on Monday, August 30, from 9:00 A.M. to 2:00 P.M.  
The hemp industry is ever growing and ever changing – there's so much to learn about the process from seed germination to final product.  It's not just all of us at CLE that focuses on education, so do the folks at Appalachian Growers, "education plays a big role for us as well," Lori says. "Any opportunity we can speak to educate people on the benefits of using Hemp derived CBD products, we jump on it!"  
Lori is passionate about explaining the health benefits of their products, "If you are suffering from anxiety, inflammation, pain or sleep issues, CBD may be the right solution for you.  It's been amazing to hear all the testimonials on the relief our customers are receiving.  Keeps us motivated to work harder!" 
To be part of this unique tour and have one on one conversations with one of Western North Carolina's most renowned hemp farmers, contact CLE at (828) 526-8811 or register online at clehighlands.com  Cost is $40 for members and $50 for non-members. Following the tour of the farm, participants will enjoy a light lunch.
---
---