Grace Clothed in White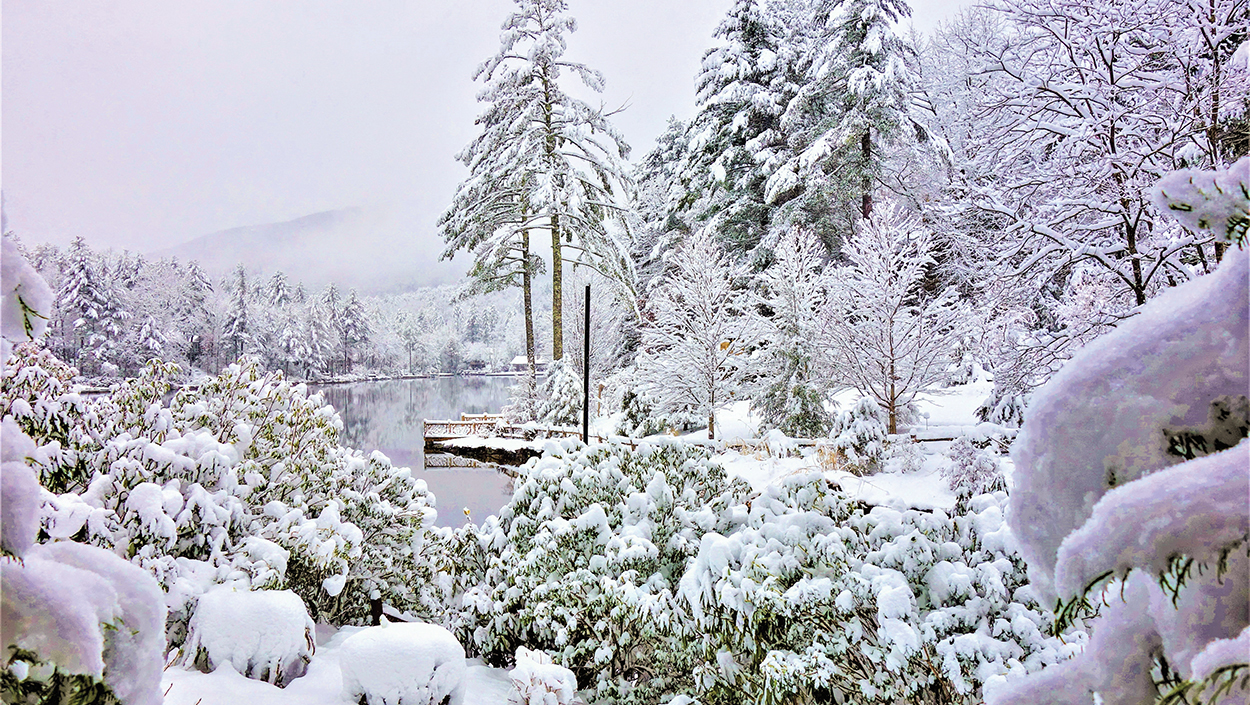 Written By: William McReynolds - Highlands Plateau Audubon Society | Issue: Winter - 2023 | Photograph By: William McReynolds
This is our time to go within to harbor hope and know the beauty of the season.
---
Winter is a solitary time. We stay close to the home fires in winter, go dormant in the face of the cold and snow.
According to the songwriter Johnny Mercer, the summer winds blow "warm and fair" while the winter winds are "lonely" and "go on and on."
Dormancy and on and on don't mean nothing happens in winter. The fattened she-bear incubates her fertilized eggs during her winter dormancy, giving birth and nursing her young in her hibernation den. Imagine newborn winter cubs, at a mere one pound, nursing on mom's milk while cuddling on her warm, soft belly. Talk about staying close to home for winter!
We do our own incubation during the dormancy of winter: suspend outward efforts, go within, guard our resources, sustain ourselves for later growth. During these times, we burn the real or metaphorical firewood we have accumulated. We weather storms throughout our lives and not just seasonally. The loss of a loved one or loss in any form can bring about a dormant period from which we emerge into new growth and new life. 
Winter is not just about quiet growth. Winter beauty abounds. Here, in refrain, are some mountain beauty possibilities:
• Forest vistas with snow on tree branches and snow drifts turning countryside and meadow into a soft, undulating purity of white.
• A hazy, winter moon, 60 watts, shining through high flying cirrus clouds making a wispy, icy halo against a background of deep, Carolina blue. 
• The lingering holiday lights in our greenways as new snow falls, reinstating our mountain winter wonderland. 
• Misty morning sunbeams spearing through tall still trees, crisp air and crystalline blue skies. 
• The gentle face of a startled doe: perfect stillness, ears up, statuesque, soft eyes looking for understanding. 
• The rosy cheeks and excited eyes of a beloved child swathed in winter wool and plaids.
• The look of appreciation on the beloved cook's face as the table rises to praise the meal. 
• Kind eyes peering up at you in gratitude as you lovingly minister bedside to her needs and return her many acts of kindness back to her.
Winter is for inner growth and outward beauty. Thank All Goodness for winter: Grace clothed in white. 
Wishing you many moments of restoration and quiet beauty this winter, from the Laurel Magazine.

---
---