Get Up, Get Out, Get Going: This Year at CLE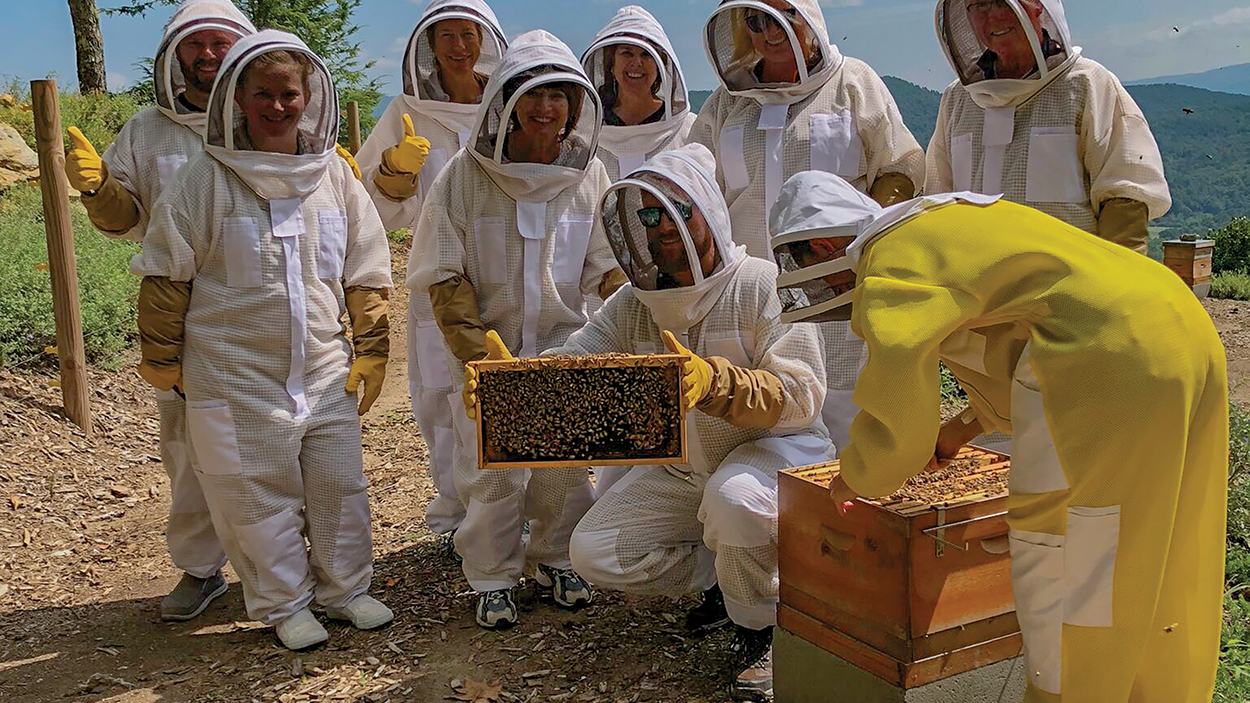 Written By: Donna Rhodes | Issue: April - 2022
Oh, The Lessons They Learned – the Center for Life Enrichment's 2022 slate of classes offers tales both comical and dire, accounts of art and passion, and sweet, sweet sips and savors. For more information, visit clehighlands.com, call (828) 526-8811, or email [email protected]
---
The CLE (Center for Lifelong Enrichment) crew is a class act. Fallon Hovis and Paula Nix are a cheerful, get-it-done team who see to it that taking a class or attending a lecture is effortless, exciting, and enriching. And now, with COVID finally easing off, this is your opportunity to get up, get out, and get going with CLE.
So many choices, so little time. Let's look at just five of CLE's 2022 offerings.
June 23: The Art & Heart of Stories with Connie Regan-Blake
Here she comes, the spinner of yarns you've been waiting for:  Connie Regan-Blake, world-renowned story-teller. Prepare yourself for her husband's legendary clothing encounter: "Dorky Spandex vs. Macho Leather." Travel to Scotland and a sparkling, traditional Scottish account, "Well at the End of the World." In and between stories Connie will share what she's learned and developed through her amazing, trailblazing storytelling career. It's a double delight: Entertainment & Education packed into a day full of laugh-out-loud enjoyment.
July 11: The Mueller Investigation: Lesson from an Insider with Andrew Weissmann
Andrew Weissmann is a member of Robert S. Mueller's investigation team which examined Trump's campaign and possible Russian collusion. He will speak about two ongoing issues raised in the Special Counsel Report: The threat of continuing cyber-attacks on America's political and economic systems; and whether criminal investigation and prosecution can be effective tools to hold perpetrators accountable. 
July 20: Churchill: A Passion for Painting at the Bascom with wine reception
Sir Winston Churchill, 1874-1965, is a portrait of ambition, confidence, creativity, and bravery. Five decades after his death his name is still revered and his deeds celebrated. His eccentricity, audacity, and defiance are qualities that helped win WWII. But there is another picture of him to be painted … that of the artist. This course will examine Churchill's artistic passion. Painting informed and inspired him lifelong. See why.
August 3: Bourbon Basics (A Tasting)
Join Louisville-based bourbon expert, Susan Reigler for a Bourbon Basics Tasting. Learn what sets bourbon apart from other whiskeys. While tasting three world whiskeys – traditional, wheated, and bottled-in-bond –  you'll learn the fascinating history of each brand.
August 9: Apiary Tour & Honey Tasting
Highlands is a hive-home for millions of bees. Learn more about the hive, its queen and the fierce loyalty of her female subjects. Suit up and enter the queen's realm as you hold a frame full of honeycomb and workers. Savor honey from the apiary, paired with a light lunch and champagne. Learn how to evaluate honey varietals. Take home a souvenir bottle of honey straight from the hive.
For more information, visit clehighlands.com, call
(828) 526-8811, or email: [email protected].
---
---