Farm-to-Table Pioneers | The Farm at Old Edwards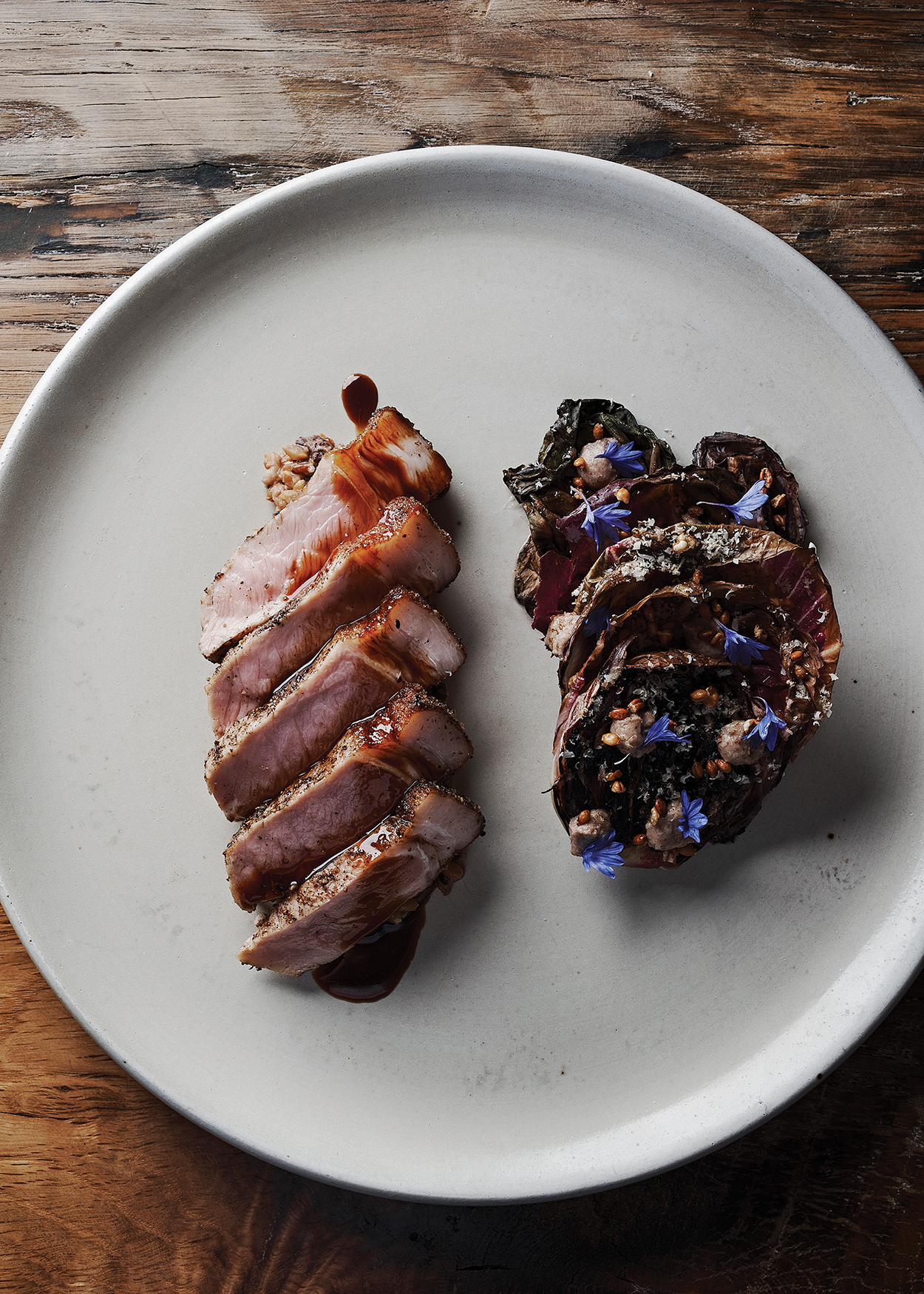 Written By: Marlene Osteen | Issue: Winter 2022
Culinary superstars Hugh Acheson, Chris Hathcock, and Sam Herndon take the spotlight when The Farm at Old Edwards hosts the Chefs' Dinner Sunday, February 27.
---
The Farm at Old Edwards has, for several years, hosted a series of dinners where some of the most noteworthy chefs of the region are celebrated, their signature dishes served.  On those evenings discerning visitors and local movers, shakers, and food-lovers fill The Farm eager for the flawless meals that await them.   The first such dinner of the new year will feature the food of Chefs Hugh Acheson and Chris Hathcock.
A farm-to-table pioneer, Ottawa native Acheson adopted Georgia as his home state in the mid-1990s and rose to national prominence, beginning with his Athens restaurant Five & Ten and now including Atlanta's Empire State South, and consulting projects with hotels in Atlanta and San Destin.  
As food-writer John T. Edge famously said, Acheson has "a bare-knuckle approach to flavors."  
  The approach has served him well, gaining him a loyal following for his restaurants, a voracious readership for his six cookbooks, two James Beard Awards – Best Chef South  and Best American Cookbook – and a celebrity judge spot on Bravo TV's Top Chef.   
Sam Herndon, culinary director at Empire State South will join Acheson behind the stoves. His latest book, How to Cook, winner of an IACP Cookbook Award, was written when one of his children left for college and teaches fundamental skills and how to mix techniques.
Chris Hathcock runs the kitchen at Savannah's Husk Restaurant, where he explores the foodways of Coastal Georgia and takes inspiration from the ever-changing bounty of local farmers and growers.   
Named a finalist for Eater's Young Gun List in 2014 and 2015, he was recognized on Forbes' 2016 list of "30 under 30."
Recently I talked to Acheson, who told me he is eager to return to Highlands for his sixth visit to Old Edwards. "There is something really calming about the whole place, it's such a gem in the mountains."  
As to the evening's menu, for his part, he envisions courses that highlight the wintery flavors of the season with a touch of lightness.  Dishes that balance texture, color, and intensity of flavor with deftness and finesse. They include a course of Golden and Chioggia Beets from Woodlands Garden with Pine Nut, Horseradish, and a simple application of Lemon Verbena.  A dish of similar excellence to follow consists of Pork Loin from Bear Creek Farm in Tennessee, with Sunchokes, Dried Fruits, and Vadouban – a Middle Eastern Spice Blend.  
For the sweet tooth, Acheson has concocted an irresistible dessert consisting of Coconut Cake with Blood Orange Sabayon, Streusel, and Bee Pollen. 
To secure a coveted seat, book online at  oldedwardshospitality.com/AchesonandHathcock. (Please note, the event is for guests 21 and older.)
---
---