Easter's Special Appeal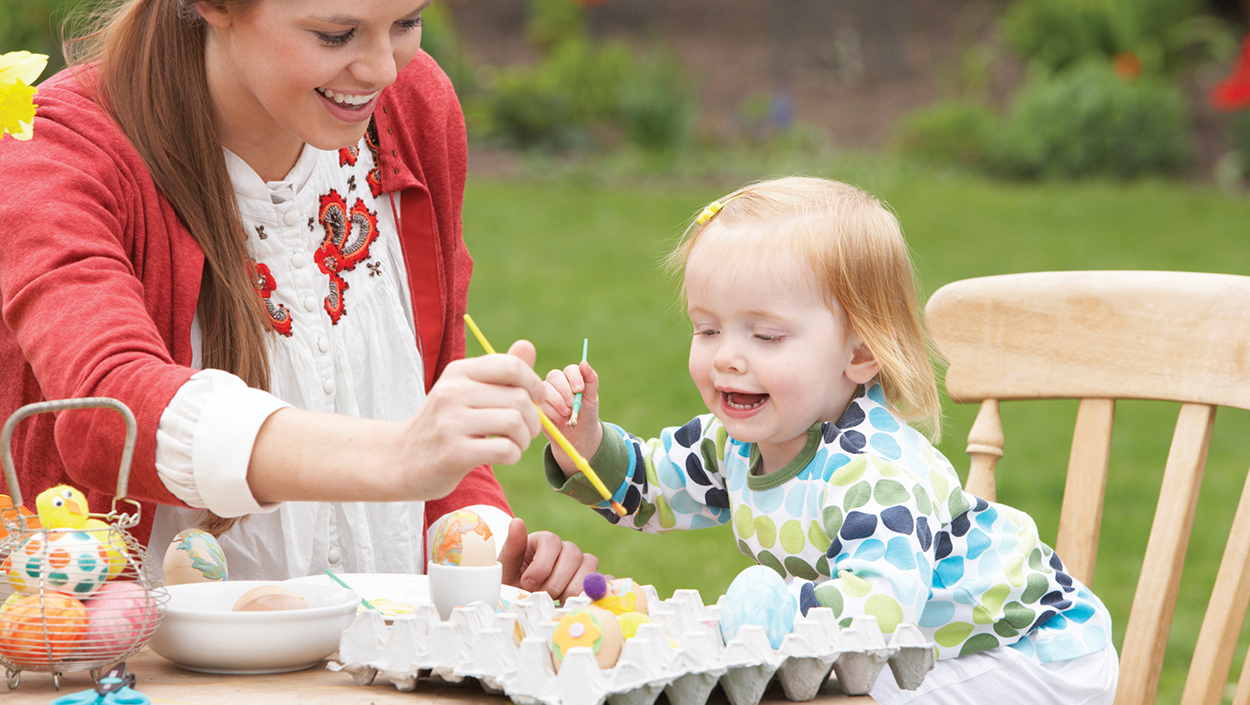 Written By: Marlene Osteen | Issue: April 2023
Easter at Old Edwards Inn is celebrated with exuberance and a measure of elegance.
---
On any given weekend the threshold for making guests feel welcome and entertained is set higher at Old Edwards than most anywhere. Still for Easter weekend the always attentive and inventive staff manage to pole vault over normal guest expectations. Inviting at any time of year, Easter weekend at Old Edwards suggests a special appeal. Perhaps, it is the combined appeal of the bucolic setting, the onset of spring, new clothes, and the holiday air in one of the country's most gracious and charming inns.   For youngsters and their winter-weary parents, Easter at Old Edwards offers an enticing variety of activities and a relief from days forced indoors. Pleasure is certain to be found in the dizzying array of pastel hued eggs and dazzling decorated bonnets at the egg decorating and bonnet making session on Saturday. Guaranteed to be fierce is the competition at the Sunday Easter Egg Hunt on Sunday when the children romp gleefully on the Lodge Lawn and scramble for prizes. And there's likely to be much wonder and joy on the children' faces when the Easter bunny visits and appreciative grins as their own faces are boldly painted. Still the smart folks at Old Edwards understand there's more to Easter weekend than peeps and chocolate bunnies.  Somewhere between searching for eggs and tying your bonnet there's brunch – arguably one of the most celebrated brunches of the year. Executive Chef Chris Huerta brings a refined seasonal menu to Madison's Restaurant where Easter brunch is prepared with thoughtfulness and care using ingredients grown in the Inn's gardens and provided by regional farmers and purveyors. The light and airy dining room has an inviting old warm charm with its stone walls and rich earth tones and overlooks Main Street in Highlands.
Weekend Itinerary as follows:
Saturday, April 8 Easter Egg Decorating and Bonnet Making from 3 to 4 P.M. in the Lodge Lobby (for hotel guests) Sunday, April 9 Dine on a Special Three-Course Easter Brunch in Madison's Restaurant from 11:30 A.M. to 2:30 P.M. Open to the public *Reservations Required $68 Per Person, $30 for Children Under Twelve; Tax, Gratuity, and Beverages Not Included Easter Bunny Visit from 1 to 2 P.M. on The Lodge Lawn (for hotel guests) Easter Egg Hunt starts promptly at 1:30 P.M. on The Lodge Lawn (for hotel guests) Face Painting from 1 to 3 P.M. on The Lodge Lawn (for hotel guests) For more information visit: oldedwardshospitality.com/events.
by Marlene Osteen
---
---