Cashiers' Plein Air Festival
Written By: Ann Self - The Village Green | Issue: 2020/07 – July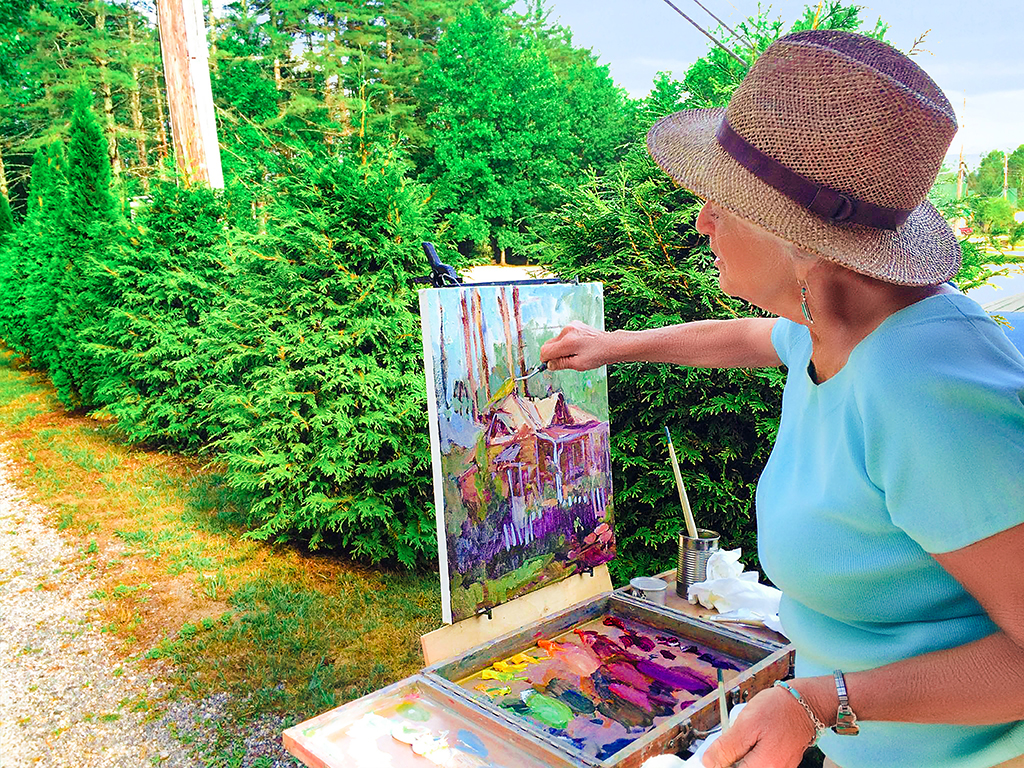 Nationally-acclaimed painters from throughout the country set up their easels to capture the beautiful landscape and charming lifestyle of the North Carolina Mountains, July 15-19. 
This is the Sixth Biennial Cashiers Plein Air Festival, a premier outdoor painting event benefiting The Village Green. The festival artists' original art is displayed for viewing and sale at a pop-up art gallery at The Village Green Commons in Cashiers.  
Festival artists will paint during unique occasions at featured locations around Cashiers. Palette Pass holders will have access to these exclusive painting events.  These include an extraordinary private garden, the magnificent Blue Star Ranch and a kite festival at Silver Run Reserve. 
Look for artists in and around The Village Green, Cashiers, Highlands, and Glenville, along the highways, byways, main streets, and everywhere in between. Visit the festival gallery daily from 10:00 A.M to 5:00 P.M. to see the entire collection of these special paintings depicting the unparalleled beauty of the area.  Cashiers Plein Air Festival is for artists and appreciators alike.
In addition to the outdoor art, the festival will also feature two outdoor themed cooking classes.  Learn tips and tricks to pack a picnic like a pro as well as how to prepare tasty salads and wraps to enjoy al fresco at 4:00 P.M. Thursday, July 16. Picnic Basket 101 is the first class offered as part of the new Uncomplicated Cuisine monthly series of cooking classes.  
Zoller's Hardware will also present an open air cooking class at 11:00 A.M. Saturday, July 18. Discover the newest grill trend of culinary smokenomics! Explore adventurous cooking tricks with Traeger Grill. Both classes are $50 per person and will be held at The Village Green Commons.
Visit CashiersPleinAirFestival.com for the full schedule, along with Palette Pass and cooking class ticket information.  You can also email [email protected] with questions or to learn how to volunteer.
The Village Green is the 13-acre privately conserved park for public enjoyment in the center of Cashiers.  Funds raised from the sale of art ensures its preservation and operation for the community.  The Village Green is proud to welcome these fine artists to the Cashiers area. The Village Green is also pleased to present a festival that celebrates the beauty of the area while providing art and entertainment for everyone to enjoy.
by Ann Self, The Village Green
---
---