Under the Stars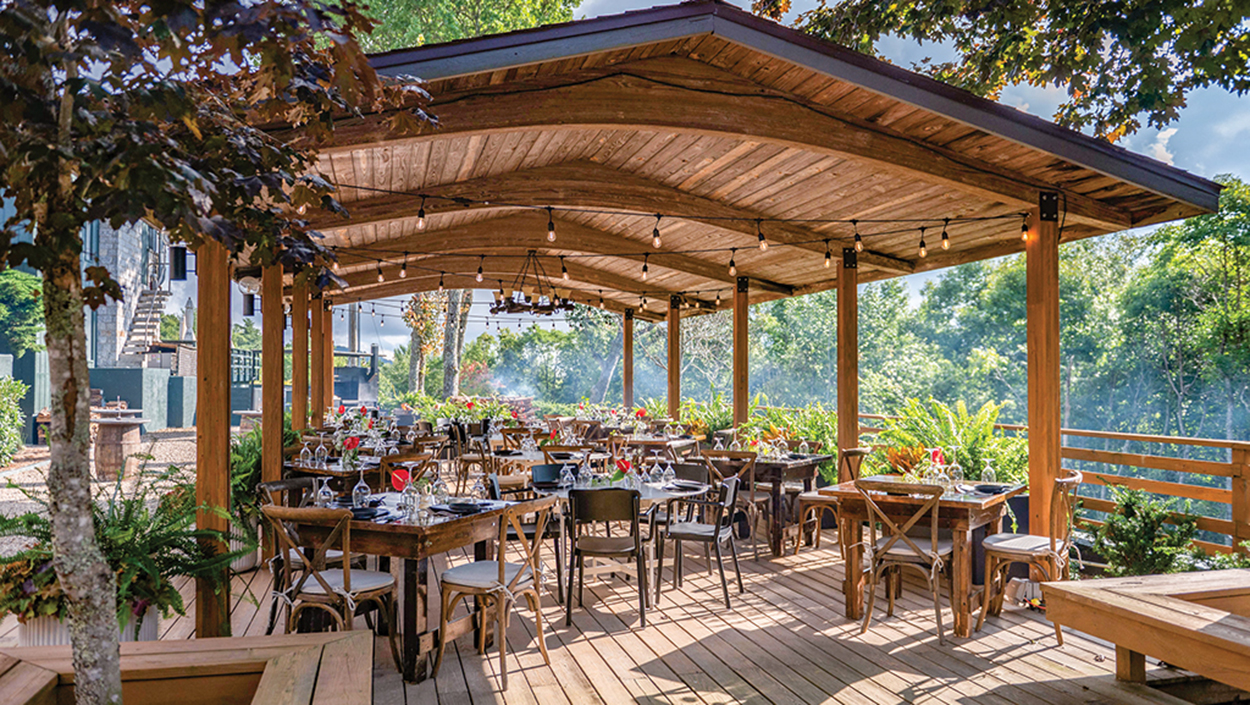 Written By: - NONE -, Laurel Magazine Staff | Issue: May 2023
Celebrity chef Brandon Carter brings his Lowcountry-infused menu to Skyline Lodge's Under the Stars, On the Rocks Dinner, May 9.
---
At Highlands' Skyline Lodge, the guest chef dinner series, "Under the Stars, On the Rocks," offers a singular chance to get up close and personal with a celebrated chef.
The second dinner of the 2023 season on May 9, welcomes Executive Chef Brandon Carter of FARM Hospitality Group (FARM Blufton, Common Thread, Wildflower Café and Strangebird Food Truck).
Carter is an exuberant champion of the cuisine of the Lowcountry.  But it was a twisting trail that brought him there.  Born in Ohio and raised in Georgia, his culinary influences can be traced to the flavors of a Moroccan restaurant owned by family friends and a trip to visit siblings near Siena, Italy.
"I became enamored with the food and culture," Carter recounted. "I saw the energy and passion of the kitchen in both places, and the Rockstar persona of the chefs there, and I fell in love with the industry."
A graduate of the Culinary Institute of America, his career began at the Ritz Carlton in Naples, then led him to the Inn at Palmetto Bluff in Blufton, South Carolina, before landing a partnership and chef spot at FARM in 2016. The restaurant is aptly named – its founding visionary is a farmer.  The inventive verve Carter brought to the staid food scene of the quiet coastal community paved the way for new ventures.  The duo has gone on to open Strangebird Food Truck (2019), Common Thread (named to Bon Appetit's Best New Restaurant List) in Savannah (2021), and earlier this year Wildflower Café, also in Savannah.
Although his dishes retain the global influences of his youth, it's the Lowcountry region that he calls home that inspires Carter's cooking. As he told Southern Living, "It's the way the salt air smells."  The joys of Carter's menu are abundant.  He manages to showcase the ingredients of his locale in dishes like Roasted Lady's Island Oysters with horseradish souffle and chives, or blue crab rice adorned with peanuts and shallots. A plate of brown butter cornbread with cane syrup and sea salt pays tribute to the region's forbearers.
For the collaborative dinner with Oak Restaurant at Skyline Lodge, Carter promises a menu that combines the unique flavor combinations for which he has earned a passionate following.
As he told me recently, "I am incredibly excited to recreate these favorite dishes, to tell the stories behind their creation, and to highlight the indigenous ingredients of the Lowcountry."
Dinner is in the picturesque outdoor pavilion of Skyline Lodge overlooking the Blue Ridge mountains. Tickets are $175+/person and include a signature welcome cocktail and dinner with beverage pairings. Additional a la carte drinks are available for purchase.
---
---