The Wines of Rhone Valley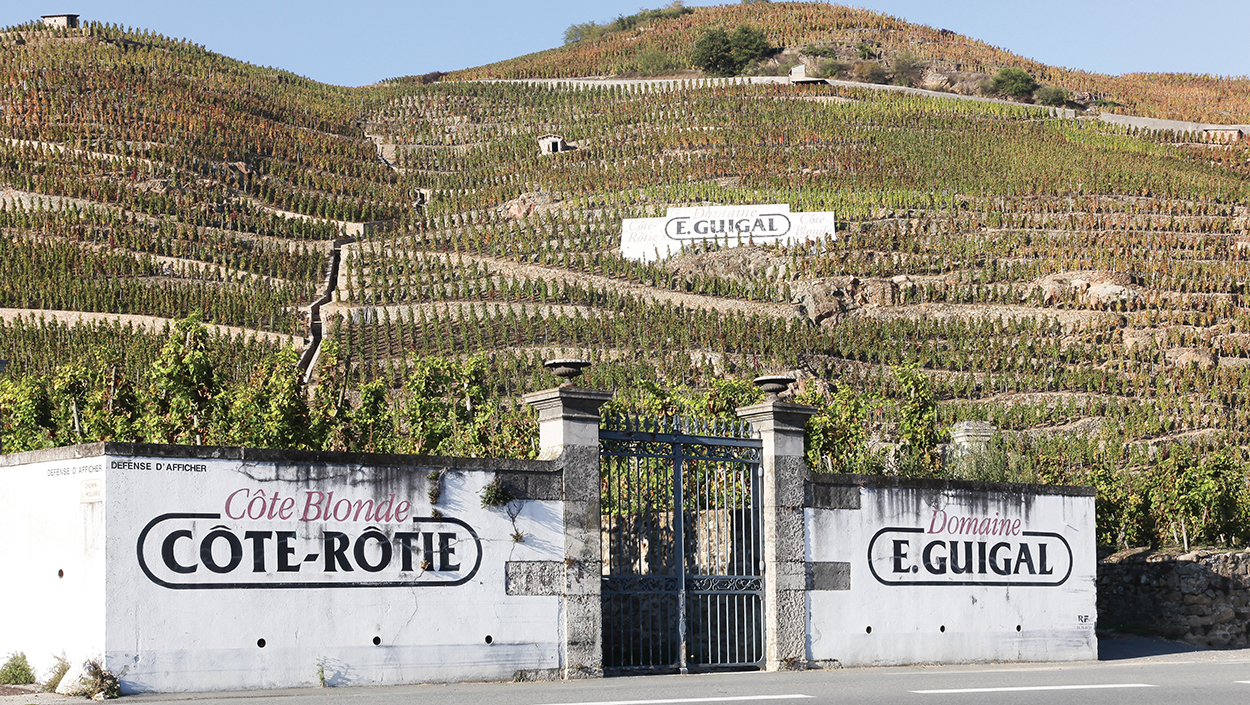 Written By: Marlene Osteen | Issue: March 2023
The vintages of the Rhone Valley can evoke golden memories or make new ones.
---
"Wine," Saul Steinberg once said, "is the only thing that makes us happy as adults for no reason." 
As for me, I am often at my happiest drinking the wines of France's Rhone Valley.  One sip and I am back traveling along the Rhone River from Lyon to the Camargue, exploring wine routes, winding through historic villages, wide-eyed at the variety of landscapes – from the mountain ranges in the north to the gentle slopes of the South.
To understand the wines here, it is important to understand its geography.  The unique character of the wines grown are a result of the diversity of the wine growing areas.  
They divide into two camps: the cooler northern Rhône's steep, granite, terraced slopes produce peppery, Syrah-spiced reds and aromatic whites, while the sunbaked south is known for heady, full-bodied grenache-Syrah- Mourvèdre blends, expressive whites and fruity roses.
The diversity of the regions can be tasted in the wines of two of the valley's most revered winemakers.  
Starting at the northernmost point, is the family-run Guigal winery, created in 1946 by Etienne Guigal. By the time I met Etienne in1986, he had retired both from winemaking and speaking to anyone outside the family.  And so, it was when we rang the doorbell to the family home, that the door opened to reveal an 80-something year old simply staring at us. No less startling was the 100-year-old turtle in the room.  Yet most astounding of all was the incredible quality of the wine.  We tasted the initial bottlings of the legendary "LaLas" (still in barrel), seductive Côte-Rôtie Brune et Blonde and the pristine, floral Condrieu.   Clearly genius was going on here.
On another trip we traveled south to Châteauneuf-du-Pape, to visit legendary winemaker Francoise Perrin, of Beaucastel.  Perrin and his brother Jean-Pierre have been farming bio-dynamically since the early 1970's and are universally credited with elevating the profile of Rhone wines around the world.  On our first night there we dined with Perrin at the family Chateau on rustic French fare prepared by Perrin's wife and discussed the French dissatisfaction with Peter Mayle's recently released A Year in Provence. We drank extravagantly – tasting a vertical of the winery's stunning Châteauneuf-du-Pape.
Recommended: is the more moderately priced, juicy Coudoulet de Beaucastel.  Much cheaper, yet tasty and fresh is the La Vieille Ferme. 
I urge you to explore more as missing any of the mouthwatering wines from this area of France would surely be a disappointment for any wine lover.
---
---