The Warmth of Wine & Soup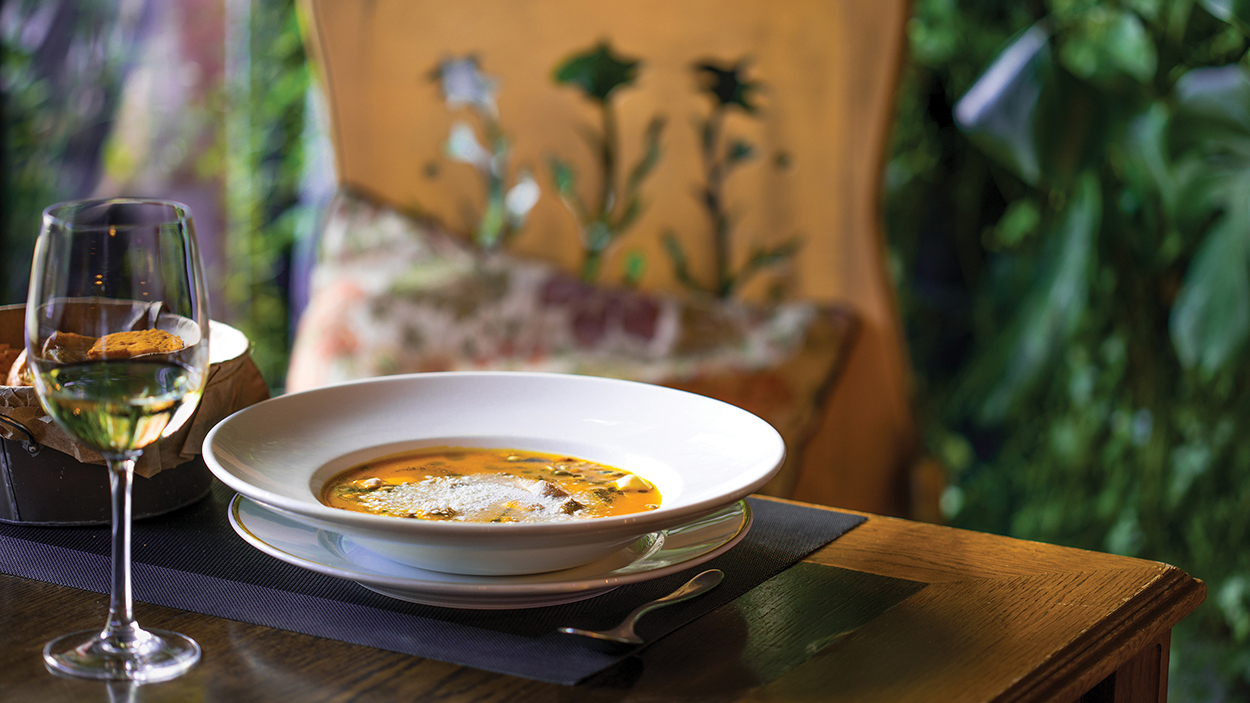 Written By: Marlene Osteen | Issue: March-2022
The judicious addition of a carefully chosen wine elevates a hearty winter's soup into a transcendent experience.
---
It's March – the fifth straight month of freezing temperatures, and thoughts of warming foods abound.  
And though there are any number of obvious meals particularly suited to cold weather, I'd like to suggest an atypical combination – wine and soup.  
To be honest, the advocacy of such a pairing means going deep, and against the gushing of many wine geeks who eschew the pairing as not natural, claiming that "two liquids do not add up to a greater whole," I respectfully disagree. 
In fact, for heartier soups, the ones we yearn for now, wine can be a delicious accent, and a truly revelatory culinary experience. 
Who amongst us doesn't love chicken soup? 
Sassy it up with a lively punch of lemon and savor it with a glass of good Chablis or a dry Chenin Blanc for a meal that will make you want to sing.  I think you'll agree that the lemon adds a high-toned touch to the earthy chicken, while the citrus and floral notes of the wine add a noticeable dimension to the soup.
And if you can add wine to soup – as is often called for – then surely you can drink a glass alongside. Black Bean Soup immediately comes to mind.  It's pretty much the perfect dish for right now – nutritious, hearty, filling and satisfying.  And it begs for an equally muscular and meaty wine to accompany it – a Spanish Rioja adds nuance and a rich, fruity depth.
In winter, I'm particularly fond of warming up with a bowl of my husband's favorite soup – a rustic and robust combination of beans, country ham and greens.  A tribute to all things Southern, humble, and delicious, it's spectacular when accompanied by an Italian Sangiovese – (perhaps a Rosso di Montalcino or a Chianti).  The characteristic hint of licorice in the wine adds a vibrant note, and a wonderful savory element to the collards while enhancing the spice and meat components of the dish.
Certainly, French Onion Soup is everyone's definition of comfort food.  The allure of a crock full of slow cooked onions, submerged in an umami-flavored beef broth and topped with bubbling cheese is simply irresistible.  This classic French soup demands a classic French pairing – Beaujolais.  Particularly recommended is a Cru Beaujolais known for a lighter style – Fleurie or Saint-Amour – which has just the right notes to complement and deepen the sweet accents of the slow-cooked onion. If you're wed to a white wine, consider an Aligote – the other white wine of Burgundy.  Its fruity notes and lively acidity are a peerless match – guaranteed to elevate an already delicious experience.   
Spring is pending.  In the meantime, myriad culinary pleasures await in a steaming bowl of soup and satisfying glass of wine. 
---
---