The Simmering Chowdah Pot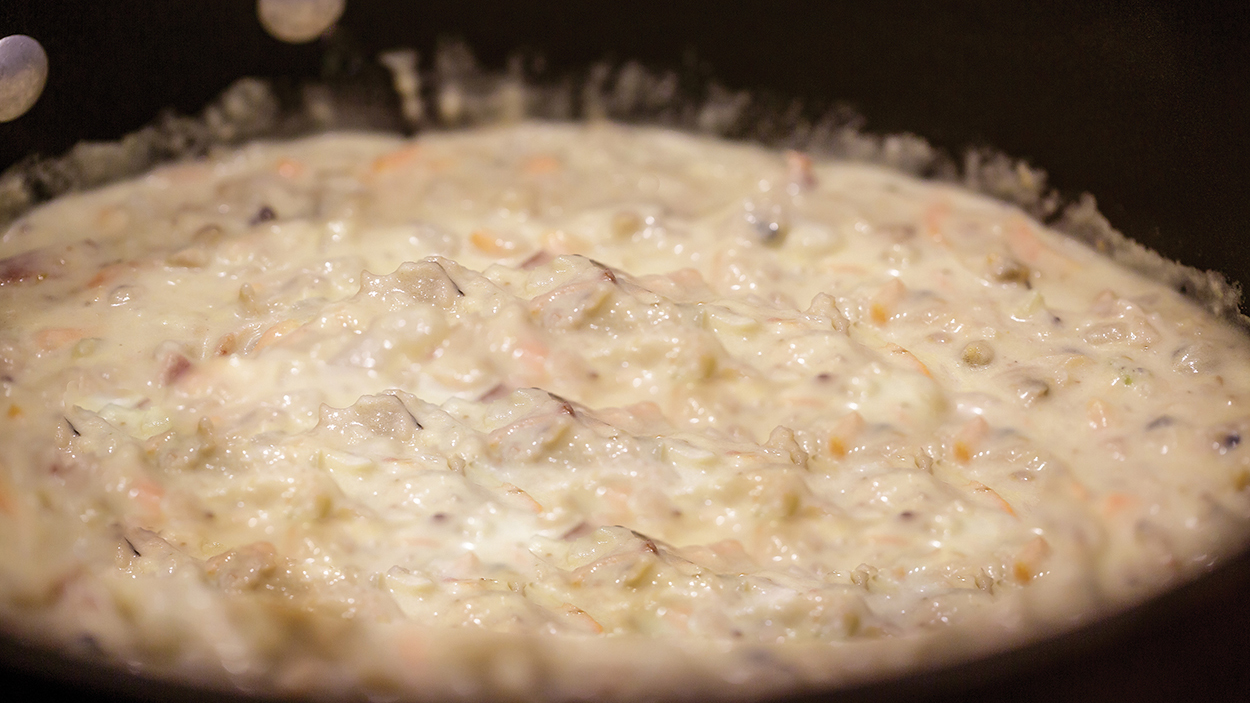 Written By: Marlene Osteen | Issue: 2021/11 – November | Photograph By: Susan Renfro
Of course, Bostonians also love their clam chowder, or chowdah as they say.
---
For Michelle Bears, owner of The Toy Store and Book Nook of Highlands, it all started with a 2009 trip to a football game in Boston with her husband, Harry – a native Bostonian.  
It's well known that the loyalty displayed by Bostonians to their sports teams is downright devout. 
Of course, Bostonians also love their clam chowder, or chowdah as they say.  
Restaurant after restaurant on trips to Boston to cheer their teams, the pair searched for the city's best clam chowder.  None of which, it turned out, Michelle liked. 
"Too thick, too bland, too white," she said.  She was determined to create a recipe that she could enjoy as well.  What follows is Michelle's rendition of chowdah.  It is, as she says, "Yummy and easy to make."
"In the fall during the playoffs, there's a good chance there's a pot simmering on the stove. I like to freeze the leftovers in pint-size jars. It's a great lunch alternative on chilly days. Also, for added fun,  I like to serve the chowder to my book club ladies as 'shooters'."
Ingredients
30 oz. of Canned Clams* (see Note)
1 lb. Russet Potatoes, peeled, cut into ½ inch pieces (3 small potatoes) 
2 Bay Leaves
White (preferred) or Black Pepper
Chicken Broth or Clam Juice – as needed
1 lb. of good quality Bacon (Michelle recommends Nueske's Applewood thick cut)
2 cups of Chopped Onions (about 2 medium) 
1 ¼ cup Chopped Celery (about 4-5 stalks)
2 tablespoons Butter
3 Garlic Cloves chopped
¼ cup all-purpose Flour 
8 oz Heavy Whipping Cream
A couple good shakes of Worcestershire Sauce to taste
1 small, grated Carrot
1 T Dry Sherry – optional
The drained Clams 
Fine Grated Cheddar  
Directions
1. Drain Clam Juice from cans into a 3-quart saucepan.  Add Potatoes, Bay Leaves, a few grinds of Pepper and enough Chicken Broth or Clam Juice to just cover the clams.  Bring to a boil over medium-high heat and then reduce to a simmer. Simmer uncovered about 10 to 15 minutes or until potatoes have just started to soften.
2. Thinly slice the Bacon and cook in a Dutch oven, over medium heat until fat is rendered and slightly brown.  Remove all but 1 tablespoon of the drippings and all the Bacon to a paper towel lined plate. To the remaining drippings, add the Celery and Onions and sauté 5 to 7 minutes or until softened.
3. Melt in the Butter and Garlic and sauté 1 to 2 minutes until Garlic is aromatic. Sprinkle in Flour and cook an additional minute
4. Stir in Heavy Cream, Worcestershire, Carrot, 1/3 of the Bacon and Sherry if using.  Add Potato mixture and bring to a simmer over medium-low heat to heat throughout – about 10 minutes.  Discard the Bay Leaves.  Add the Chopped Clams and salt and pepper to taste.  Remove from heat.
5. Garnish with reserved Bacon and Grated Cheddar Cheese.
Notes: Michelle advises seeking out the following brands. If need be, feel free to use a combination of any:  Bumble Bee Whole Baby 10 oz cans; Bumble Bee chopped 6.5 oz cans; Snows Chopped 6.5 oz cans; and Cento Baby 10 oz cans.
Readers can visit and question Michelle at The Toy Store and Book Nook, at 364 Main Street, Highlands or on her Facebook page – The Toy Store of Highlands.  Find Harry at his store, The Southern Way at 338 Main Street, Highlands, or on Facebook at The Southern Way.
---
---