Tastes of Spring at The Farm at Old Edwards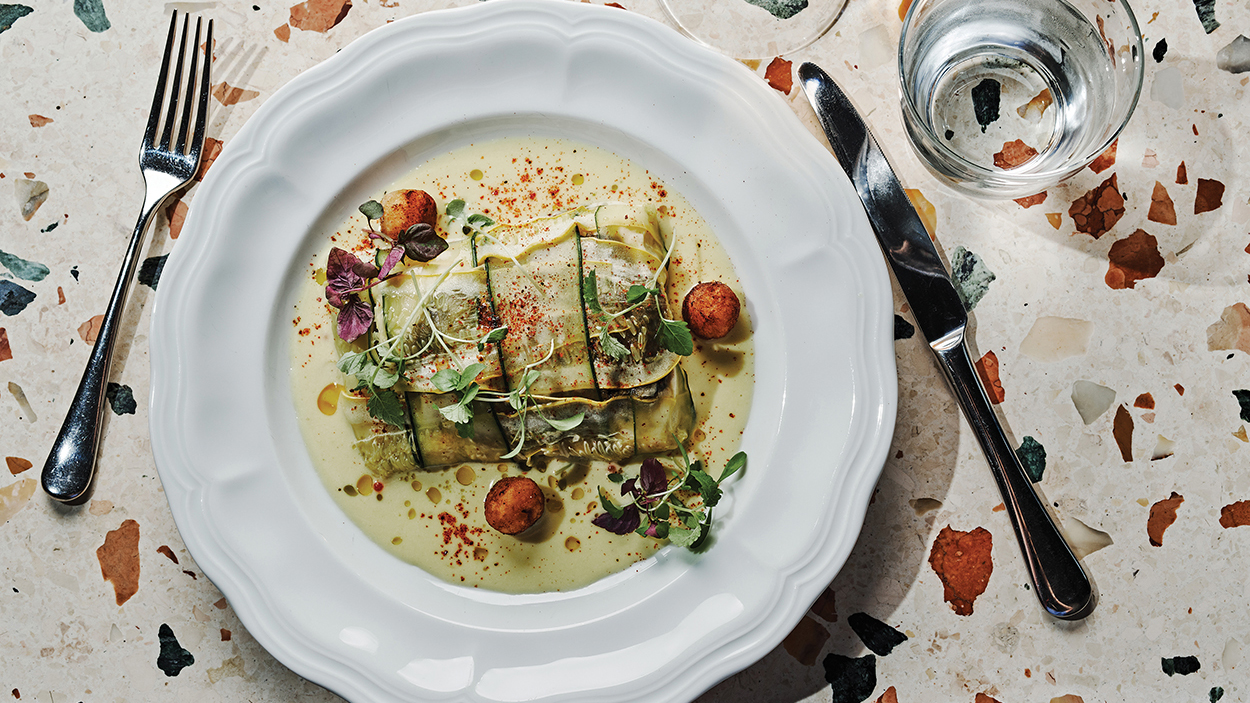 Written By: Marlene Osteen | Issue: April - 2022
Chef Craig Richards, the impresario of Atlanta's Lyla Lila Restaurant, serves up his favorite dishes and a host of front-of-the-house stories and back-of-the-kitchen tales for the Spring Fling at The Farm at Old Edwards, Thursday, April 14. For more information, visit oldedwardshospitality.com
---
I spoke recently by phone with Chef Craig Richards of Atlanta's Lyla Lila Restaurant, as he was preparing for the Italian Feast menu he will present for the Spring Fling at The Farm at Old Edwards on Thursday, April 14.  
Richards, who had just received word that he was long-listed for a James Beard Best Chef Southeast Award, was in good spirits. He acknowledged that the news had come both as relief and validation following the challenges of the past two years.  
Three months before the start of the Pandemic, Richards and his partner Billy Streck had opened their dream restaurant in a sleek new building in midtown Atlanta, designed by the gifted and esteemed team at Smith Hanes Studio.  
For two months following the onset of Covid, the restaurant was able to offer take-out only.  When they were able to reopen, it was "like opening the restaurant all over again." 
Thankfully, through it all they managed to retain their regular clientele and today are busier than ever.
Richards earned his stripes behind the stoves of the reigning emissary of Italian cooking – Lidia Bastianich – in her kitchens in Kansas City and Pittsburg.  There he began his journey on mastering the art of pasta and discovered a love for regional Italian cooking.  
He went on to lead the brigade at high profile restaurants in Atlanta, most notably St. Cecilia before teaming up with Streck.   
Asked about the inspiration for his menu, Richards explained that, "We take local ingredients and prepare them with an Italian spirit and aren't afraid to bring in other ingredients from other cultures if they fit the flavor profiles we're going for." 
The philosophy seems evident in his upcoming menu for Spring Fling: which includes:
Passed Hors d'oeuvres: Crostini with Crab, Green Harissa and Crème Fraiche; Roasted Beets with Castelvetrano Olive Aioli and Sardinian Cracker; and Gem Lettuces with Gorgonzola, Crispy Prosciutto and Pickled Jalapenos
Dinner First Course: Tuna Crudo with Almond Butter, Strawberries, Cucumber; Second Course: Duck Lasagna with Cocoa Bechamel, Parmigiano, Carrot-Coriander Puree; Third Course: Red Snapper with Spring Onion Soubise, Heirloom Carrot, Pistachio and Crispy Caper; Dessert: Tiramisu.
Richards will also be hosting the guests at Half-Mile Farm throughout the weekend with special cocktails, Italian-themed hors d'oeuvres and a special lemon yogurt cake for Easter Sunday breakfast.  On Saturday afternoon at 4:00 P.M. in the Woodland View Room at Half-Mile Farm he will teach a class on the art of making fresh pasta and will present his dish of Cacio e Peppe Agnolotti.
It's not Richards' first time in Highlands. He annually rents a house here over the Fourth of July weekend, and he tells me, "It's a nice break from the city and everyone is so friendly." Plans for his visit also include hiking with his wife and reconnecting with some of the local chefs he met on previous visits.
Cost is $175 per person plus tax and gratuity.  Please note the event is for guests 21 and over.  This is just one of a fabulous line-up of other chefs visiting Highlands this year. Check lodging  and availability at oldedwardshospitality.com.
---
---