Southern Chefs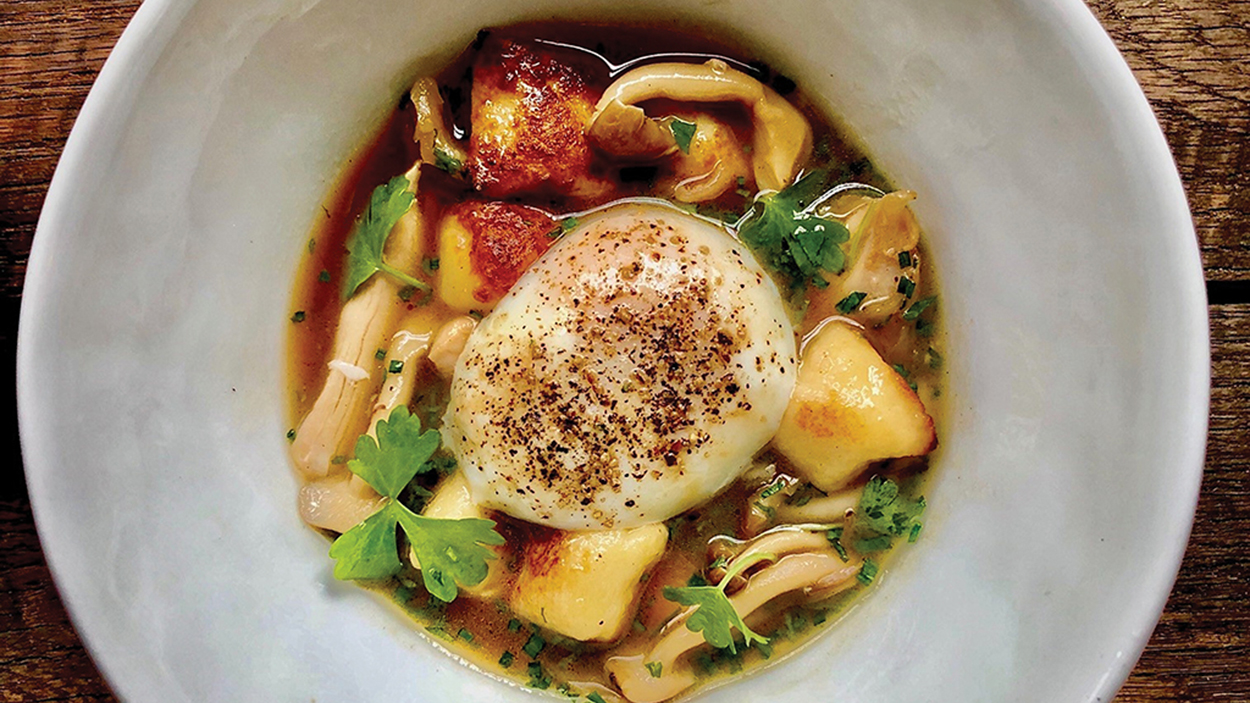 Written By: Marlene Osteen | Issue: 2021/07 – July
Expect good things from the kitchen when nationally-recognized chefs Steven Satterfield and Joseph Lenn pool their talents at The Farm at Old Edwards, Sunday, August 15. For reservations or more information, OldEdwardsHospitality.com/SatterfieldandLenn.
---
Of the Southern chefs that could be labeled "iconically Southern," Steven Satterfield and Joseph Lenn would certainly be the obvious choices.  
Together they have shown the rest of the country that Southern food is America's most vital and brilliant.   
On Sunday, August 15, the two chefs – and good friends – will come together to cook at The Farm at Old Edwards.   
Satterfield runs Miller Union, a cozy restaurant in a former industrial space on the Westside of Atlanta.  Lenn is the chef at J.C. Holdway, housed in a former photography studio in downtown Knoxville.
Their cooking has earned both men James Beard Awards and together, their restaurants have acquired a small constellation of stars. Like many great chefs, both men take their cues from family and provenance.    
Known to his peers as the "Vegetable Whisperer," Satterfield was born in Georgia's Lowcountry, raised on the region's rice, seafood, and fresh vegetables. It's his history, along with the history of the South, that informs Satterfield's cooking – a style that one reviewer described as "understated luxury."  
His menu at Miller Union reflects his devotion to "farmstead cooking" and is embodied in dishes like Herbed Cornmeal Fritters with dilly yogurt and curried almond,  or Grouper Filet with peach salsa and grilled cabbage. Root to Leaf, the cookbook he published in 2017, mimics his cooking philosophy – minimal treatment of the very finest ingredients.  Described as "an exhaustive and fascinating guide to the four seasons of vegetable life in the American South," it's a collection of mouth-watering recipes that both elevate and celebrate the world of fresh produce.
Knoxville native Joseph Lenn came to fame at the exalted temple of cuisine, the Inn at Blackberry Farm, where he spent 10 years, five of which were at the helm.  
His 2016 opening of J.C. Holdway was one of the most anticipated openings of the season.  The menu is centered on a wood-fired stove and reflects his ambition to serve "simple food prepared well."  Or as Esquire noted when naming J.C. Holdway to its Best New Restaurant of the Year list, "he's more or less throwing a wood-fired Super Bowl party of the gods."  Not-to-be-missed dishes include Slow-Cooked Egg with Chicken Confit and mushrooms and gnocchi, which marries refined technique with outsized pleasure. 
On the menu for the evening are delicious offerings that rejoice in the summer season:  dishes that promise indulgence, enjoyment, and dining at its most elevated.  Intelligent and curated wine pairings selected by the Old Edwards sommeliers will enhance and complement the menu.  
Plan for 6:30 P.M. cocktails and 7:00 P.M. dinner. Cost is $185 per person, plus tax and gratuity.  Please note this event is for guests 21 and older.  To book online, visit OldEdwardsHospitality.com/SatterfieldandLenn.
---
---