Serving Up a Spring Feast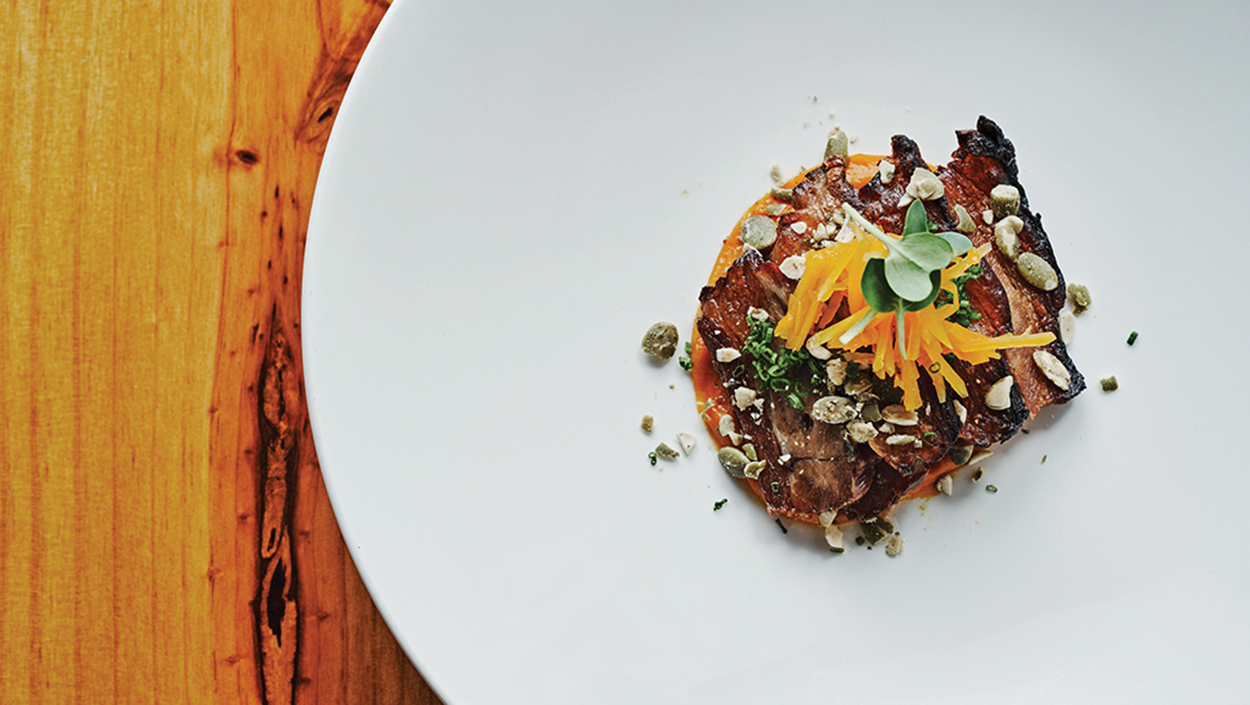 Written By: Marlene Osteen | Issue: May 2023
With his second cookbook Vegetable Revelations just released, Chef Steven Satterfield shares his culinary magic at a gourmet dinner at The Farm at Old Edwards, May 18.
---
It has been told that the gourmand and author Joseph Weschberg once described a dinner by legendary French Chef Ferdinand Point, "So brilliant and so breathtaking that it must have prompted immediate phone calls to travel agents all across the United States."
While I'm far less of a raconteur, the spring feast that Chef Steven Satterfield will serve at The Farm at Old Edwards on Thursday, May 18 warrants no less of a response.
It is likely that many of you know Satterfield. A James Beard award-winning chef and owner of the acclaimed Atlanta restaurant, Miller Union, has been a guest chef at The Farm at Old Edwards in the past.
As he told me recently on the phone, "Highlands is such a lovely place. I've been there multiple times and it's always exciting to go back, and work with the Old Edwards team. I will be crafting a menu from one of the tracks of my book."
He is referring to his recently released second cookbook, Vegetable Revelations.
In his first book, Root to Leaf, Satterfield initiated a gastronomic dialog on vegetables that gave us all a new way of thinking about them. He says that "this book is more about experimenting," and that, "inspiration came from traveling and tasting and applying those discoveries to vegetables, in order to give my readers more license to play in the kitchen, and to have fun."
In his introduction he writes that, "I've started to venture out of my comfort zone, applying new-to-me flavor profiles and techniques."
The creative awakening that his travels provided will surely be evident at The Farm. Though the menu is still under discussion, it will certainly be an expression of his passion for vegetables and the crucial concepts of eating well that he adheres to – quality of the ingredients, locale, and seasonality.
He says that "There will be fish, meat, and dairy, as there is in my books. But vegetables are where I get my inspiration so its where I begin. As it will be the height of spring, I will lean on the delicious produce available – asparagus, peas, and hopefully rhubarb."
The evening will commence with cocktails in The Orchard and proceed to a seated five-course dinner to include recipes from Satterfield's new book, accompanied by thoughtful wine pairings.
For those unable to attend dinner, Satterfield will be at Acorns, signing his new cookbook on Wednesday, May 17, from 2:00 to 4:00 P.M. To book online, visit OldEdwardsHospitality.com/Events.
by Marlene Osteen
---
---