Red, White, & Bubbly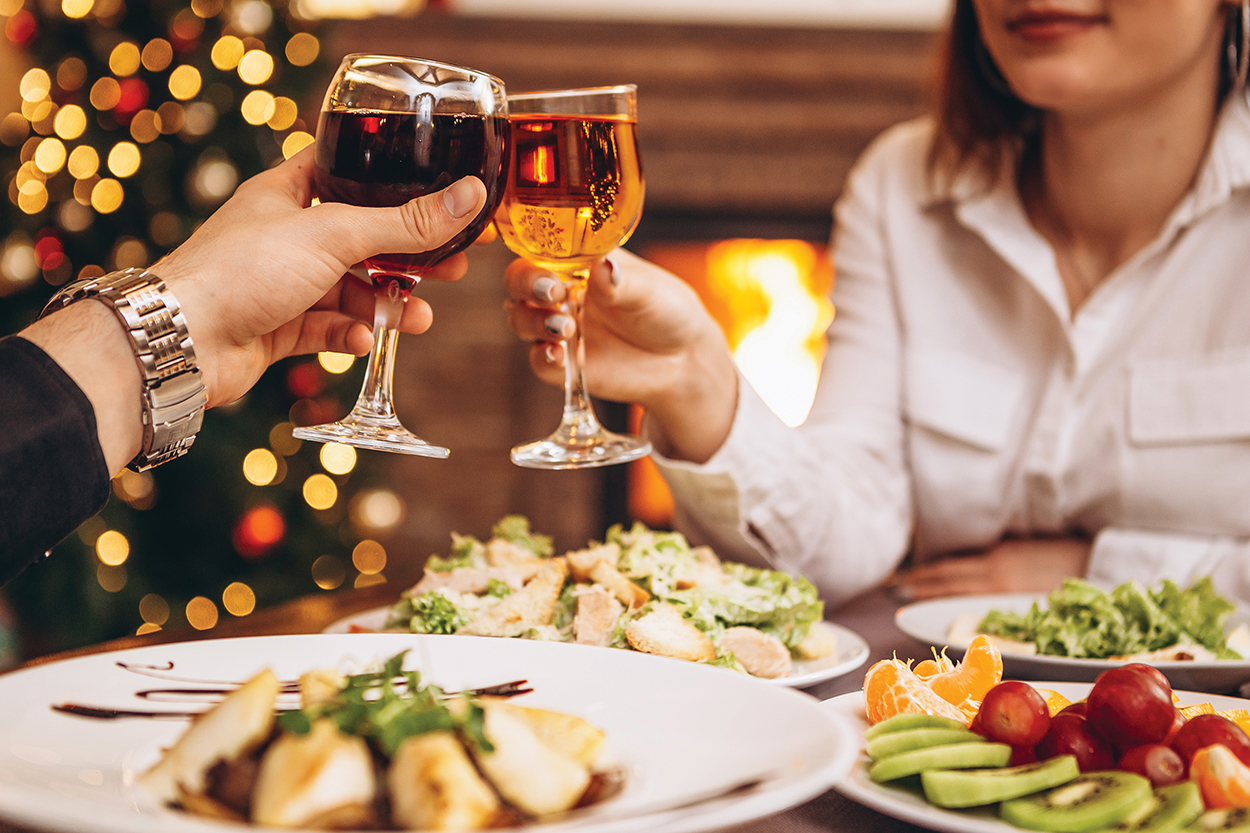 Written By: Marlene Osteen | Issue: 2021/12 – December
The correct selection of wine adds a joyful flavor to any holiday celebration.
---
If, as Christmas approaches, great questions are stirring about what wines to be serving, then I give you to know there is nothing to dread. 
For simply said, there's much pleasure ahead, and generous pours of joy to be spread. 
Sparkling Wines: It goes without saying, no celebration is complete without some bubbles. 
For the Traditionalist:  from Champagne, France, from whence it all started, the iconic Laurent Perrier Brut, elegant and lively with scents of peach and warm biscuits.
A Terrific Value:   A refreshing Chenin Blanc based wine and sure to bring a smile is the Sparkling Champalou Vouvray Brut. 
White Wines:  My rather eclectic list of wines that I think will add interest to the holiday table and brighten up the festive season through their unique personality.
Burgundy for the Chardonnay Fan: Henri Perrusset Macon Villages is a superb Macon with lovely honeysuckle fruit and zesty acidity, and the Louis Michel Chablis is brilliantly citric and mineral.
For the Not-Chardonnay Lover:  The Planeta Etna Bianco, from Sicily has enough richness to satisfy the chardonnay lover and brightness to satisfy everyone else.
A Full-Bodied White Destined to Shine: From the Central Coast of California, the Treana Blanc is fabulously textured and unctuous with good acidity.
Red Wines:  A brief compilation of some compelling wines certain to intrigue and delight.
From a Revered Producer: the Ridge Three Valleys Red. Certainly, nothing could be cozier than sipping a glass of this zinfandel-based blend by the fireside.
For Old and New World Wine Lovers Alike:  the Vietti Barbera d'Asti Tre Vigne is spicy and savory with notes of plum, raspberry and violet. 
The Crowd Pleaser: The Adelsheim Pinot Noir Willamette Valley gives up aromas of fresh cranberries and peppercorn.
And for Dessert: Fonseca Late Bottled Vintage Port is an ideal pairing with bleu cheese or chocolate.
 These and similar wines can be found in Highlands at The Wine Shoppe, Bryson's and Mountain Fresh Grocery and in Cashiers at the Wine & Provisions Shop at Hotel Cashiers and The Wine Cellar of Cashiers at 130 US 64.
And finally some advice for collectors from my friend Danny Haas, of Vineyard Brands Selection.  Because the 2020 vintage was subject to small yields due to frost and other conditions, prices are likely to escalate dramatically, so buyers should seek to stock up on the 2019 vintage now.
---
---