Pumpkin Cranberry Bread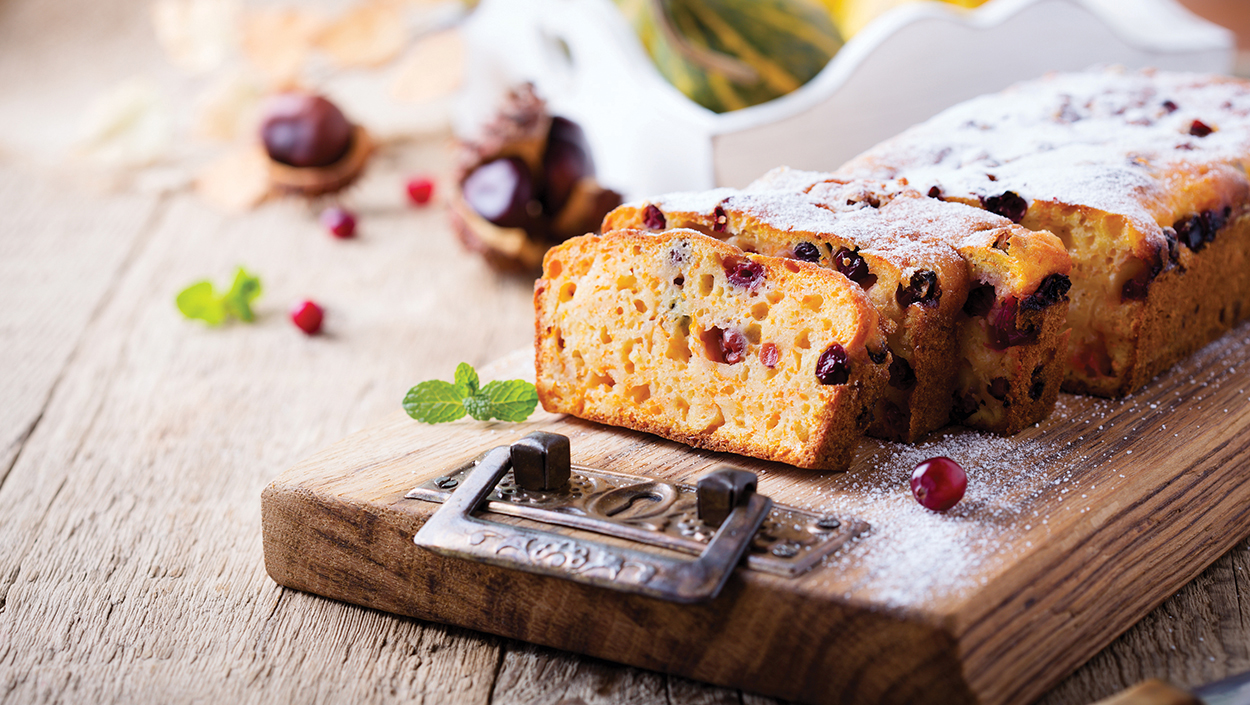 Written By: Marlene Osteen | Issue: December - 2022
Clif Gottwals' jolly good bread is a holiday favorite (and Labrador-approved).
---
This holiday recipe for pumpkin cranberry bread comes from Elevated Properties broker Clif Gottwals.  A tasty slice of his family's tradition it's a delightful twist on a classic Christmas quick bread.
Gottwals recalls his mother and grandmother baking the holiday bread, "for our family to enjoy and to share with friends.  It was a perennial favorite and a holiday staple – the loaves were always wrapped in foil and finished with a red and green bow, ready for gifting."  
Though he enjoyed the treat often growing up, it wasn't until he was in his teens that Gottwals learned how to make the recipe.
"Much to my parents' dismay, I returned from college for the holidays with an 8-month-old Labrador named Charlie.  All was going well until my grandmother and I discovered that Charlie had mounted the dining room table and destroyed 14 loaves of bread that my mother had left to cool while she went shopping.  Realizing that Christmas and the safety of me and my dog were in peril, my grandmother and I joined forces to make and replace 14 loaves of pumpkin-cranberry bread before my mother returned."
The combination of pumpkin and warm spices with a tart bite of fresh cranberries is really something special.   Delicious at any time, it would be equally welcome as a Christmas side as it would be at breakfast, as a snack or even a light dessert.
Gottwals Family Holiday Pumpkin Cranberry Bread
Ingredients
3 cups all-purpose flour, sifted
1 ½ teaspoons salt
2 teaspoons baking soda
5 teaspoons pumpkin pie spice
1 (15oz.) can of pure pumpkin puree
1 cup vegetable oil
3 cups granulated sugar
5 eggs
½ cup orange or apple juice
1 cup fresh cranberries
1 cup chopped walnuts or pecans (optional)
Directions
1. Preheat the oven to 350 degrees with a rack in the middle. 
2. Grease and flour two 9×5 loaf pans
3. In a large bowl whisk together salt, baking soda, and pumpkin pie spices.
4. In a large bowl whisk together pumpkin puree, vegetable oil, granulated sugar, eggs, and orange or apple juice.
5. Fold the wet ingredients into the dry ingredients until fully combined.
6. Fold in cranberries and nuts
7. Transfer the batter to the prepared pans and smooth into an even layer
8. Bake until the loaf is puffed and set, and a skewer inserted into the center comes out with moist crumbs attached, 60 to 65 minute
9. Transfer the bread, in the pan, to a rack to cool for 15 minutes. Invert onto rack and let cool completely before wrapping in foil
Foil wrapped loaves can be placed in freezer bags and frozen for later use.
---
---