Old-fashioned Labor Day Picnic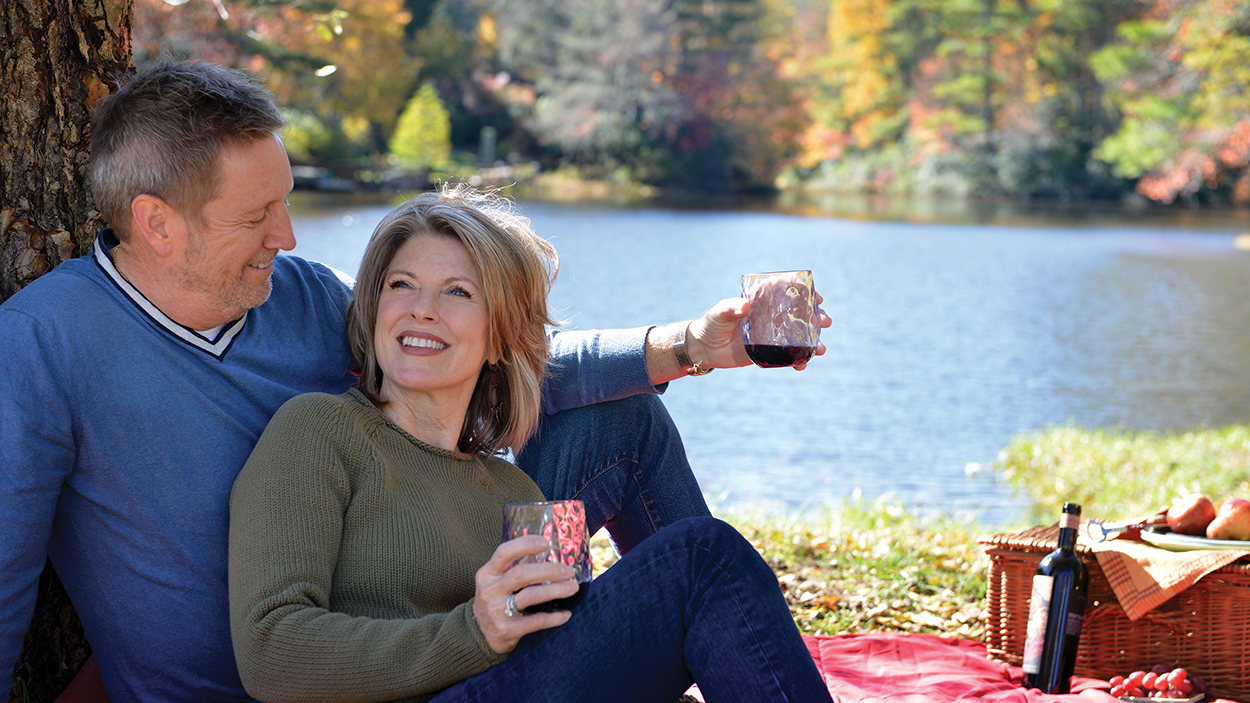 Written By: Marlene Osteen | Issue: 2021/08 – August | Photograph By: Greg Newington
These glorious summer days, reaching their bright crescendo now, are the perfect time to pack a picnic and create a memory that'll carry you through next February.
---
For many, the past year has been, may I dare say it – not much of a picnic.  So may I then suggest a picnic – a Labor Day picnic? Perfectly pleasurable, simply perfect, and entirely satisfying, picnicking is the height of earthly pleasure. So grab your picnic basket, and head for the hills to one of the Plateau's many idyllic spots.  
Unpack your feast along a woodland trail bordered with wildflowers at the Highlands Botanical Center or on a rough-hewn table at the covered picnic spot at the Cliffside Lake Recreational Area. Trek a mere half-mile to the top of Sunset Rock and a panoramic clearing where you can spread a blanket. 
The fun is in the planning. The food should be playful, fun, fresh, and festive and have ample contrasts in taste and texture.  
Fried Chicken, which is usually as good if not better at room temperature as it is hot, ensures a divine outdoor feast.  Especially when accompanied by the traditional triumvirate of biscuits, coleslaw, and potato salad.  Deviled eggs are ideal, as are ham biscuit sandwiches with apricot mustard or half-sandwiches on crustless white bread filled with pimento cheese or egg salad.  Perfect for any outdoor meet-up is a cold combination of pasta with salmon, peas, and dill. 
Celebrate the height of summertime produce with salads: creamy buttermilk butterbean; corn with tomatoes and mint; sweet and spicy fruit salad topped with mascarpone, watermelon with feta.  Good bread is absolutely essential, as is fresh fruit.  
Wow, your guests with a plentiful platter of Spanish tapas – piquillo peppers stuffed with goat cheese or anchovies, mixed olives, manchego cheese, and the best ham you can find.  Or indulge your inner Francophile with a heaping board of pate, saucisson, cornichons, mustard and a baguette.  
No afternoon of debauchery and leisure would be replete without a bottle of wine.  It should be accessible, fresh, fruity, quaffable, and plentiful.  Bring some bubbles for all things salty – from Spain either a Cava or the slightly fizzy Txacoli; from France, a Vino Verde. Rosé hits all the right notes when paired with cold cuts and salads. If you have yet to taste a Sancerre Rose from the Loire Valley, there is no better occasion to do so.  Slightly chilled reds like Beaujolais are ideal companions with charcuterie, sandwiches, and cold chicken. And do as the French and bring some cheese – "to finish the wine."
For dessert, travel-friendly sweets might include a fruit cobbler, a chocolatey brownie, or perhaps Bee Geeson's lemon basil cookies (find the recipe in this edition of Laurel.)
Perhaps the picnic is so beloved because, as Laura Colwin wrote, "its heart and soul is breeziness, invention and enough to eat for people made ravenous by fresh air."
---
---