Low Country Shrimp Boil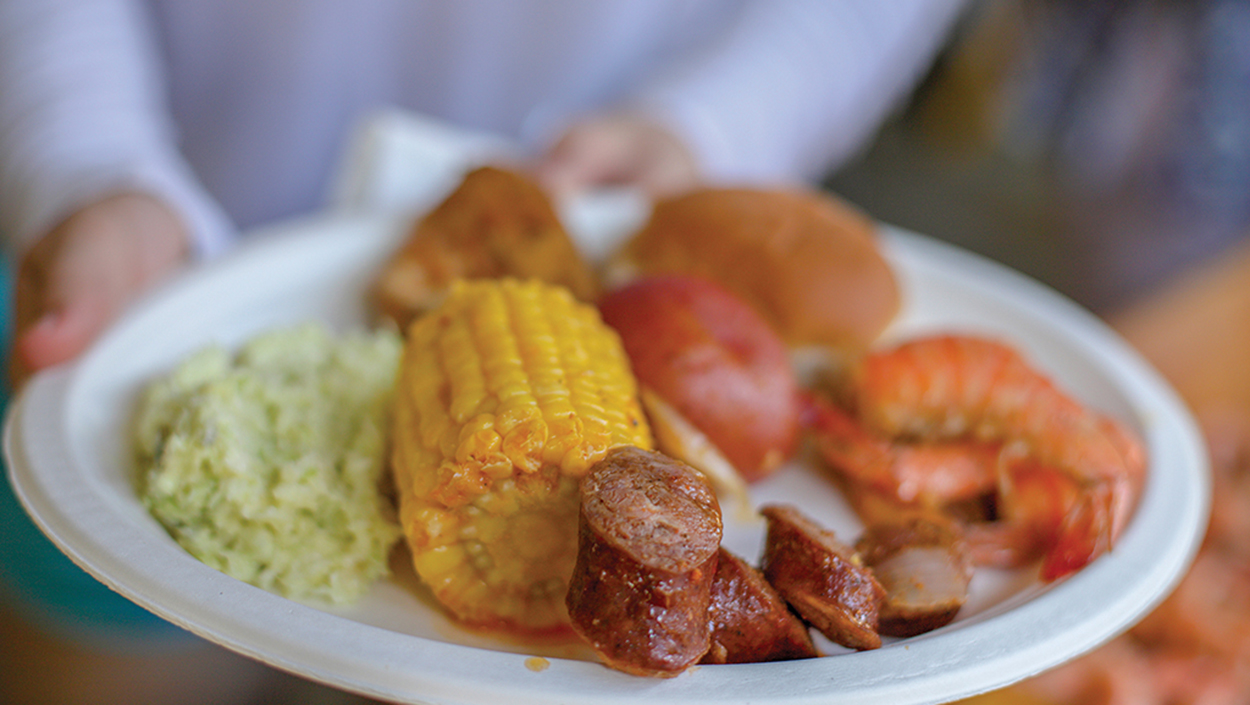 Written By: Marlene Osteen | Issue: May 2023
It's a taste of the Gulf, deep in the heart of the Blue Ridge Mountains – the Low Country Shrimp Boil will be staged at Kelsey-Hutchinson Founders Park in Highlands, Saturday, July 15.
---
Regarded as one of the more popular summer food events and a highlight of the Highlands July calendar is the Lowcountry Shrimp Boil.  Hosted by friends of Kelsey-Hutchinson Founders Park, this sought after event returns to the Park for the 6th year, on July 15.
As denizens of the Lowcountry know, a "boil" is a dish rooted in the Coastal South.  It is what the locals eat on those ritual occasions when inlanders are celebrating with barbecue.
Marty Rosenfield, has been cooking the "Boil" for a number of years and is a master in raising the status of this regional dish to culinary superstardom.  He is legendary for the lengths he takes to make the dish so spectacularly delicious – applying his singular craftsmanship and blend of spices to the conventional recipe of zesty shrimp, sweet corn on the cob, smoked sausages and creamy potatoes simmered in a spicy broth.
Started in 2016 as a fundraiser for the park, the event is also used as a "fun raiser" to promote Kelsey-Hutchinson Founders Park awareness and act as a thank you to patrons and donors.
Though the Park welcomes and accepts donations year-round, the "Boil" is the park's only fundraiser.
Event Coordinator Bill Edwards said, "The funds raised by the Shrimp Boil finance park projects, and all proceeds are used for enhancements of the park.  This affair is for beautification of the park and every net dollar is used for that purpose."  Among the past and future projects are tree trimming, overall floral enhancements, and installation of the chimney, plaques and tables.
Classic 80's tribute music by the Asheville band LazrLuvr will add to the festivities, which explains the event's popularity.  As Edwards told me, "The support for the event has been beyond our expectations and because of its purpose and quality we sell out every year." Tickets include the Shrimp Boil, assorted vegetables, chocolate pudding and two tickets for beer or wine.  Non-seafood eaters can elect to substitute chicken if they do so at the time of their ticket purchase. The event is tented and held rain or shine.
Tickets are available at The Dry Sink in Highlands and the Founders Park website, foundersparkhighlands.org.
---
---