Just Eat. And be Thankful | Highlands Cashiers Thanksgiving Dining Guide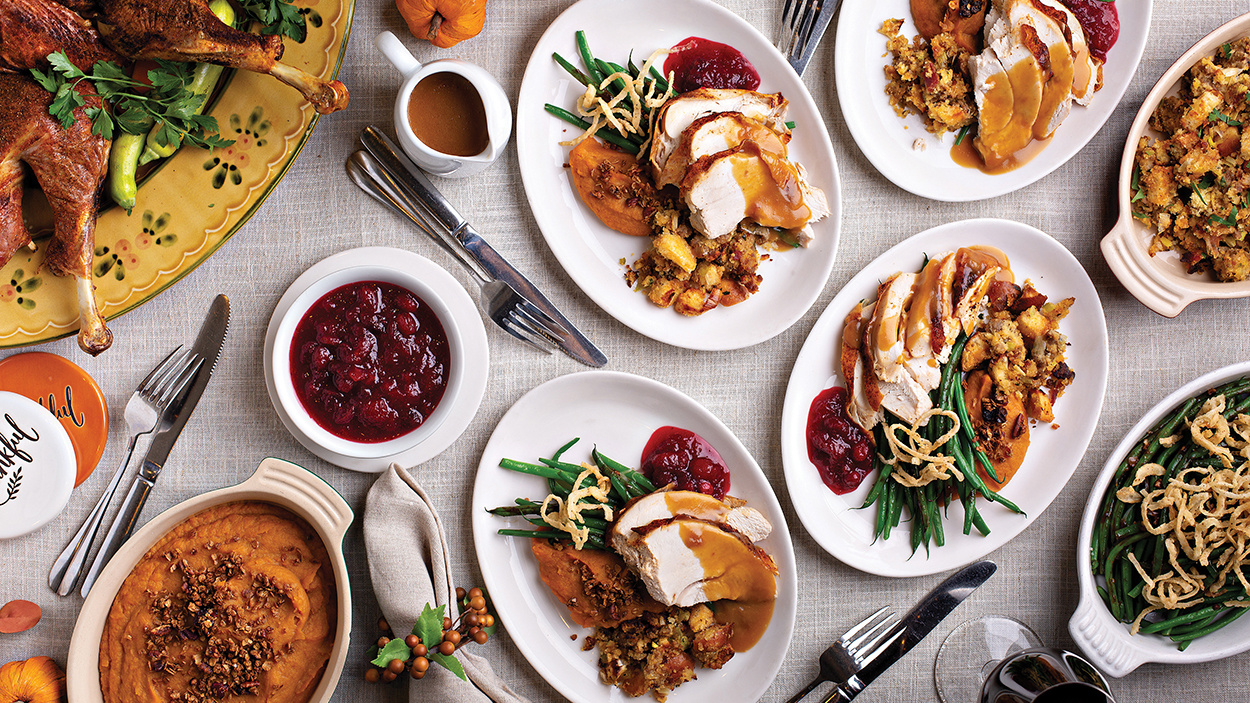 Written By: Mary Jane McCall | Issue: 2021/11 – November
One more thing to be thankful for – someone else preparing your Thanksgiving Feast.
---
Thanksgiving is at hand and who among us isn't already planning our menus?  
If you're more focused on enjoying the big day without the stress and mess of cooking there are numerous options on the Plateau to help with your meal.  From entire meals to desserts and sides, you can find what you're looking for, but the key is planning and calling ahead. 
Take Out Highlands
Bella's Junction Café:  Call ahead to reserve your Thanksgiving meal.  Meals must be picked up on Wednesday, November 24.  (828) 526-0803
Dusty Rhodes Superette:  Sides and desserts will be available in their pre-prepared cases. (828) 526-2762
Fressers Courtyard Café: Call ahead to reserve your main dishes, sides, and desserts. Pick up on Wednesday, November 24. (828) 526-8847
Highlands Smokehouse: Call ahead to reserve your turkey, turkey breast, or briskets, as well as the traditional sides.  Pick up on Wednesday, November 24. (828) 526-3554
Mountain Fresh Grocery: Call ahead to reserve your complete Thanksgiving dinner.  Pick up the day before or a pre-arranged time on Thanksgiving Day. (828) 526-2400
Rosewood Market: Call ahead to reserve your main dishes, sides, and desserts. Pick up by Wednesday, November 24. (828) 526-0383
The Kitchen Carryaway: Call ahead to reserve your sides and desserts. Pick up by Wednesday, November 24. (828) 536-2110
Take Out Cashiers
Cashiers Farmers Market:  Their season officially ended in October but they'll be open again from November 15 until Thanksgiving. Call ahead and reserve your turkey or ham, sides, and desserts. Pick up by Wednesday, November 24. (828) 743-4334
Cashiers Valley Smokehouse: Call ahead to reserve your Thanksgiving dinner and plan to pick up by Wednesday, November 24.  (828) 743-2096
Thanksgiving Dining on the Plateau
Wolfgang's Restaurant & Wine Bar Bistro:  Highlands  (828) 526-3807
Julep Farms: Dillard, Georgia (706) 960-9600
Greystone Inn:  Lake Toxaway (828) 966-4700
Highlander Mountain House: Highlands (828) 526-2590
Four65 Woodfire Bistro and Bar: Highlands (828) 787-2990
Fire+Water at Fire Mountain Inn: Scaly Mountain (800) 775-4446
On The Verandah: Highlands (828) 526-2338
The Library Kitchen and Bar: Cashiers (828) 743-5512
Oak Steakhouse: Highlands (828) 526-4008
---
---