Jugged Venison Stew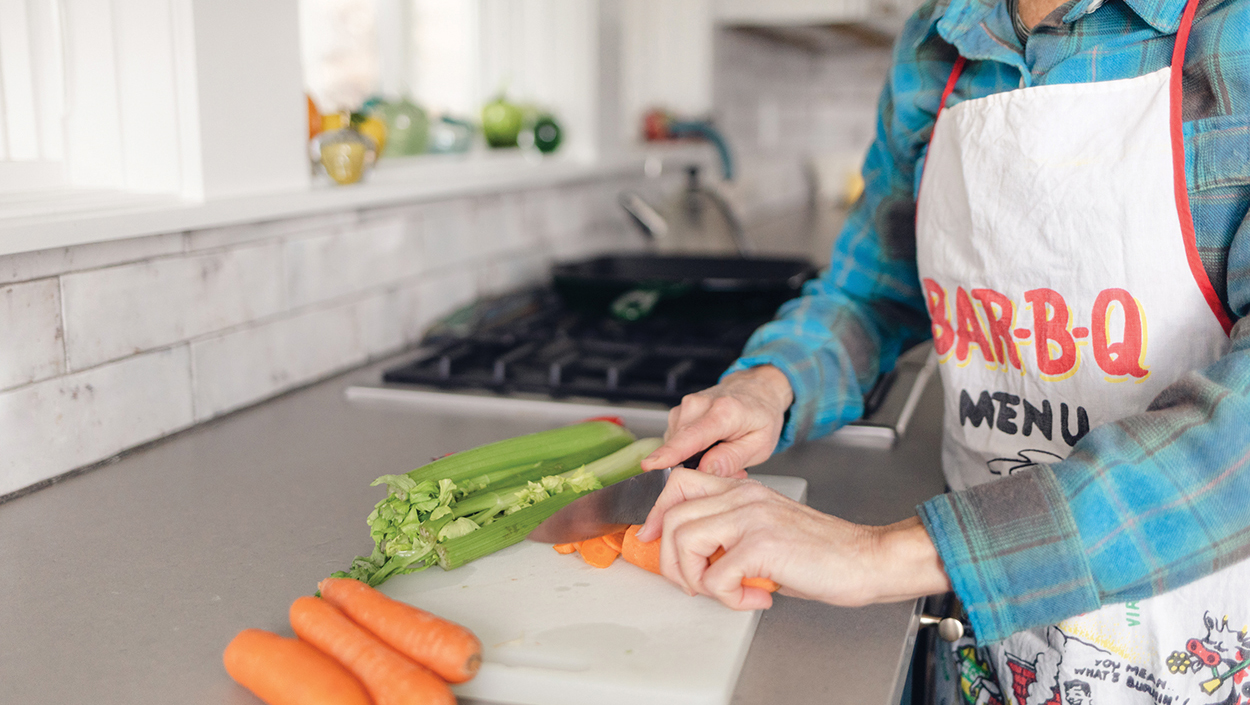 Written By: Marlene Osteen | Issue: March 2023 | Photograph By: Mary Gilian
Beth Townsend's stew recipe is a blast from the past – way, way, in the past.
---
Of all the recipes that one can prepare to comfort and share in the cold months, few have the Paleolithic appeal of a plate of slow roasted venison.  What follows is a recipe for South African Jugged Venison Stew honed over the years by Beth Townsend. An ideal project for a chilly weekend, it's certain to unite the cook with his/her hunter-gatherer ancestors. 
When a teenager in Florida during the 1970's, Townsend's mother worked as a paralegal for a politician. One day, accompanying her mom to work, an associate asked Townsend to transcribe a collection of recipes that she had accumulated during her travels. Though intrigued by the recipe for what was certainly a homey, rustic and delicious stew, it wasn't until she moved to Cashiers in 1982 that she had a chance to make it.  It was for the first man in her life that killed deer.
Lately Townsend's days are filled working as a broker and partner at Mckee Properties.  Still once a year during the winter months she finds time to recreate the recipe when her significant other of 14 years, Manuel DeJuan "brings home that great piece of tenderloin." She explains that; "One of the things I enjoyed most when I had a metal swinging arm in my fireplace and a cast iron kettle, was to start the stew on the stove and finish it over the fire, watching it bubble, inhaling the savory aromas of the cloves."
The meat is hearty and succulent, with the merest hint of gaminess, and the recipe works well with wild venison and most other lean proteins as well.Townsend suggests serving it over something soft to soak up the sauce: a mound of mashed potatoes, egg noodles, buttery rice, or polenta.
Beth Townsend's South African Jugged Venison Stew
Serves 6 – 8
Ingredients
2 lbs. of boneless venison, chuck, or rump, cut into 1 ½ inch chunks
½ cup of vegetable or olive oil (Townsend uses half of each)
1 cup onions, finely chopped
1 cup celery, finely chopped
2 tablespoons garlic, minced
4 tablespoons flour
2 cups beef stock
2 tablespoons freshly squeezed
lemon juice
6 – 8 whole cloves
1 – 2 large bay leaves
½ teaspoon dried thyme, crumbled
1/8 teaspoon cayenne
1 teaspoon salt
¼ cup Port, Madeira, or sweet sherry
Instructions
1. Heat the oven to 325 degrees. Pat meat dry. 
2. Set a 4.5-quart Dutch oven over medium-high heat and add the oil. When hot, add the beef a few pieces at a time; do not overcrowd. Cook, turning the pieces until beef is browned on all sides; add more oil as needed between batches. Transfer the browned meat to a bowl or a plate.  
3. Reduce the heat to medium and add the onions, celery, and garlic.   Cook until soft, about 5 minutes, stirring frequently and scraping the pan with a wooden spoon to loosen any browned bits.  Add the flour and cook, stirring constantly until evenly combined.  Add the stock, lemon juices, cloves, bay leaves, thyme, cayenne and salt.
4. Add the meat and any accumulated juices and bring to a boil.  Cover and transfer to the oven for 2 hours.
5. Add the port, Madeira or Sherry and taste for seasoning.  Return to the oven and cook until the venison and vegetables are tender, 15 minutes.
---
---