Honey Spiced Pumpkin Streusel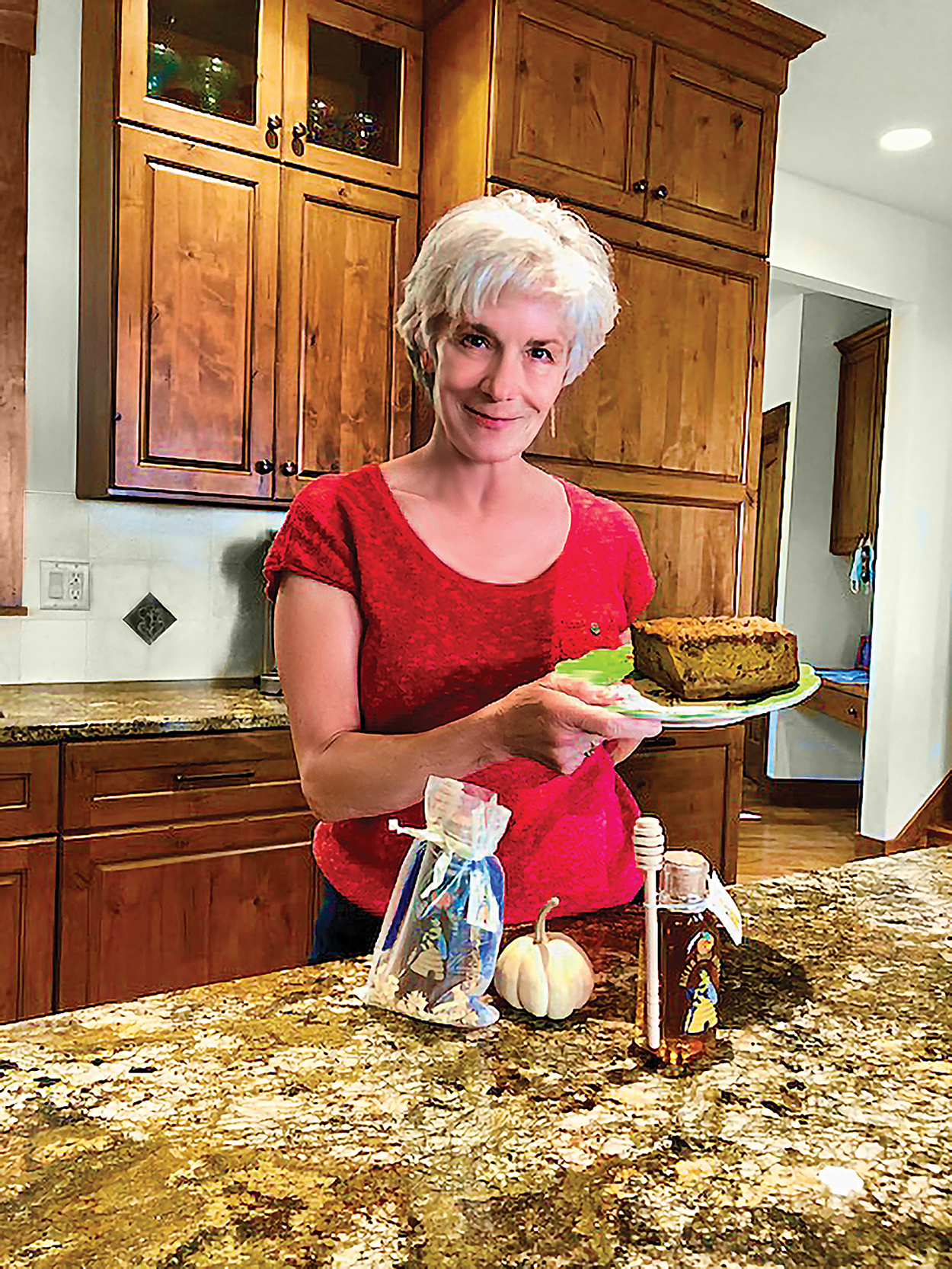 Written By: Marlene Osteen | Issue: 2020/11 - November
Denise Altay's seasonally-perfect Honey Spiced Pumpkin Streusel Cake is the Bee's Knees.
---
Denise Altay is brimming with bee information.  She and her husband, Sean Collinsworth, have 90 hives and three different apiaries where they live in Lake Toxaway.   
Collinsworth, who is one of three or four Americans certified by the Italian Registry of Honey Sensory Experts, got initiated into beekeeping 50 years ago at age 12,  in Chicago.  
Following Sean's career in the Los Angeles Sheriff's Office, the environmentally conservationist couple retired to North Carolina and installed hives to ensure the health of their forest.  
Killer Bees, the honey business that evolved  from that passion, produces never-blended, flavored or pasteurized honey, hand-bottled on their mountain top.  
The purity of their honey is exceptional in an industry that as noted in the Netflix series "Rotten" has been dominated by production practices "straight out of a drug dealer's handbook" – cutting the honey with fillers in order to increase volume and satisfy demand.  
While the bulk of their sales are of wildflower honey, distinctive because of the vast varieties of flowers blooming on the property, they produce a limited amount of  Sourwood Honey from the short three-week growing season, and from the nectar gathered by the bees at their Panthertown Apiary, Mountain Clover Honey.
Denise shares with Laurel readers her recipe for  Honey Spiced Pumpkin Streusel Cake,  a rich, moist and deeply flavored confection that delivers a delicious wave of tangy spicy notes with each delightful bite.  
So, just in time for Thanksgiving!
From Denise, "I'm always a little disappointed with "honey" recipes, since many of them still include more sugar than honey.  This recipe alas, does include sugar!  It's hard to get a crunchy "streusel" with honey"
Honey Spiced Pumpkin Streusel Cake
Streusel Ingredients
1/3 cup Brown Sugar
1/3 cup Granulated Sugar
1 cup Walnuts, chopped
2 teaspoons Ground Cinnamon
½ teaspoon Nutmeg
¼ teaspoon Cloves
pinch of Salt
½ cup Fine Cake Flour
2 oz (1/2 stick) Unsalted Butter at  room temperature
Cake Batter Ingredients
1 cup, minus 1 tablespoon Canned Pure Pumpkin
½ cup minus 1 tablespoon Sour Cream
¼ cup Plus 2/3 cup of Killer Bees Wildflower Honey
2 large Eggs
½ teaspoon Real Lemon Extract
1 teaspoon Real Vanilla Extract
2 cups All Purpose Flour
1 ½ teaspoons Cinnamon
½ teaspoon Ground Cloves
1 teaspoon Baking Powder
½ teaspoon Salt
1 ½ sticks of Unsalted Butter at room temperature
Streusel Instructions
1. Combine the chopped walnuts, sugar, spices and pinch of salt.  Mix well with fork.  Set aside 2/3 of the mixture for filling later.
2. To remainder, add flour and cut up butter pieces.  Chop or blend all together to get a lumpy consistency.  Set aside.
Batter
1. Butter and flour the bottom and all sides of a 9-inch springform pan, Heat oven to 350F.
2. Mix the pumpkin, sour cream, honey, eggs, vanilla and lemon extracts.
3. Mix together flour, spices, baking soda, baking powder and salt in a large mixing bowl.
4. Cut butter and add to dry ingredients
5. Add the pumpkin mixture, 1/3 at a time and mix at low speed
6. Pour ½ of the batter into the pan and smooth.  Sprinkle the streusel (without the butter) over the batter evenly.  Carefully pour remaining batter over the filling and smooth.  Take remaining streusel with the butter and put in little clumps covering the top of the cake and provide a thick layer.
7. Bake the cake 60 minutes – a flat knife inserted into the cake should come out with some moisture.  Cool for 10 minutes before removing
Killer Bees honey can be found in Highlands at Acorns, the Cashier Farmers Market, and Historic Toxaway Market.  For more information, visit killerbeeshoney.com.
---
---