Ham, Beans & Collard Greens Soup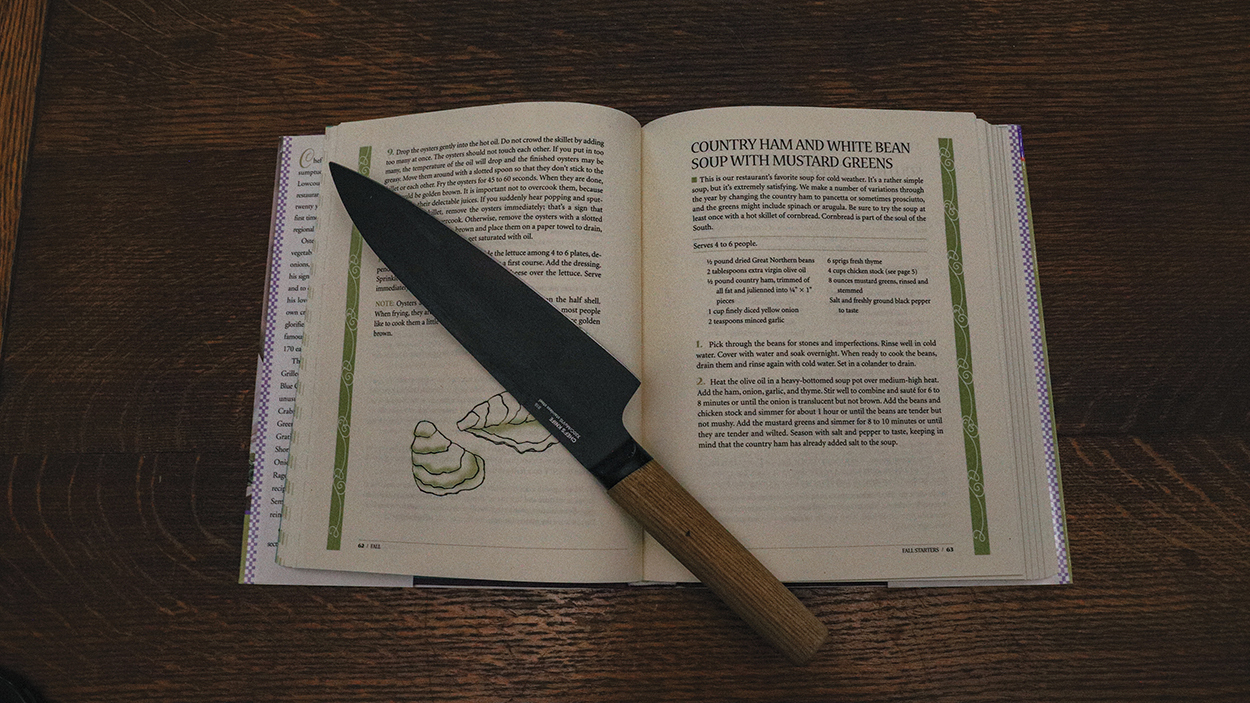 Written By: Marlene Osteen | Issue: March-2022
This hearty soup is a love note from Marlene and her late husband, the beloved Louis Osteen.
---
If flipping through this magazine you landed on my column about wine and soup, you already know of my love for this dish. And perhaps you know as well that my husband, Louis Osteen, was both a cook and a writer – and so for this month's recipe I introduce again my two loves.
This particular soup – Country Ham and White Bean with Mustard Greens – was featured in his cookbook Louis Osteen's Charleston Cuisine. It was a favorite staple on the winter menus at our South Carolina restaurants and is a perfect representation of his cooking style.  Louis was an outspoken advocate for non-fussy, humble preparations that were hearty, earthy, robust, and deeply gratifying.  
The recipe that follows was a quintessential Louis recipe – accessible, straightforward, easy to make, and layered with flavors.  I hope you'll give it a try – I think you'll agree it speaks clearly and loudly to those preferences.  
In his head notes, Louis suggests variations – "changing the country ham to pancetta or sometimes prosciutto and that the greens might include spinach or arugula."
And although he didn't say so, collards were frequently substituted as well.  But most importantly, he tells us "Be sure to try the soup at least once with a hot skillet of cornbread.  Cornbread is part of the soul of the South."
Country Ham and White Bean Soup
with Mustard Greens
Ingredients
½ pound dried Great Northern Beans
2 tablespoons Extra Virgin Olive Oil
½ pound Country Ham, trimmed of fat and julienned into ¼" x 1" pieces
1 cup finely diced Yellow Onion
2 teaspoons Minced Garlic
6 sprigs Fresh Thyme
4 cups Chicken Stock
8 ounces Mustard Greens, rinsed and stemmed
Salt and Freshly Ground Pepper to taste
Directions
1. Pick through the beans for stones and imperfections.  Rinse well in cold water.  Cover with water and soak overnight.  When ready to cook the beans, drain them and rinse again with cold water.  Set in a colander to drain.
2. Heat the olive oil in a heavy-bottomed soup pot over medium-high heat.  Add the ham, onion, garlic and thyme.  Stir well to combine and sauté for 6 to 8 minutes or until the onion is translucent but not brown.
3. Add the beans and chicken stock and simmer for about 1 hour or until the beans are tender but not mushy.
4. Add the mustard greens and simmer for 8 to 10 minutes or until they are tender and wilted.  Season with salt and pepper to taste, keeping in mind that the country ham has already added salt to the soup.
---
---