Carrot Walnut Bread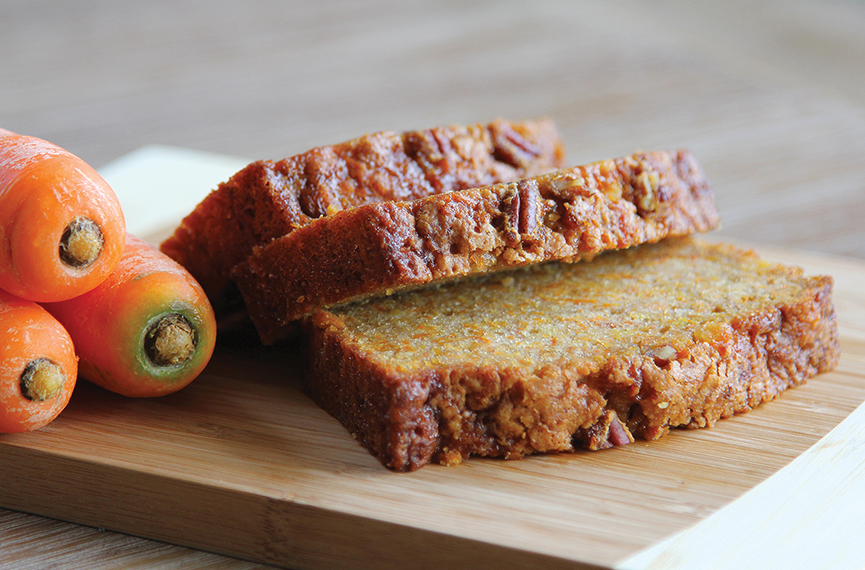 Written By: Dr. Anastasia Halldin - healthymamainfo.com | Issue: 2016/01 - Winter
Cold winter days call for a nice fireplace and a warm slice of homemade bread. Moist and slightly sweet, this healthy, chewy bread is great for breakfast or with some soup. It is full of vitamins, minerals and fiber. The veggies can hardly be tasted in this bread, making this recipe perfect for veggie haters, as they won't recognize the vegetables they don't like. The bread can easily be frozen and reheated.
Ingredients:
1/2 cup Coconut Oil
2 cups Whole Wheat Flour or Gluten-Free All-Purpose Flour
1/2 cup Maple Syrup
1 1/2 tbsp. Baking Powder
1/2 tsp. Baking Soda
1/2 tsp. Sea Salt
2 tsp. Cinnamon
3 tbsp. Ground Flax Seed
1/4 cup Orange Juice
1 cup Zucchini, grated
1/2 cup Carrots, grated
1/2 cup Chopped Walnuts
Olive Oil (for the pan)
Instructions:
1. Heat the oven to 350°F. Grease…5-inch loaf pan with olive oil.
2. Stir together the dry ingredients. Melt coconut oil on the stove. Put coconut oil into the dry ingredients
3. Combine the juice and the flax seed. Pour into the dry ingredients, mixing just enough to moisten.
4. Fold in the vegetables and the nuts. Mix well, then pour and spoon the batter into the loaf pan.
5. Bake for about 45-55 mins, or until the bread is golden brown and a toothpick inserted in the center comes out clean. Cool on a rack for 15 minutes before removing from the pan.
---
---