Basil Instincts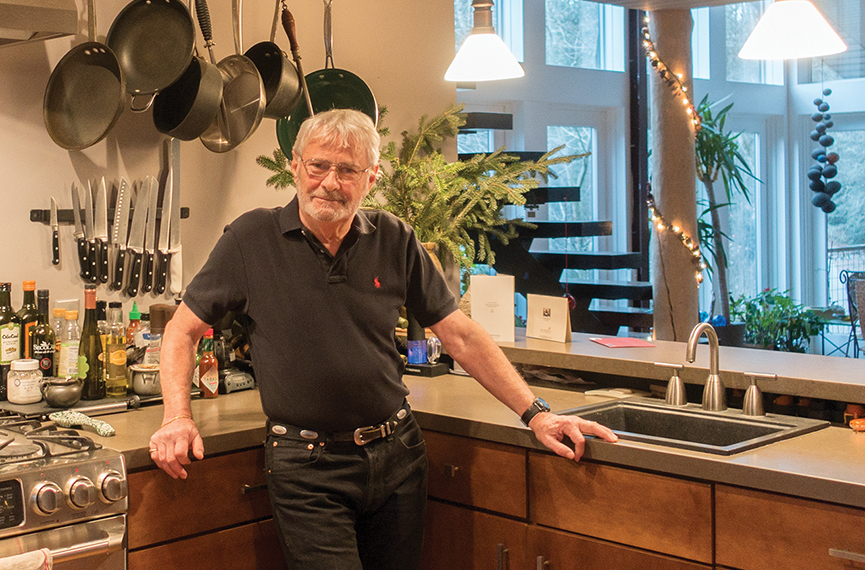 Written By: Jenny King | Issue: 2016/01 - Winter | Photograph By: Marjorie Christiansen Photography
Ken Knight of Highlands spent 30 years in the Navy.
During that time, he was constantly moving to locales far too numerous to mention. He served in both the Vietnam War and Desert Storm.
Does he miss his travelling days?
He laughs and says, "Not at all. I saw everything I wanted to see and some things I'd rather not have seen. I'm not leaving the continental U.S. ever again…and don't ask me to go on a cruise! I was on a cruise for nine months with 4,000 of my closest friends, standing in line to do everything."
While most sailors sought the nightlife of new ports, Knight went in search of something good to eat. His father was an Army cook in WWII and his whole family had been in the restaurant business, so he took advantage of his travels to explore local cuisines.
Of the many places he visited, Sicily was his favorite. He spent three years living in town, surrounded by native Italians. One of his best friends there taught him how to prepare her basic red sauce and it has become his go-to recipe.
"It's very simple," says Knight, "and it's the best pasta sauce you'll ever taste in your life."
Ingredients:
2 Tbl Extra-Virgin Olive Oil
2 Small Onions, chopped
3-4 cloves of Garlic, chopped
1 (32 oz.) can Crushed Tomatoes
1 (32 oz.) can Tomato Sauce
4-6 fresh Basil Leaves
2 dried Bay Leaves
1 tsp. Kosher Salt or Sea Salt
½ tsp. Cracked Black Pepper
½ cup Good Red Wine.
Heat large saucepan over medium heat and add olive oil, onion, and garlic. Cook for eight minutes or until onions are brown. Add wine and scrape up brown bits to get all the flavor. Add tomatoes, tomato sauce, and other ingredients. Bring to a boil. Turn down to low and cover. Let simmer for 60 to 90 minutes, stirring occasionally. Serve over pasta, rice, or polenta. Serves 4-6. You may also add one pound of ground beef, Italian meatballs, or sausage. Brown first, then drain and follow above recipe. Personally, he never adds ground beef but chooses sausage or meatballs.
Please, Knight implores, "Don't do Ragu."
---
---