A Southern Culinary Staple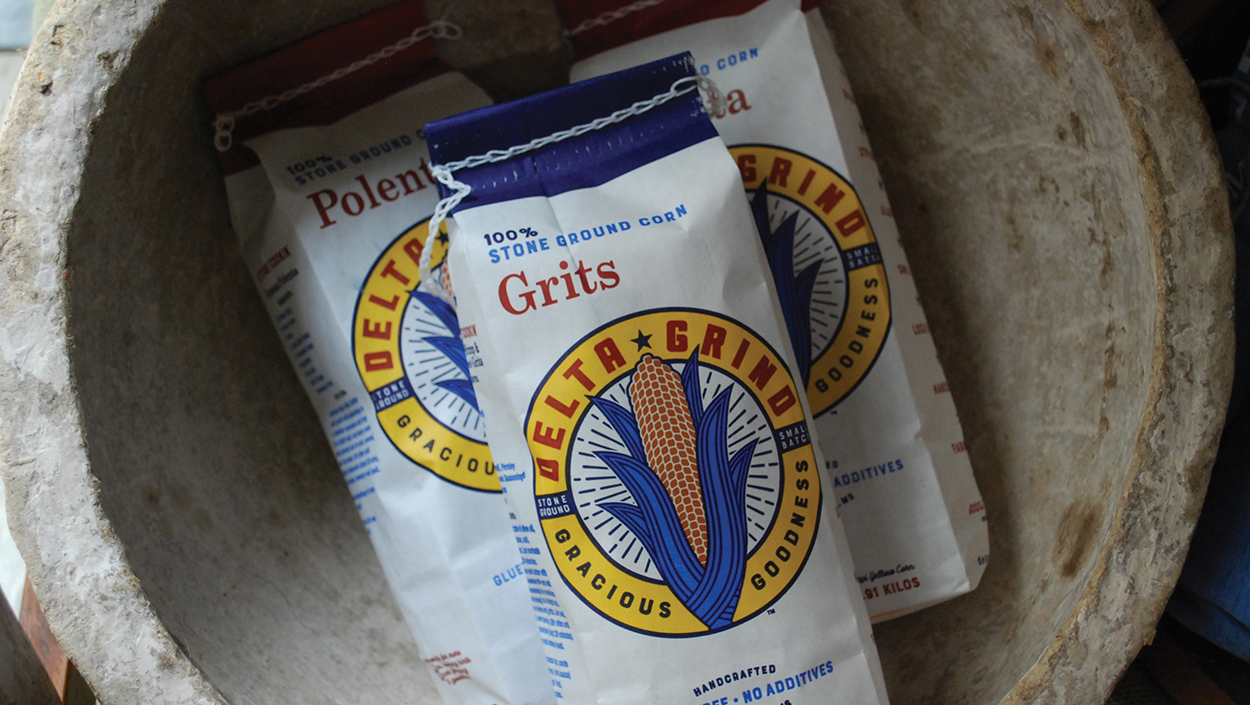 Written By: Marlene Osteen | Issue: March 2023
There's absolutely nothing humble about the grits served up at Half-Mile Farm's Shrimp and Grits Weekend, March 18-19. For more information and to book your stay at Half-Mile Farm, visit oldedwardshospitality.com/shrimpandgrits.
---
It's no secret that Southerners love their grits. Once a humble staple of the breakfast table, simply prepared with salt and butter, grits were seldom seen beyond the Mason-Dixon line.
Then along came the culinary revolution of the 1970's and Americans discovered regional culinary traditions. Savvy Southern chefs, trained in the cooking ways of the Italian and French began experimenting with "old-fashioned" ingredients and soon grits emerged on fancy plates in "highfalutin" restaurants.  No longer just for breakfast, they were cooked in cream, adorned with cheese, and accompanied by everything from herbs and mushrooms to preserved duck. 
By the early 1990's, grits had claimed their place at the tables of better Southern restaurants and innovation was imminent. Shrimp and Grits, the traditional breakfast dish of the South was elevated to haute cuisine and chefs across the country vied to produce the best rendition.
But not just any bag of grits would do. Chefs began demanding grits ground between stones, as they were formerly in the pre-war days – grits that tasted like cracked corn and hinted of the earth. But it wasn't until the late 1990's that artisanal mill goods were available. Driven by the success of white tablecloth restaurants, mills grinding fresh corn into grits emerged in towns across the South. Among them was Delta Grind Grits, founded in 2000 in Water Valley, Mississippi.
The history and passion for grits will be the focus of a Shrimp and Grits Hosted Weekend, March 18-19 for Half-Mile Farm hotel guests. Delta Grind Grits' owner and Lake Toxaway resident Julia Tatum Banner and Half-Mile Farm Chef Jason Tardo will be on hand to lead guests through a series of tastings and presentations featuring the fresh ground cornmeal, grits and polenta that have been earning fans across the country and beyond. A favorite of chefs, Delta Grind Grits are made from yellow corn sourced from local farmers in Northern Mississippi and are freshly ground on a stone grist mill made by a 115-year-old milling company in North Carolina.
Included in the weekend events at Half-Mile Farm is a Saturday social hour from 5:00 to 6:00 P.M. featuring Julia's grits, hors d'oeuvres, craft beverages and live music. At breakfast on Saturday and Sunday from 8:00 to 10:30 A.M., Chef Jason Tardo will offer up a feast of grit culinary pleasures, while Julia mingles with guests. A highlight of the weekend will be on Saturday from 4:00 to 5:00 P.M. at the Grits Tasting and Presentation when Julia's rightfully famous, extremely delicious Shrimp & Grits will be served.  
In sum, it's a weekend that pays homage to the long-ago saying that, "A man full of [grits] is a man of peace." 
Hosted events are for exclusive for Half-Mile Farm guests.
---
---