A Much-Loved Shopping Tradition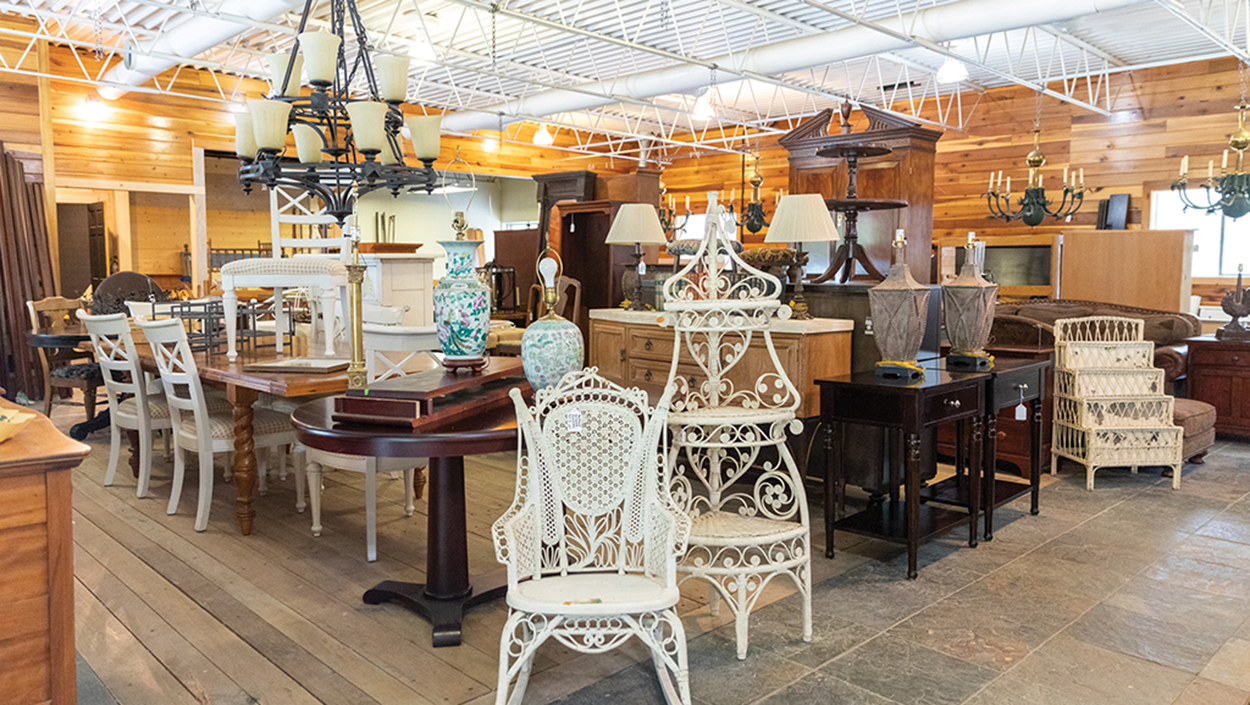 Written By: Mary Jane McCall | Issue: May 2023 | Photograph By: Mary Gilian
The Bazaar Barn, 1846 Highway 107 N. in Cashiers, is bringing a vast new gallery of household possibilities and greener financial prospects to local nonprofits.
---
Part of the wonder of living on the Plateau is that our communities embody the spirit of neighbors helping neighbors, and one of the best and most successful examples of that philosophy is the Bazaar Barn run by the Church of the Good Shepherd.
So successful has this ministry been that they have outgrown their original space and are now relocating and expanding to 1846 Highway 107 N across from Blue Ridge School in Glenville.
This move expands their space to over 9,000 square feet, a testament to the success of the Church's outreach ministry to give back to the community.  The original Bazaar began 30 years ago as a much-anticipated annual sale.   Church members and others in the community would donate household items throughout the year which the Church would store and then sell at their annual outdoor Bazaar.
This much-loved tradition could have faltered when the pandemic hit in 2020 when circumstances dictated that an annual sale would not be possible. In their determination to continue this important ministry, the Church quickly pivoted from the once-a-year sale to opening the doors of the Bazaar Barn. This proved to be a classic example of good things happening when things seemed at their bleakest.
The church's mission is "to reflect God's love through our faith in action" and through their faith and action this ministry stayed alive and well and continues to grow and give back. In the last three years, they have given back an astounding $750,000 to 35 nonprofits across Western North Carolina that improve the lives and circumstances of so many.  Here in the Cashiers and Highlands area, among the recipients are schools, libraries, health and dental clinics, scholarship funds, mentoring programs, and services for the elderly.
Skip Ryan, the Bazaar Barn manager, is often introduced as the man who keeps the Barn operating smoothly but he is quick to say that the volunteers who give so generously of their time make the mission possible. The good news is that anyone can volunteer their services here so if you've got a heart for giving and a little time, give them a call and you can join this hard-working team.
The Bazaar Barn is open on Fridays and Saturdays from 10:00 until 2:00 so stop by and see their new location. Their current location at the Shoppes on the Green is open through June as well.  Trust us, you can furnish and accessorize an entire house here, including your outdoor spaces.
Keep an eye on their Facebook and Instagram pages for more information, and if you have items to donate please call them at (828) 226-2888.
---
---