A Cozy Respite | Hummingbird Lounge
Written By: Luke Osteen | Issue: March 2023
Hummingbird Lounge at Old Edwards Inn is a throwback to a more languid, gentle age when a clever menu was paired with a wise bar and an absolutely enchanting server.
---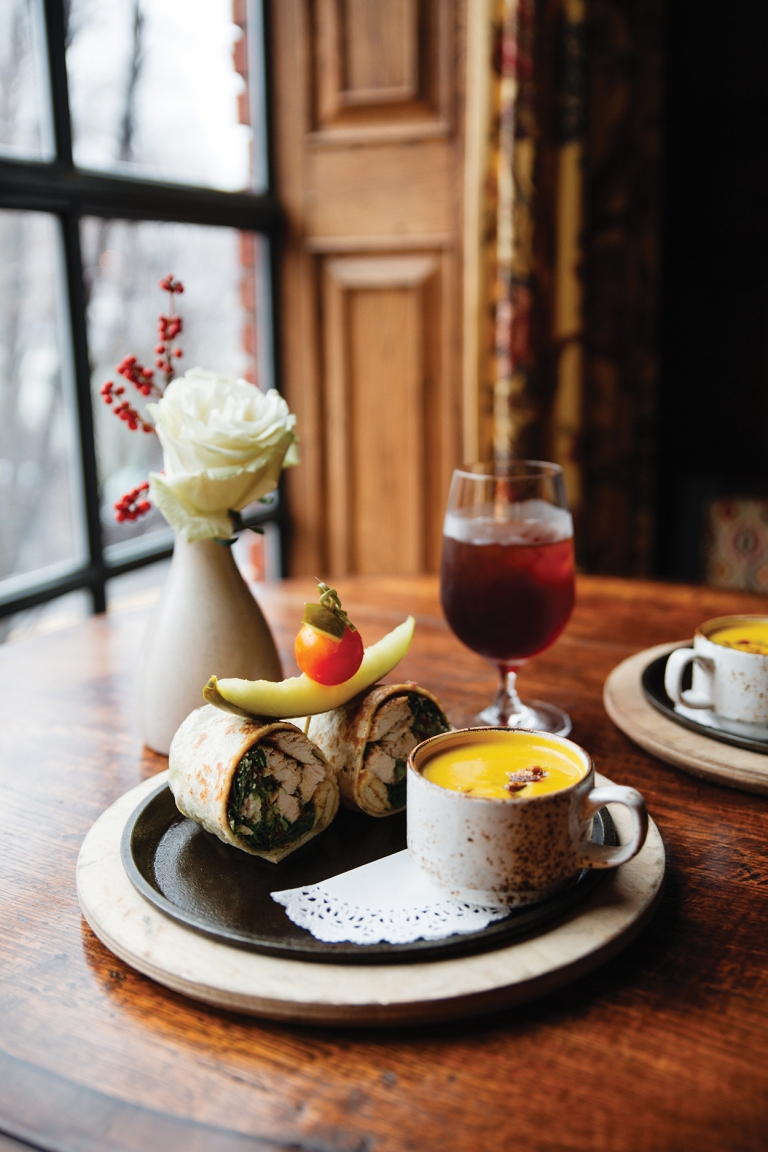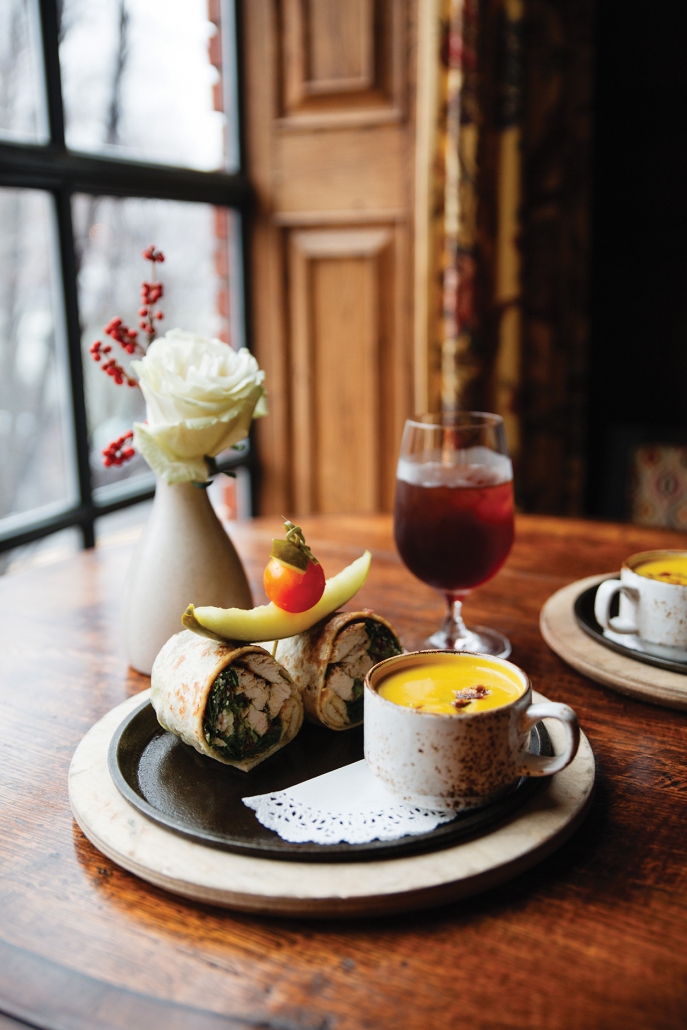 Hummingbird Lounge is an irresistible place to stop in for a cozy respite of delicious food, beverages, and ambiance.
In fact, here's what I said about our visit last year, "Hummingbird Lounge is a sweet oasis for those who hunger for a bit of lively conversation shared over groaning tables of food and generous pours."
"What a precious commodity, and a callback to a more languorous,
genteel time."
"The place is designed for easy conversation and sophisticated dining. There's an almost irresistible library setting of overstuffed chairs and a sofa in front of a carefully tended fireplace. Settle in here, and it'll take a spatula to get you out of your seat and back out into the real world."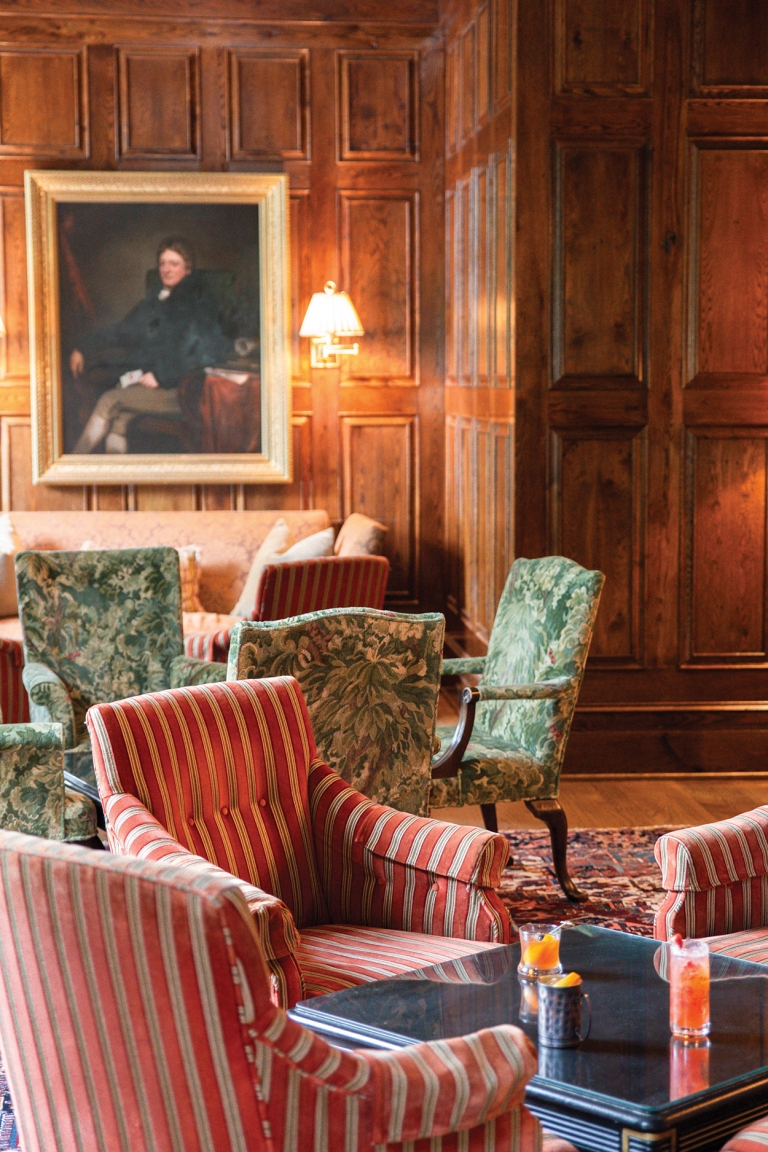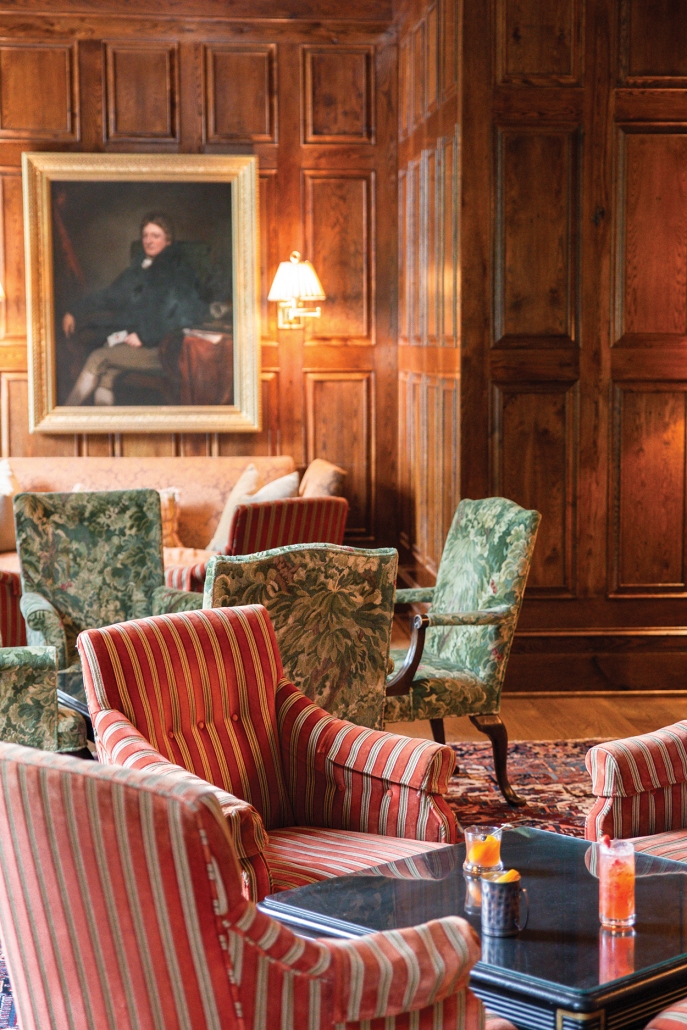 "If you manage to resist plopping yourself in this easy fireplace vignette, you'll find yourself in a cozy lounge with tall bistro tables and plush chairs along the perimeter."
Sounds marvelous, doesn't it? Now imagine the frisson of excitement that Tricia and I shared when Marjorie asked for a follow-up visit – at the far end of a winter marked by weeks of sloppy weather and lowering skies. 
So, we settled in to our imminently comfortable seats in the cozy dining room and allowed ourselves to surrender to the gentle ministrations of our server Brooke. 
Tricia launched her luncheon with an order of chef-prepared Pimento Cheese with Spicy Buttermilk Crackers. That's comfort-food of the highest order for her, recalling dishes prepared by her Papa from long ago. Though Tricia was reluctant to admit it, Hummingbird Lounge's version was superior. 
That sense of sweet indulgence was enhanced by her Presidente Paloma. "Paloma" is the Spanish word for Dove, and this concoction settled upon her as gently as, well, a dove. It's a subtle blend of Presidente Tequila and Grapefruit Juice and serves as a gentle mood elevator. 
My mood elevator arrived in the form of a Slow Smoked BBQ Pork Sandwich. Now I've written extensively about being the product of a mixed marriage (mom was a staunch tomato-based barbecue apostle and dad was firmly ensconced in the Church of Carolina Vinegar Barbecue). To honor the spirit of compromise and collegiality that marked their union, I opted for the smoked pork slathered with Carolina Cheerwine Barbecue Sauce. Holy Smoke! One more thing to distinguish the Tarheel State!
Carrying on our theme of childhood favorites being perfected, we finished our lunch with Banana Pudding. This incarnation wasn't the evergreen Southern favorite, laced with Nilla Wafers. Nope – this was a dessert that was built upon caramelized bananas. 
"You really have to sink your spoon down in the middle so that all the flavors mingle into a harmonious whole," says Tricia.
Before we turn the page though, let me spend a few words on our server Brooke. What a remarkable face for this charming dining room. She was bright, wise, and heaps of fun. 
If you're dining on the Plateau, let me implore you to chat with your server. It adds a measure of grace and warmth to your experience and it's something that seems to have vanished from the American culinary landscape. I've been reviewing restaurants in these pages for nine years, and I have yet to meet a local server who was less than wonderful. 
 Speaking of enhancing the experience, Hummingbird Lounge features live entertainment every Friday and Saturday night – singer-songwriter Zorki and from 5:30 to 7:30 P.M. Fridays, jazz musician Tyler Kittle from 5:30 to 7:30 P.M. Saturdays, and long-time guitar favorite Cy Timmons from 8:00 to 10:00 P.M. both Friday and Saturday. 
They're serving daily from 11:30 A.M. to 9:00 P.M., and don't take reservations. For a full menu, visit |
oldedwardsinn.com/dine.
---
---