A Classic Tomato Pie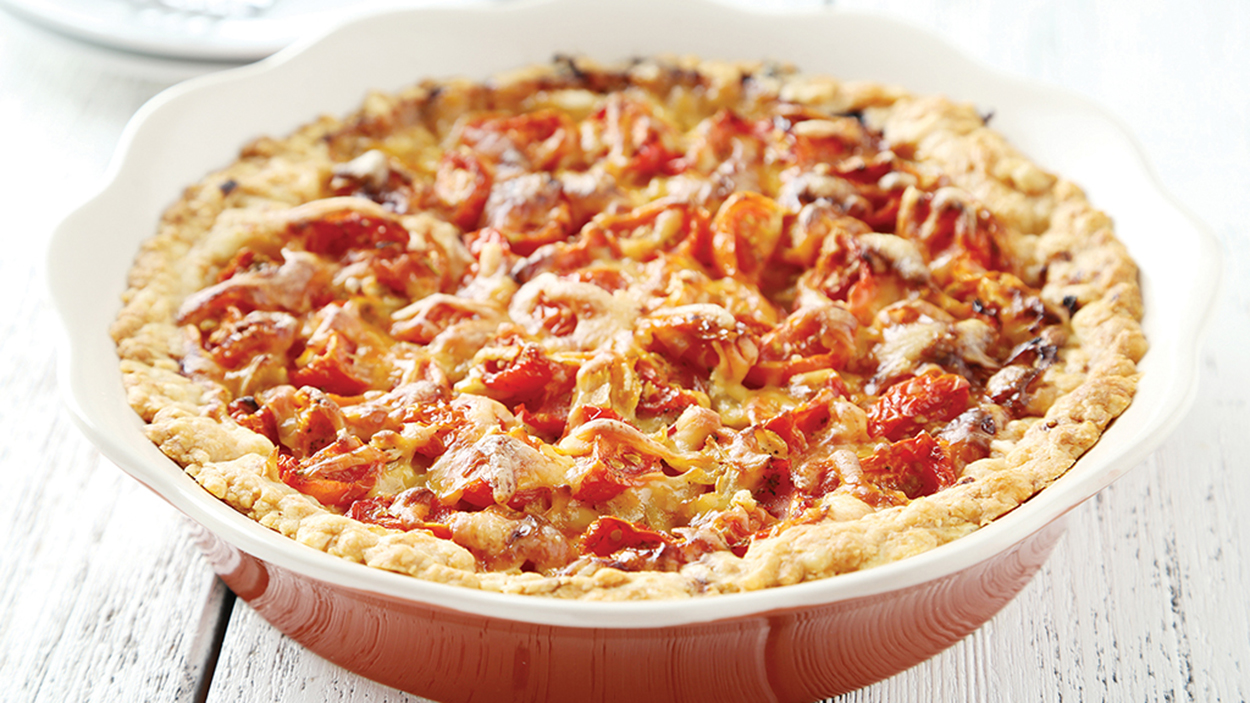 Written By: Marlene Osteen | Issue: 2021/09 – September
Tomato Pie is a sonnet to the fading days of a Southern Summer. It might be a secret, so don't share it with anyone from Hopkinsville, Kentucky.
---
When Karin Peterson told me that she had decided on Tomato Pie for this month's recipe, I was elated.  
After all, Tomato Pie is just the kind of supper a Southern cook might serve in September when summer tomatoes are nearing their end.  
But most of all, I loved the tale that came with Karin's recipe; "I chose this recipe because I think that the best recipes are those we've shared with loved ones and those that have a story behind them.  My friend, Jennifer Brown, is the best collector of stories I know.  Jennifer brought a very simple Tomato Pie Recipe to me from our hometown when she visited me in Asheville in 2010." 
The backstory of Karin's and Jennifer's friendship is no less endearing.  Today, good friends Jennifer Brown and Karin Peterson share a profession, running nonprofits.  
Karin is Executive Director at The Bascom, the Center for the Visual Arts
in Highlands. 
Jennifer is the founder and editor of Hoptown Chronicle, a nonprofit newsroom in her hometown. Growing up in Hopkinsville, Kentucky, they shared classes at the local high school, but they were not friends. Twelve years ago, they connected on Facebook, exchanged a few messages, swapped stories about growing up in Hopkinsville, and realized they shared a lot.   
As Jennifer tells it, the recipe she brought along on her visit to Karin was the most popular dish served at a much-beloved lunch spot in downtown Hopkinsville – known simply as Coffee And (that's really the name, folks – Editor) .  
That Tomato Pie Recipe had always been a deeply guarded secret, and the restaurant had closed a year earlier. 
In May 2010, Jennifer sent a message to Coffee And's owner – Hilarie Dawson, and asked if she would share the recipe. 
"She agreed to give me the recipe to make for my friend Karin Peterson in North Carolina – so long as I didn't blab the details to folks around Hopkinsville. I promised.  As it turned out, Karin and I modified Hilarie's recipe to make it our own, so we aren't really divulging any big secret.  Right?  I still miss that little restaurant." 
Tomato Pie
Adapted from a secret recipe by Karin Peterson and Jennifer Brown
 Savory and rich, and vibrant with super-fresh vegetables and herbs, this is the perfect ending to summer.
Ingredients
1 pie crust – Start with a good pie crust. Handmade is best; it should be tender and flaky.
3 large summer tomatoes, thinly sliced.  (off-season, diced, well-drained tomatoes are an acceptable substitute.)
1 tsp salt
Fresh oregano, chopped, to taste
Fresh basil, chopped, to taste
1 tsp. sugar
Texas hot sauce, to taste
1 large Vidalia onion, diced
2 cups grated extra-sharp cheddar cheese
¼ cup mayonnaise
Directions
To be adapted at the baker's discretion
Preheat oven to 425 degrees.
Line a glass or ceramic pie pan with very cold pie crust dough and pierce with a fork.  Bake about 10 minutes until lightly brown.
Reduce oven to 350 degrees.
Spread sliced tomatoes on a large baking sheet lined with paper towels.     
Sprinkle with salt and let sit for about 10 minutes.  Gently pat dry to remove excess moisture.
In a large skillet set over medium heat, gently simmer tomatoes to evaporate further and add herbs to taste.  Sprinkle it with sugar and a few dashes of Texas Hot Sauce. Remove from heat.
Spread diced onions over the bottom of the pie crust.  Layer the sliced tomatoes on top
Mix mayonnaise and cheese with a fork and gently spread over the tomatoes, ensuring that it reaches the sides.
Bake at 350 degrees for 20 minutes or until the top is lightly browned.
"Slice and serve warm, but please keep the secret."
---
---