Welcome to Cashiers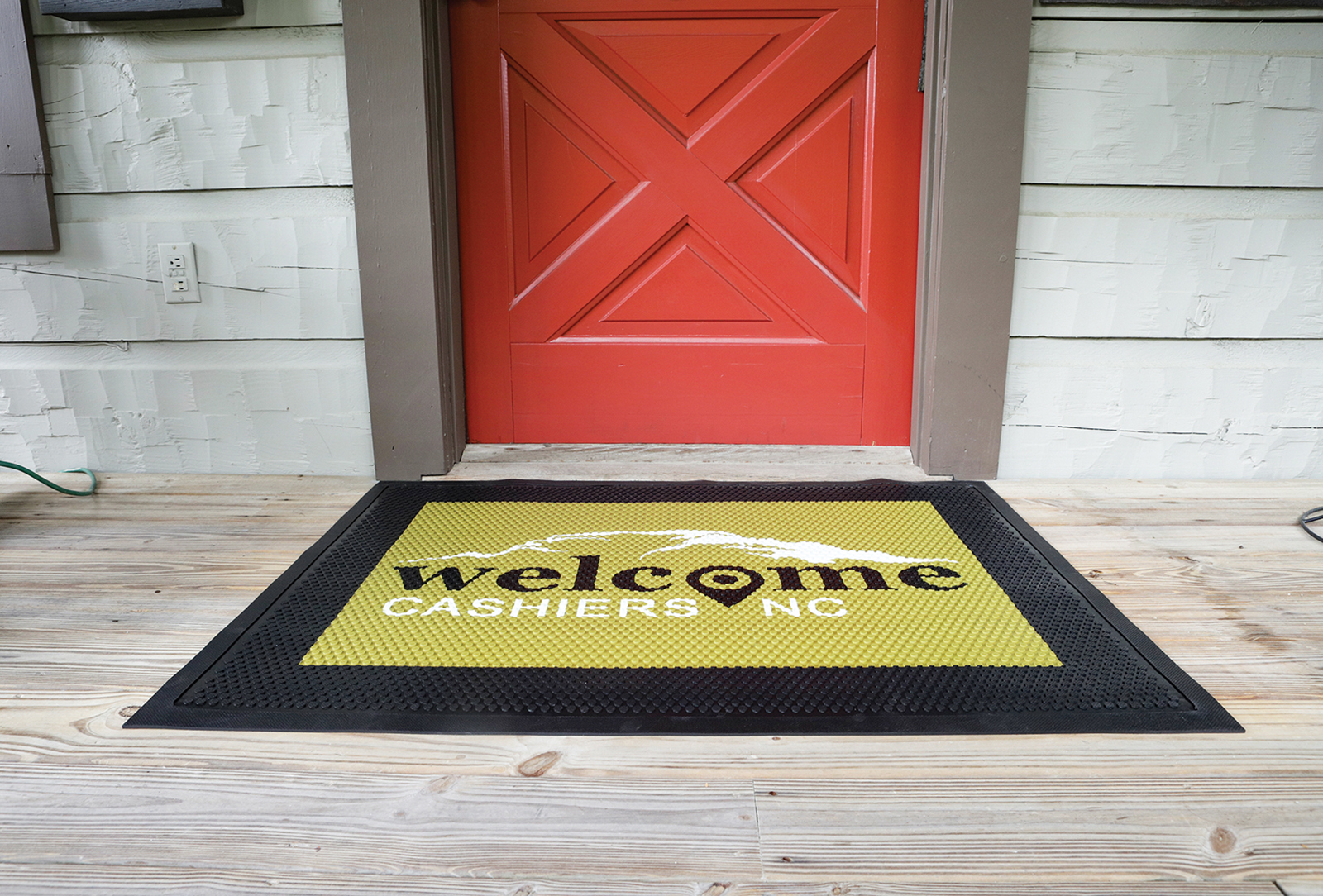 Written By: Stephanie Edwards - Cashiers Area Chamber of Commerce | Issue: 2019/07 - July
Always offering a warm reception, many Chamber member businesses in Cashiers now greet customers and clients with signature green "Welcome Cashiers NC" doormats. So, when you cross the thresholds of these establishments, know that this is our mountain version of a celebrity red carpet and you will enjoy being a VIP here!
Coordinated by the Cashiers Area Chamber Retailer & Restaurant Roundtable, the all-weather rubber scraper mats feature the iconic profile of Whiteside Mountain and a location pin at Cashiers NC. As part of the group effort, many businesses also are flying a colorful "Cashiers Valley 1833" flag, designed by Nancy Turner. It depicts a hiker and dog along a mountain landscape as a tribute to the community's rich heritage, character and natural beauty.
The Chamber's Roundtable volunteers coordinate these and other visual statements of identity and hospitality to remind visitors and residents alike that their patronage is invited and appreciated. The efforts also represent their commitment to collective business success, valued relationships and cooperation with industry colleagues.
The Cashiers Area "cottage shopping" experience offers art galleries, antique/upscale gift shops, apparel boutiques, specialty recreational outfitters and consignment stores for all your wants and needs. The retail scene of local, independent businesses features unique products and services and is at your fingertips with the newly-published Cashiers Area Shopping & Dining Guide. It includes fold out maps of the Plateau with detailed insets of Cashiers, Glenville, Highlands, Lake Toxaway and Sapphire with pinned locations and store and restaurant addresses and phone numbers.
The comprehensive Chamber's Cashiers Area Visitor Guide and Membership Directory includes local community profiles, Jackson County extended map, helpful telephone numbers, signature events, and contact details for businesses and services.
These publications and other valuable information are available from the knowledgeable staff at the Jackson County Visitor Center at Cashiers, operated by the Chamber at 202 US Highway 64, just west of the Crossroads, after hours 365 days a year on the Visitor Center office's covered front porch and online at CashiersAreaChamber.com and Cashiers411.com (online calendar).
---
---