Take back Your Porch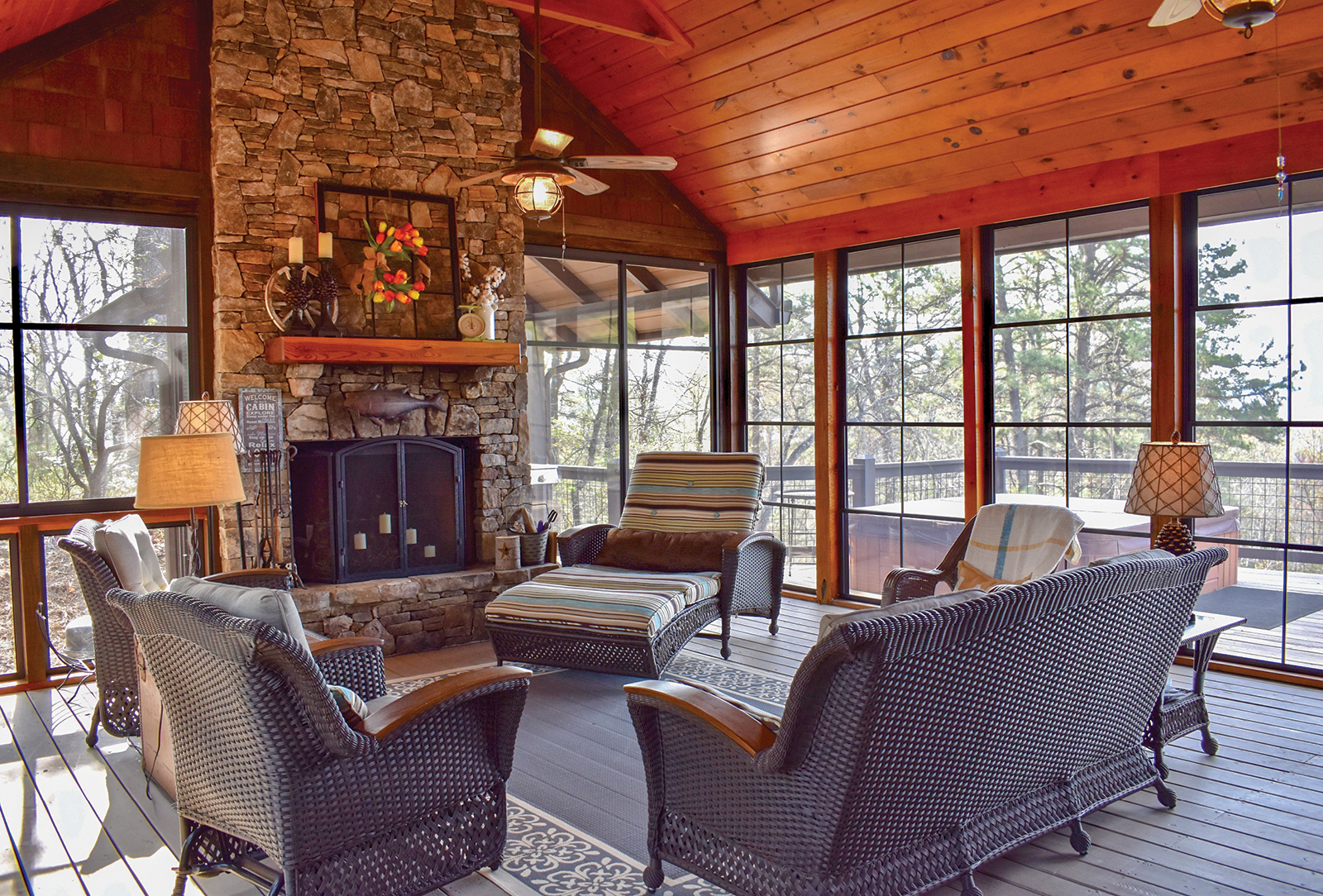 Written By: Tracy McCoy | Issue: 2018/10 - October
Nothing is worse than returning to your mountain or lake home to find half an inch of yellow pollen covering your entire porch.
So instead of enjoying it, you spent a day cleaning it. Dust, pollen, wind, rain and bugs are inevitable in the spring, summer, and fall.
So what's the solution? Call Porch Living 24/7/365 and let them show you their innovative product line that can solve all, yes all, of your problems. Well, maybe not all of them, but your porch problems they can solve.
I recently visited Cathy Walker's home near Lake Burton. Cathy has a beautiful screened porch with lovely outdoor furniture. She has a fireplace, grilling porch and a deck with a gorgeous view of the mountains and lake. Cathy faced the same issues we have discussed here and she began to search for an answer.
What she found was a product that could make her porch usable all year, it kept the rain and pollen out, the bright fabrics and rugs protected from the sun's harmful rays. It was easy to use, versatile, custom and yet very affordable. She had it installed on her porch and she couldn't quit talking about it. Cathy decided to make it available to her friends around the lake and surrounding area by becoming a Sales Consultant for the product.
Kurt Cannon, a seasoned builder with 30-plus years in the building industry, was so taken with the product, he joined Cathy in the business and the two formed a company called Porch Living 24/7/365.
I had to see it for myself. I couldn't understand how the product worked.
"It nests" Cathy told me, "and in an instant your closed up, secure porch transforms into a screened porch for you to enjoy. When you are ready, you push down or up on the panels and in no time it is all closed up, secure and clean. No more covering furniture or lugging the cushions in to keep them clean. No more days spent cleaning that nasty pollen and dust off of your furnishings only to find it again the next day."
I was honestly amazed by how many options you have with these panels and how sturdy they are. Challenged to put my fist through it, I tried and even though it stretched to show the print where my hand was, the 10-mil vinyl rebounded in seconds. The strong aluminum frames come in a variety of colors to complement your porch. The vinyl panels, clear as glass, never obstruct your view.
Honestly, I was amazed. Kurt being on board is a huge asset with his custom building experience. In fact, Kurt has such an eye for form and function that he has even found ways to maximize space and add functionality for their customers. This team is pretty remarkable – it doesn't take long to see how well they work together. It's obvious that finding solutions to transform your porch into livable space that you can enjoy is what drives them. Cathy is still as in love with this product as the day it was installed at her own home.
Whether it is a new build, a remodel or just an upgrade, Porch Living 24/7/365 is the solution everyone has been looking for. They are typically in and out in a day and you can enjoy your porch that evening. Showcase porches are available for you to see or you can visit The Fireplace on Main Street in Clayton, Georgia, just adjacent to The Universal Joint. Porch Living has a life-size porch set up there. You have to see it to believe it. Don't spend another day cleaning your porch, it's time to enjoy Porch Living 24/7/365. Their past customers are elated and they want to share their stellar testimonials with you.
Call Cathy Walker at (770) 765-7714 or Kurt Cannon (706) 490-1490 or rabunbuilders.com and click on the Porch Living tab.
---
---