Redefining Sapphire's Social Experience, Sapphire National Golf Club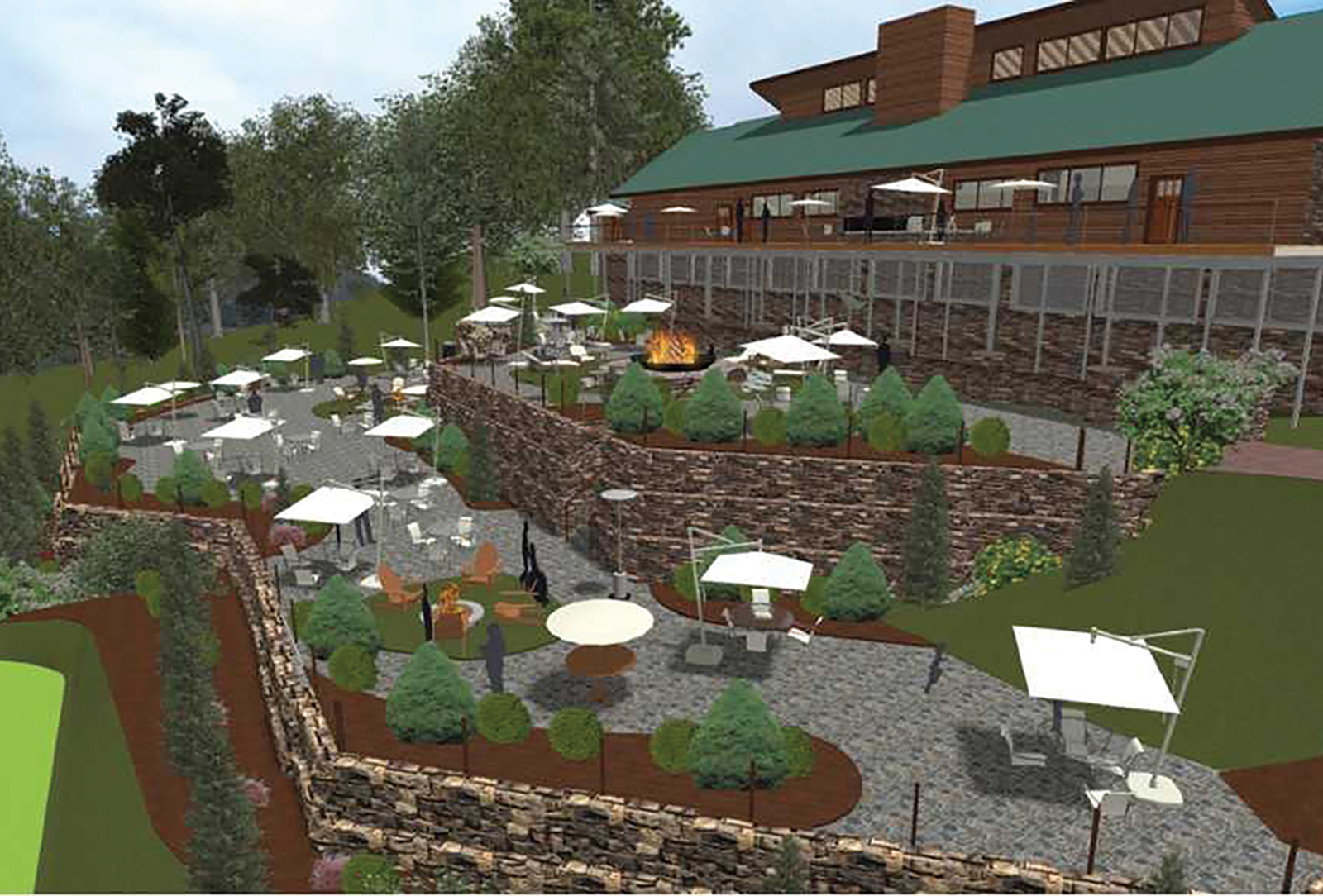 Written By: - NONE - | Issue: 2018/05 - May
With an exciting, bold move, the footprint at Sapphire National Golf Club and Sapphire Mountain Brewing Company is expanding and being refined to create what many describe as redefining the ultimate social climate in Sapphire, North Carolina. According to Chief of Operations, John Sims, the company is expanding the Clubhouse and the abutting landscape to create a remarkable social arena whereby all customers, locals and visitors alike can fully enjoy the majestic, mountainous views and landscape that is rarely provided in an open, public setting.
The project includes three significant stages, with each phase synchronized and overlapping the other to reduce the total project time. First, the Clubhouse will expand its outdoor deck and seating area by approximately 2,000 square feet atop Brazilian hardwood floors designed to withstand the ever-changing climate of western Carolina. The expanded area leverages Sapphire Mountain Brewing Company's million-dollar mountainous dining views and will include an array of seating areas designed to accommodate those wishing to dine and/or merely enjoying their favorite drink while taking in the picturesque views enveloping the 8th and 18th greens at Sapphire National Golf Club. But that's just the beginning.
In addition, the project includes grading and leveling the near-acre area immediately behind the restaurant and golf pro shop into 2-tiered, entertainment area sculpted and defined by stacked-stone retaining walls, landscaped seating areas, flagstone pathways, a large fire pit, Adirondack chairs, and umbrellas so that patrons can enjoy the outdoor living space while watching golfers finish their rounds or listening to live, outdoor music. As Sims suggests, "we are trying to create what the locals and visitors crave: a place where customers of all ages and background can visit, indulge, and enjoy the best of what Sapphire, North Carolina has to offer. Our goal is simple: create a beautiful venue and then focus our attention on providing outstanding service to everyone who visits."
Sims understands the enormity of task ahead. "Ultimately, the responsibility of creating the perfect social experience falls on us … our great staff. Fortunately, we are ready and poised for the challenge." For this reason, company executives continue to build and train a core team of specialists in the Food & Beverage (restaurant) and Golf operations. "Our team must work together as one—from both the Sapphire Mountain Brewing Company and Sapphire National Golf Club sides—each enterprise fully buying into the concept that the success of one entity directly benefits the other. We are taking the necessary steps to ensure the quality and consistency of our service and products can meet the anticipated higher levels of demand. My primary goal is to keep our Members and customers happy, satisfied, and eager to return. If we attain this goal, everything else will fall into place."
As shown above, the project is awe-inspiring, and will create an outdoor atmosphere and entertainment area that is unparalleled and unprecedented in the area. Further, the tiered area will be used for outdoor music venues, group gatherings, parties, reunions, weddings and receptions—all replete with a gorgeous Sapphire mountain backdrop. As such, Sapphire Mountain Brewing Company is expanding its beverage service outside so that patrons can enjoy their favorite craft beer, wine or cocktail while never leaving the comfort of their blanket, chair, or seat around the fire pit.
A final piece of this project is the construction of a 4,000 square foot putting green that will snake around the bottom of the entertainment area and offer golfers the advantage of preparing for their round at Sapphire National Golf Club. "The putting green will be a nice addition to the course while also adding a great finishing touch to the overall project," Sims suggests. "It will also enable us to better manage the queue of golfers eager to play our mountain course."
Undoubtedly, the excitement of this project has created a buzz around the entire Cashiers-Sapphire area. This sort of vision is great for the community and will serve to attract more and more visitors and home-owners to the area.
---
---