Red Carpet Replica Jewels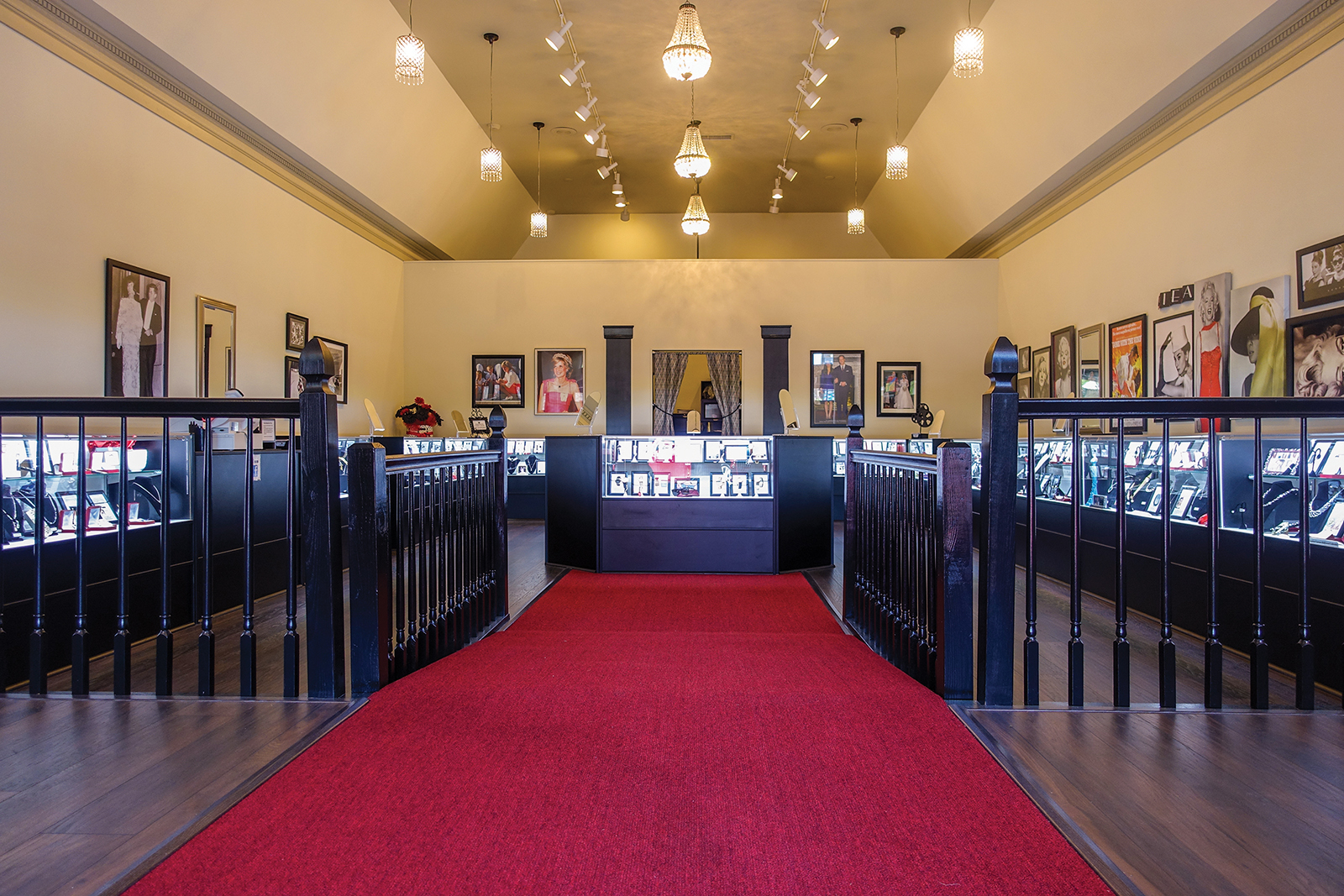 Written By: Mary Jane McCall | Issue: 2016/07 - July
Who hasn't dreamed of walking the red carpet?
For most of us that will never happen, but we can still get the red carpet experience at Highlands' newest jewelry boutique, Celebrity Collections. Walk through the door and be transported into a world of red carpet glamour, surrounded by glistening jewels and pictures of royals and Hollywood royals.
Owners Gary and Nancy Bogan have operated their successful Naples, Florida, location for seven years. Their decision to open a second location in Highlands fell into place when one of their longtime customers with a home in Highlands suggested it was a perfect fit. All it took was one visit for them to fall in love with the area and the rest, as they say, is history.
Here you will find authentic, licensed, replicated jewelry from former first lady Jacqueline Kennedy; Old Hollywood including Marilyn Monroe, Audrey Hepburn and other legendary movie stars; and, the popular BBC television series "Downton Abbey." You'll also find pieces inspired by Kate Middleton, Princess Diana and Current Hollywood, among others, all at affordable prices. All replicated collections are made of sterling silver, plated in 14k or 24k gold, rhodium or platinum, and adorned with either Swarovski crystals or laser cut zirconia.
Celebrity Collections is also proudly introducing three new designer collections: The Brazilian Drusy collection, plated twelve times with 18K gold and handmade specifically for the boutique; The Italian-designed Topaz Collection made of sterling silver and embellished with Swiss Blue, Sky Blue, Citrine, Smoky Quartz, or Amethyst; and their unique Watch Collection for men featuring Swiss movements and the classic designs and fine workmanship of the Steinhausen Watch Collection.
Each jewelry-filled case is filled with larger than life-sized black and white photos that tell the intimate stories behind each piece of jewelry, offering history aficionados a stroll down Memory Lane.
Customers may choose from more than 250 pieces of jewelry currently in inventory, with new pieces arriving throughout the season. Prices range from $75 to $925 so there is truly is a special piece for everyone to own and enjoy. Stroll on down to 352 Main Street in Highlands and be treated like royalty.
---
---