A Merging of Experience | Pat Allen Real Estate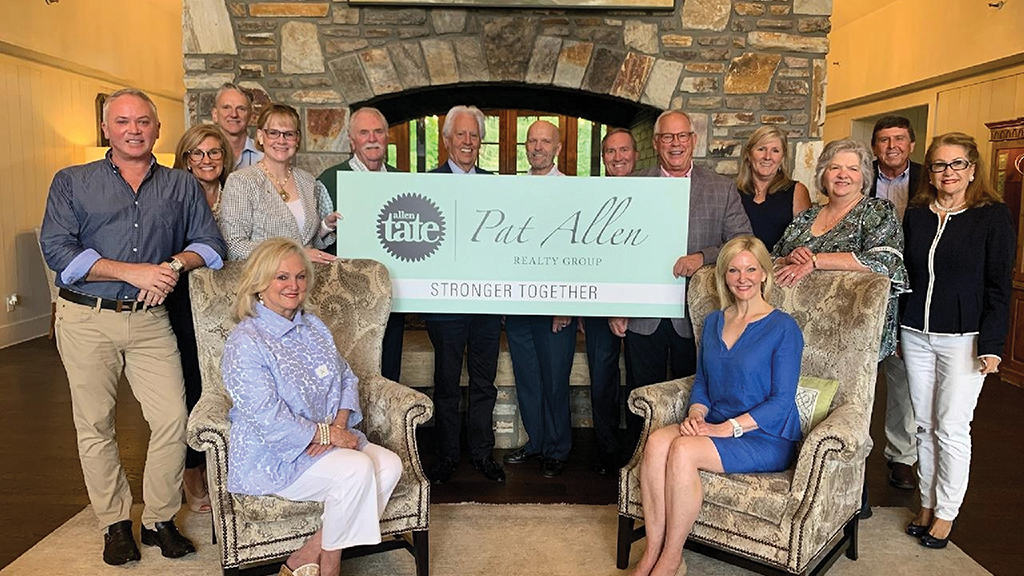 Issue: 2021/09 – September
Pat Allen Realty Group has become part of Allen Tate Realtors. For more information, visit its two offices at 295 Dillard Road and 5121 Cashiers Road, or call (828) 526-8784.
---
Allen Tate Realtors has joined forces with Pat Allen Realty Group in Highlands, which serves Highlands, Cashiers, Sapphire, and surrounding areas.
This announcement marks Allen Tate's entry into the Highlands/Cashiers region and adds two new offices: Allen Tate Realtors Highlands-Downtown at 295 Dillard Road and Allen Tate Realtors Wildcat Cliffs/Cashiers Road at 5121 Cashiers Road.
The 64-year-old company operates a total of 48 local offices spanning the Charlotte, Triad, Research Triangle, High Country and Highlands/Cashiers regions of North Carolina and the Upstate of South Carolina. Allen Tate is the Carolinas' leading real estate company, with 19,949 closed transactions and $6.15 billion in closed sales volume in 2020.
Established in 2010, Pat Allen Realty Group is a market leader for secondary and vacation homes, as well as primary residences. The firm has 16 experienced Realtors serving clients in Highlands, Cashiers, Sapphire, Scaly Mountain, Cullowhee, Glenville, Lake Toxaway. and Sky Valley. In 2020, Pat Allen Realty Group closed 131 transactions totaling more than $101 million in closed sales volume.
Pat Allen and daughter Julie Osborn will join the Allen Tate leadership team as branch leaders and brokers in charge. Allen has worked as a Realtor for 17 years and oversees the Highlands-Downtown office. 
A native of Georgia, Allen moved to Highlands in 1994, where she owned the Morning Star Inn and led the Harry Norman Realtors office.
Osborn, a former occupational therapist for the Mayo Clinic, began her real estate career in 2007 with Harry Norman Realtors in Atlanta. She joined her mother at Pat Allen Realty Group in 2014 and oversees the Wildcat Cliffs/Cashiers Road office.
Allen and Osborn are both active in the local community. Pat Allen Realty Group has been a long-time sponsor of the Highlands Food and Wine Festival and Allen Tate will sponsor the Grand Tasting and Sunday Shindig festival events in November. The firm is a large supporter of the Cashiers-Highlands Humane Society and also supports the International Friendship Center, Highlands Literacy & Learning Center, Big Brothers-Big Sisters, Highlands Playhouse and Highlands Performing Arts. They believe that giving back to the community makes their success possible.
Allen is a member of the Rotary Club of Highlands and is a candidate for the Town of Highlands board of commissioners. Osborn serves on the board of directors for the Cashiers- Highlands Humane Society, served as the president of the Highlands-Cashiers Board of Realtors in 2020 and is a supporter and sponsor of Extra Special People, Inc., a Georgia-based recreational program for persons with disabilities.
To contact an Allen Tate Realtor in Highlands/Cashiers,
call (828) 526-8784.
---
---