The Boys are Back in Town!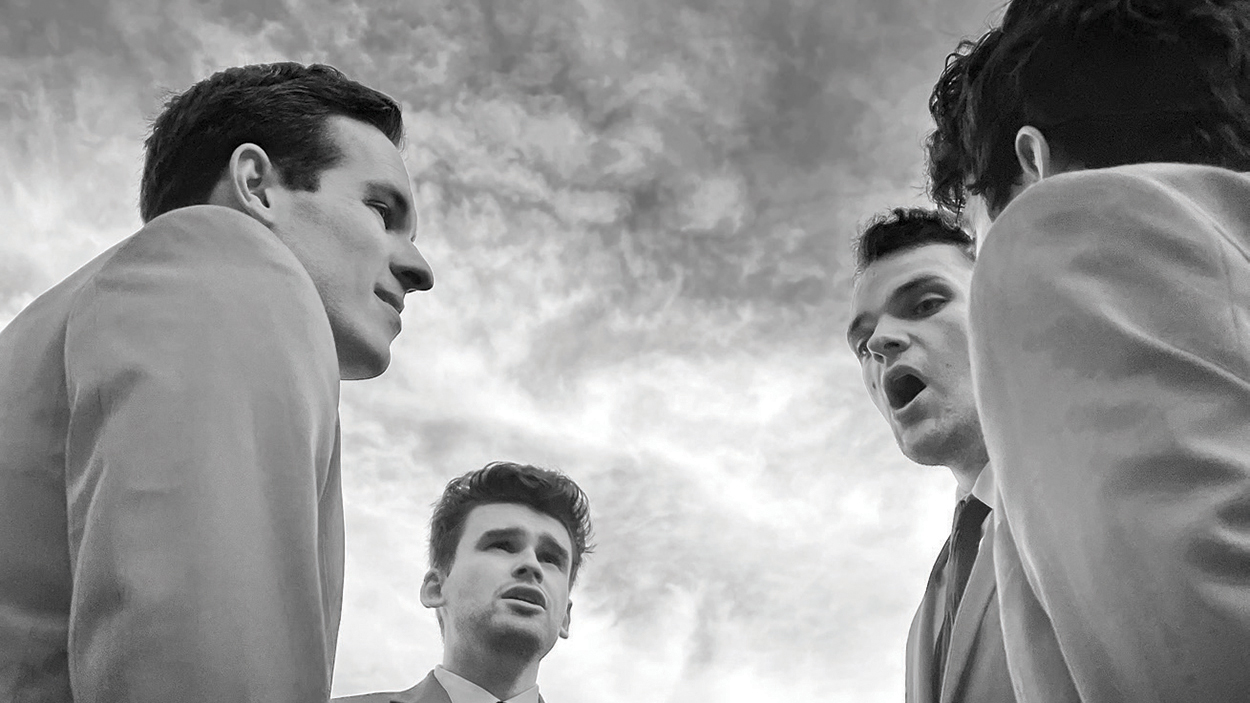 Written By: Lindsay Garner Hostetler | Issue: June 2023
The sweet sounds of Frankie Valli and The Four Seasons return to the Plateau with a limited run engagement of Jersey Boys.
---
After a sold-out run last season, Mountain Theatre Company's production of Jersey Boys is back this summer with a limited run engagement. Most of the original last year's cast is returning, including all four lead actors portraying Frankie Valli and The Four Seasons.
Leading the quartet is Emanuel Carrero, reprising his star-making role as Frankie Valli. His high tenor vocals and electric energy were all Highlands could talk about last summer. Playing Frankie Valli through his triumphs and defeats as a legendary pop artist of the 20th Century showed the range and skill Carrero holds for his craft. He works full-time as MTC's Company Manager and has made Highlands his year-round home. "Performing with this group of guys was like catching lightning in a bottle last summer," he exclaims. "I can't wait to recreate that chemistry on stage again this year."
Gianni Palmarini is back as the fast talking, wheeling-and-dealing Tommy DeVito, the self-proclaimed leader of the group with a penchant for racking up talent and debts. Palmarini, a graduate of North Carolina's Elon College, went on to perform this past year in the western regional premiere of Bandstand in Arizona, landed in a New York production of Jersey Boys (this time as Joe Pesci), and starred as Clyde Barrow in Bonnie and Clyde in Philadelphia. "I'm looking forward to returning to the beautiful mountains and the awesome community of Highlands," says Palmarini. "I can't wait to spend another summer with the lifelong friends I made at MTC last year."
Sam Alan Johnson returns as Nick Massi, the bass player and vocalist hitting those deep harmonies. He recognized how special last year's production of Jersey Boys felt, saying "It was my first production back since the start of the pandemic…and being with a community I grew to love so much made it even better." After last summer, Johnson went on to appear in productions of Into the Woods and The Rocky Horror Show in Tennessee before returning to Highlands in December for MTC's production of Home for the Holidays. Most recently he's been performing in a Chicago production of Big Fish.
Rounding out the quartet is John Hannigan, returning as the smooth-crooning Bob Guadio. Audiences swooned as his character solidified his place as the fourth member of the group, standing behind a piano and delivering a heartbreaking performance of "Cry for Me." MTC's production of Jersey Boys launched a whole new professional life for Hannigan who, before arriving in Highlands last summer, had just left a career in investment banking. "One thing that came out of the pandemic for me was an evolved perspective and a certain amount of courage that I hadn't had before," he said. After following up his run in Jersey Boys with productions of Forever Plaid and Songs for a New World, Hannigan, who lives in Brooklyn, has pivoted his vocation to following his dream…a professional acting career.
Together, this quartet captured the hearts of Highlands audiences and made MTC history by leading their most successful show in 84 years. "We knew we had something special with this cast during rehearsals," proclaimed the show's director, Scott Daniel. "But the audience reaction was overwhelming. We saw people coming back to see the show three and four times. Not only did we sell out every single performance, but by the end of the run, we saw groups of people waiting outside the playhouse without tickets, hoping to get seats from cancellations and no-shows."
With most of the ensemble cast returning as well as this tight-knit leading quartet, MTC's Jersey Boys is sure to capture lightning in a bottle again this summer!
---
---