Revisiting After 20 Years
Written By: Donna Rhodes | Issue: December - 2022 | Photograph By: Gil Stose
There's a reason we celebrated the vision and artistry of cover photographer Gil Stose 20 years ago. We're still enraptured by his talents.
---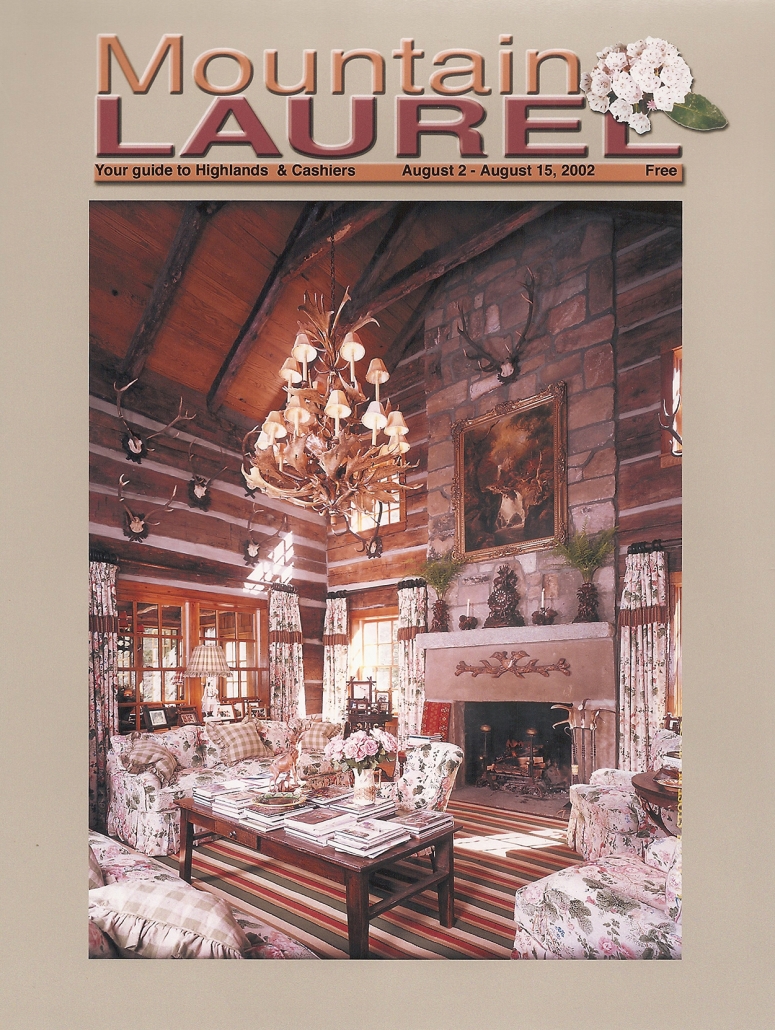 As we come to the close of the Laurel's 20th anniversary year, we're excited to revisit the 2002 cover of internationally-renowned photographer Gil Stose.  This cover image is a classic example of the beauty, style, and essence of regional mountain living. It's his delight and his job to capture the soul of architecture and design. 
Gil is one of those artists who has a sense of the aesthetic fused to his DNA. While he prefers to be called a craftsperson, his eye for art/design is undeniable. He simply knows when balance, texture, line, form, shape, and spatial congruity coalesce in divine harmony.
So it is with this roomful of light and shadow. He, in teamwork with the room's interior designers, chose the ultimate viewpoint for his shot. A textural variety of wood, glass, stone, textiles, and elk antlers complements the monochromatic reddish brown color scheme with a tinge of neutralized green and soft pale patterns. Gil says the designer's choice was, "To soften the overall look with a specialized lens filter. It gave the room a relaxed, mountain feel."
The POV invites us, the viewers, to follow the abundance of architectural lines from almost any starting point. Let your eye track the rug lines. They move us to the back of the space, then up the vertical lines of the French doors. They sweep us left to right, then up to the ceiling beams and back down to the fireplace stonework lines and antlers, which invite a gaze toward the chandelier, then drop us back down into the room to our starting place.
One of the factors that separates winning photographs from ordinary snapshots is capturing the contrast of deep darks with stunning light. Add to that a wide variety of gradients in-between. In this photo, the dark fireplace interior and shadowy nooks balance the lit chandelier and pale-colored pastel fabrics. The combination shows off Gil's skill at presenting a story, a feel, an essence. It's one thing to come prepared with all the usual tools and talent to make a good photo. But when you have the heart and eye of an artist, good becomes great. This is why a commercial photographer like Gil is in constant demand. His artistic abilities move him to an exceptional level.
This photo was shot with a 4×5 camera before digitals were in everybody's hip pockets. For Gil, and many photographers, the 4×5 was/is the pro's choice. Prior to the final snap, he shot Polaroid tests for set-up, light, etc.
Gil says, "I have done this for 30+ years. It's second nature. I've always treated the small job as seriously as the big one." Locally he's filled Laurel Magazine with hundreds of commercial shots for On the Verandah, Wolfgang's, Old Edwards Inn, Blackrock, and more. He's sold scores of architectural, real estate, commercial, and editorial photos near and far. And, while he nails every shoot for his clients, he always makes time for that one soul-satisfying shot… just for him.
Not bad for a guy who got his start in England (BBC) in movies and television, working in 60+ countries. He brought his international background and phenomenal skills to the states, settling in Highlands.
---
---