Lyrical Brushwork Vibrant Color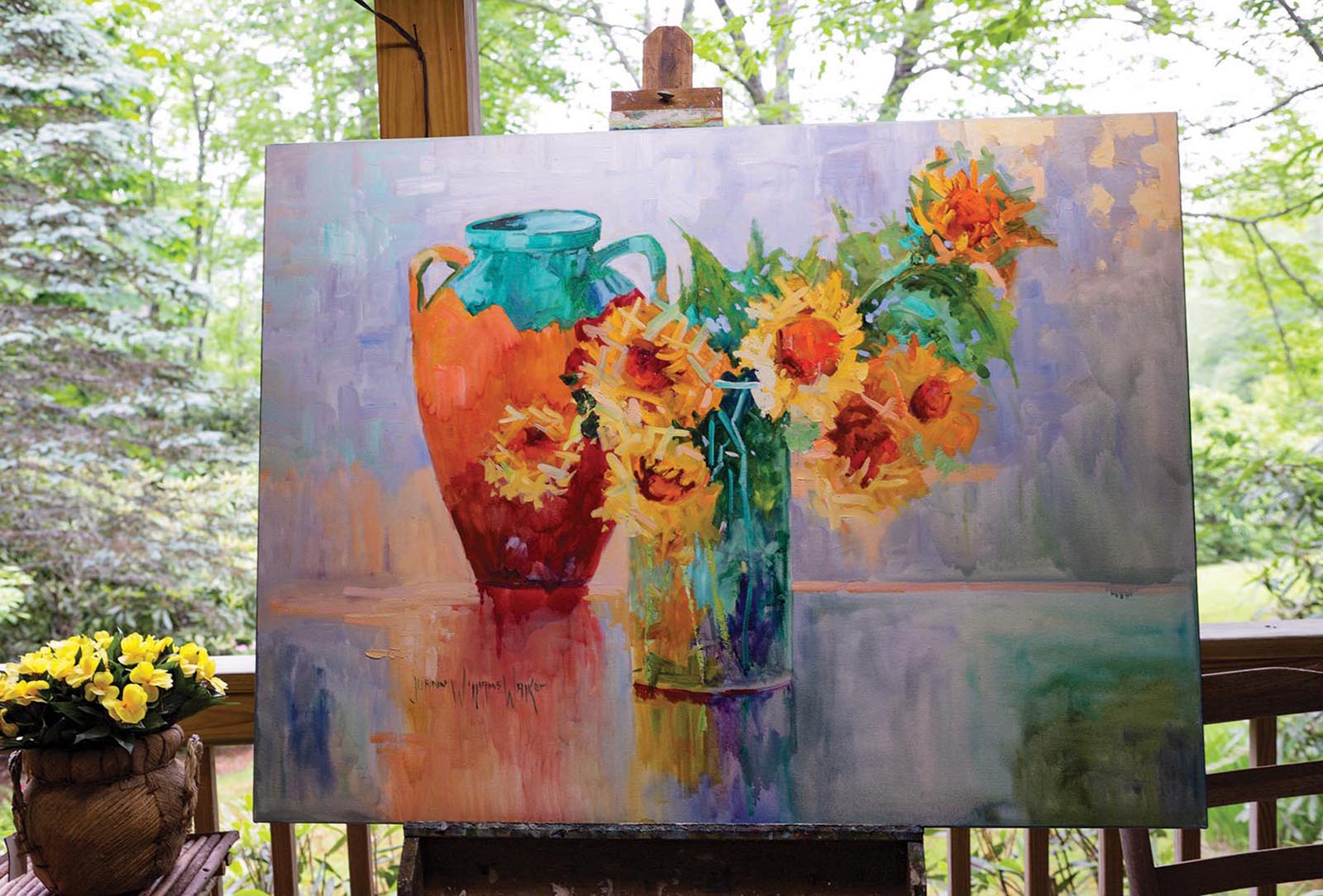 Written By: Donna Rhodes | Issue: 2019/07 - July
When Jo Ann Walker was a child, she used to lie in the grass with her mother looking up at the treetops and sky.
"I didn't realize my mother was training my eye and my future painting style by emphasizing the beautiful simplicity of Nature's colors, shapes, and forms," Jo Ann says. 
Today, this self-proclaimed American Impressionist has been recognized as one of the South's finest painters. She and 12 other fine artists were selected for The Henderson Artist Project, based upon their custom entries created specifically for The Henderson Beach Resort in Destin, Florida. If you'd like to see the fruits of their labor, visit  hendersonbeachresort.com.            
What the beach resort recently discovered, The Brier Patch has known for years  –  Jo Ann Walker is a phenomenal painter whose lyrical brushwork and vibrant colors, particularly jewel tones of blues and turquoise, hold viewers captive. Her dramatic images of waterfalls, florals, mountain vistas and plein air scenery can be found exclusively in North Carolina at the Brier Patch. 
Jo Ann traveled extensively in Europe (Italy, Greece, France), taking photographs of local color, making thumbnails, and logging extensive notes so she could return to paint in her new home-studio in Opelika, Alabama. She had to relocate after Hurricane Michael devastated Florida's Panhandle. 
Painting has been a godsend since the hurricane. It focuses her energy on something that is regenerative in the face of all that loss. And it helps her simplify her
daily life.
She says, "Everywhere you look in my studio you see the word simplify. That's what I try to do in my work. If I look at the dunes and ocean and sky, it's all very complex … the water is moving, the clouds are shifting, the wind is blowing the dunes and grasses. So I have to freeze-frame all that activity by creating an impression of ocean, sky, and beach."
Jo Ann seems to find painting a wonderful diversion and therapy. One of her favorite things is mentoring other painters, helping them develop their style and, you guessed it…simplify.
Stop by Brier Patch to see Jo Ann's award-winning work  –  4186 Cashiers Road in Highlands. For more information, call (828) 526-4110.
---
---