Light Up Your Life: Bevan Schiffli's Magical Candles
Written By: Donna Rhodes | Issue: November - 2022
There's magic in Bevan Schiffli's candles, and sweet, soothing scents. Contact Bevan at [email protected]
---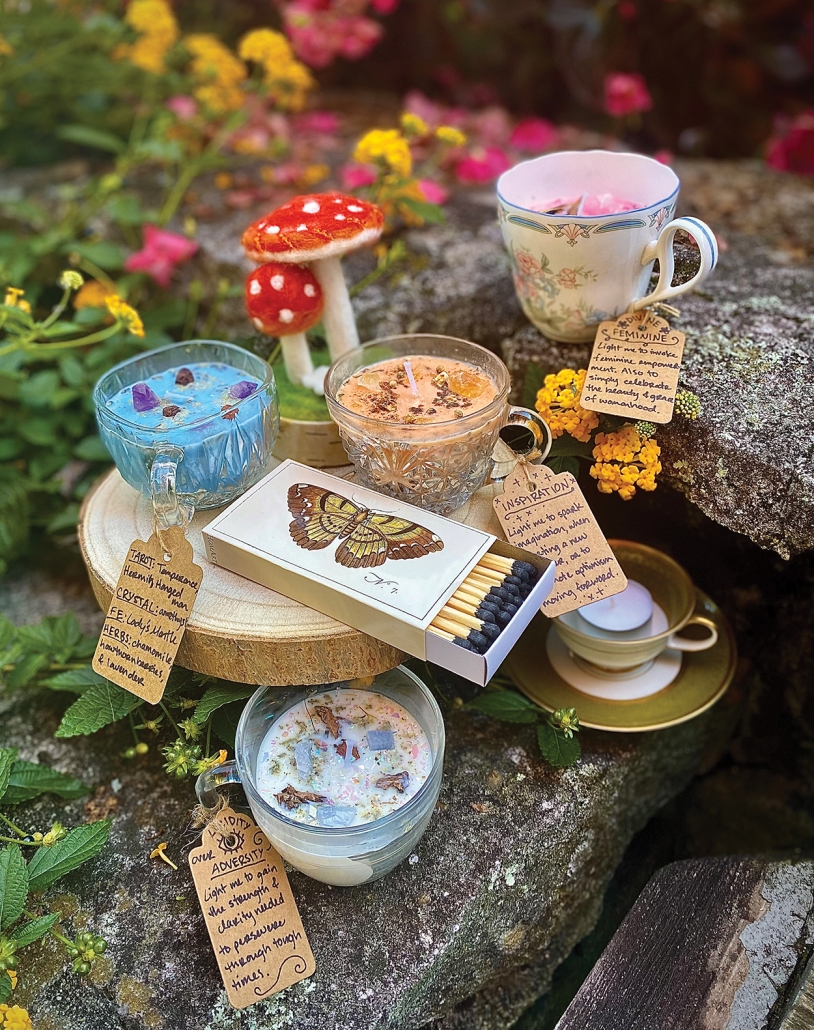 How's your spelling? Not the word-spelling kind, but the sweet spells and smells that are cast from teacup candles at Natural Selection. There are seven (more coming) soy candle creations, each with its own spell or charm. Get one for a giggle. Light it and inhale a deep breath of feel good and joy.
Bevan Schiffli, Natural Selection's owner, started making her designs during winter snow-ins. She says, "I love little teacups. I started collecting punch cups at thrift stores. I've amassed boxes of eclectic alternative spiritual elements. I use them in the candle cups, floating them on top as the wax hardens."
Each cup has one of the following themes:
Inspiration (sparks creativity);
Cool Calm Collected (CCC lessens anxiety and distress);
Head Over Heels (love spell for the self, or a partnership)
Divine Feminine (all about female empowerment
and confidence)
Health and Wealth (good for the obvious)
Crystal Baller (to open the third eye and heighten
psychic ability)
Lucidity Over Adversity (clarity and strength)
As soon as Bevan put her candles on the shelves, they sold like mad. She's even making (for a few dollars more) custom designs and commissions. 
But there was a lot of planning and work behind her overnight success. She had to perfect her soy recipe, the right amount of herb or spice or essential oil. To that she added a crystal or stone appropriate for the spell. Voila! A beautiful, fun, fragrant work-of art.
On Bevan's design table is a holiday family gathering/ancestral love idea. Stay tuned to Natural Selection's social media for its unveiling.
Candles and additional products are shippable. Give Bevan two weeks lead time for custom work. She will also wrap with hand stamped papers and trim with adorable ties.
Bevan also enjoys offering a line of pre-made candles that she designs for the area:
Main Street Candle (when matching our town's personality to scents, the earthy; fragrance of amber musk and sage are a perfect match);
Sunset Rock Candle (leather, tobacco, amber, and musk);
Whiteside Candle (pear and redwood);
Nantahala Woods (evergreen and birch wood);
Appalachian Christmas (evergreen, spearmint,
and eucalyptus);
Next time you need something spelled, visit Natural Selection and light up a world of magic and fragrance – and light up your life.
Call her at  (828) 421-3546 or visit Facebook or Instagram: Naturalselectionnc.
by Donna Rhodes
---
---