Journey Back To Joy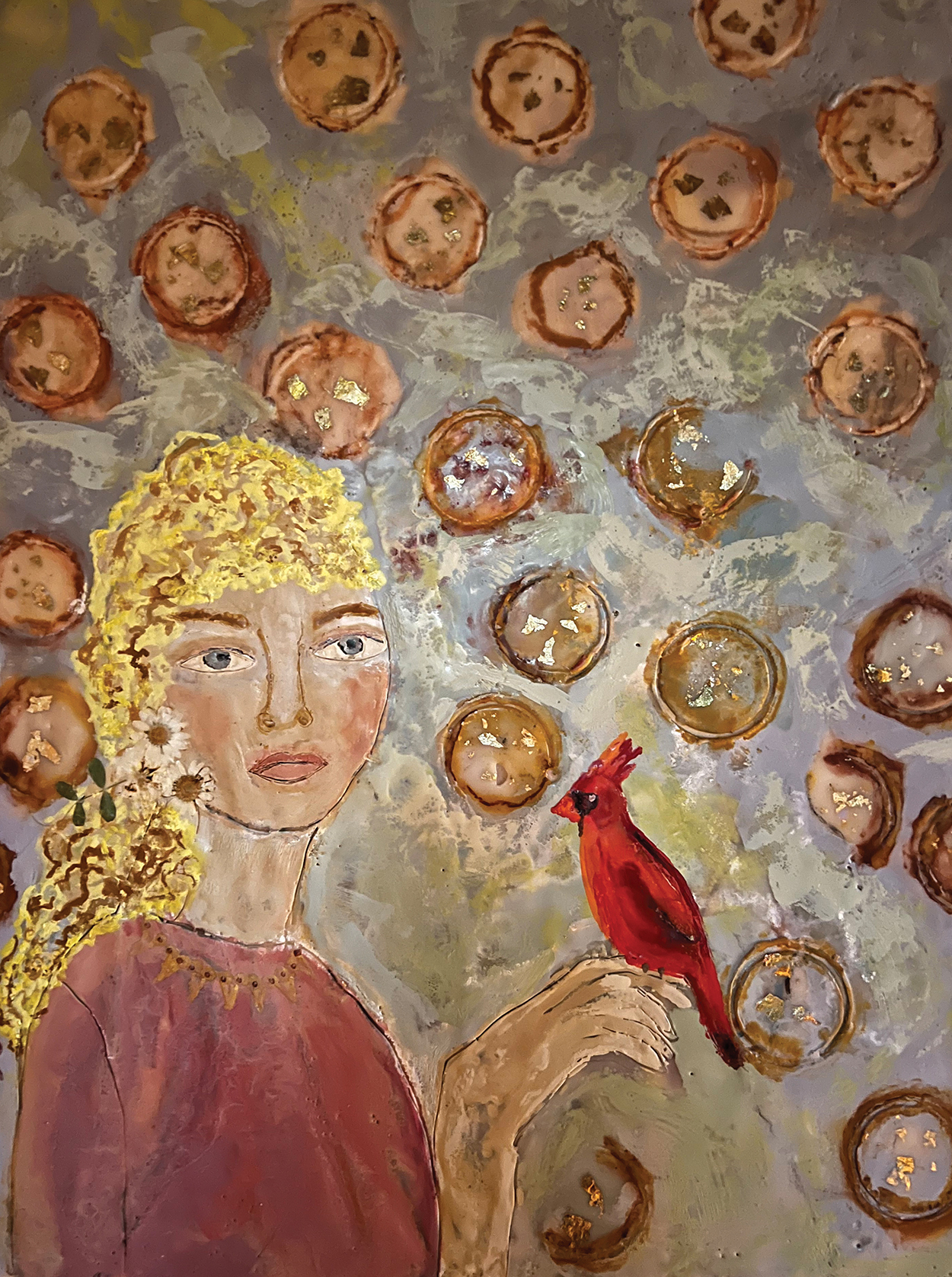 Written By: Donna Rhodes | Issue: August 2023
No matter where she finds herself, artist Penny Pollock is in the midst of beauty.
---
Encaustic, mixed-media painter Penny Pollock opened our interview with these dreamy words: "I am overlooking Puget Sound and the Olympic Mountain Range. It's 7:00 A.M. and the air is misty. Just misty. Hummingbirds are circling everywhere. Goldfinches and bunnies are plentiful, and so are deer." 
Across the country, all the way from the Pacific, I could feel Penny's spirit, wrapped in a swirl of beauty, birdsong, and magic. 
If you need a geographical re-fresh, Puget Sound is the large saltwater estuary in the state of Washington, Pacific Northwest. Many concur that that area's about as close to heaven as one can get. When you view Penny's images, her magnetic pull to places like the Sound makes perfect sense. Her Kahlo-esque paintings are filled with colors of the wild, animals galore, the spirit of Nature, and figures with engaging eyes, often reflecting the feminine and the wonder of Life.
But even with the joyful images of Penny's collection, this year has been a challenge. To keep focused, she immersed herself in her work, throwing all she's got into her art. 
She says, "My recent work, Spirit and Hope, features a young woman holding a mourning dove. It symbolizes the connection of peace to hope and spirit, and the enthusiasm of starting over." 
Penny shares her discoveries with those who resonate with the natural world. "I am on a journey of gifting to people through my work. The lesson is seeing and sensing. It's the message in my art… to remind viewers to take a moment to be silent and become one with their surroundings. Go to a park or the woods and use eyes, ears, and touch to re-engage with the world."
Mixed media is her conduit for her messages. She says, "I use a lot of recycled paper. Japanese paper. Rusted paper. (Recently, Penny's good friend Donna Woods rusted paper towels as a birthday gift. The towels became the wardrobe for her women.) Add to that dried botanicals. Feathers. Old journals. Antique ledgers. Stencils. And jewelry. Every so often the local land surrenders flakes of mica that, placed in an artwork, mirror precious gems.
To see more of Penny's work, visit Instagram and Facebook, pennypollockart. Her website, pennypollockart.com, has options to create canvas prints, cards, pillows, etc. using images from her paintings. If you are in Atlantic Beach, Florida, catch her work at Archway Gallery. Locally you can visit her studio by appointment – call (805) 798-1418. She's also available for small group workshops. 
---
---