Immerse Yourself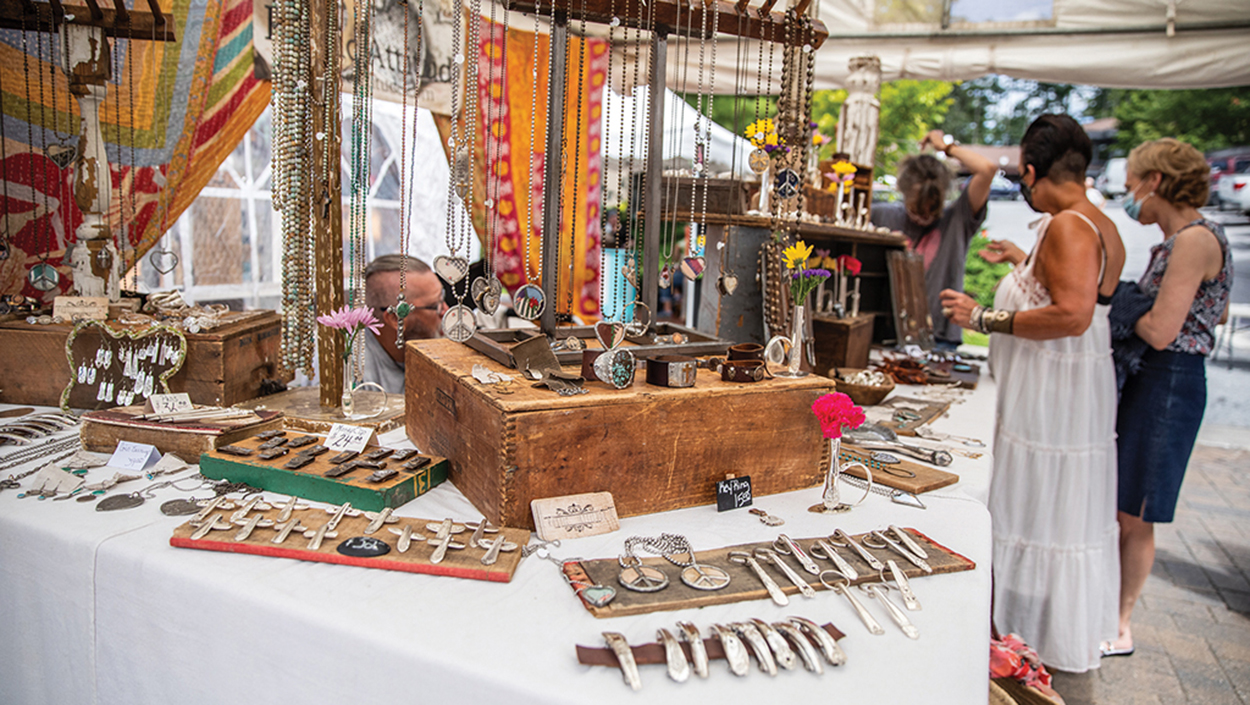 Written By: Mary Jane McCall | Issue: May 2023
Highlands Mountaintop Art and Craft Show will be staged at Kelsey-Hutchinson Founders Park, June 24 and 25. This year, it comes with its own soundtrack.
---
There are craft shows and then there is the Mountaintop Rotary's Art and Craft Show held on June 24 and 25 and again on August 26 and 27 at Kelsey-Hutchinson Founders Park on Pine Street in Highlands. This is a craft show and more – think street festival where you can immerse yourself in the best of mountain heritage.
This two-day event is in its 18th year and each year visitors and locals alike have enjoyed the unique one-of-a-kind art and crafts presented by the region's most talented artisans and craftsmen.
This year, visitors will find much new as Mountaintop Rotary members have worked tirelessly to expand and re-energize the weekend show beyond the confines of a traditional craft show to include the best of mountain music and dance.
Mountaintop Rotary Chair Cath Connolly Hudson studied similar events across the nation and found that the addition of live entertainment was instrumental in ensuring a show's continued growth, enjoyment, and success, so they have quite a lineup scheduled for both weekends.
Featured in June will be music by local bluegrass favorites, Nitrograss.  These talented musicians are one of the best bluegrass bands around, and we don't bandy that praise lightly. Come see them and you'll know what we mean.
There will also be a clogging contest on Saturday that will be judged by Highlands' own Ginger Mosley, a former national champion clogger with the Southern Precision Dance team, so dust off your clogging shoes and see if you can still cut a rug.  If line dancing is more your style, they've got you covered as well as there will be a line dance contest on Sunday, coordinated and judged by Susie Flaherty.
The event is free, but donations are accepted and encouraged as it is Mountaintop Rotary's largest fundraiser and allows the club to achieve its goals of helping families and children in need, both locally and internationally. In the past year, they have built beds for children in Ukraine, provided clean water for children in Mexico, and donated hundreds of coats and shoes to families in our own community.
Each weekend also features a Silent Auction with generous donations from the artisans in attendance as well as from our community, so look for your favorite item, make a bid, and cross your fingers that you'll have the winning bid.
For more information on the show visit highlandsartshow.com or visit their Facebook page for the latest updates.
---
---