How Many Trees?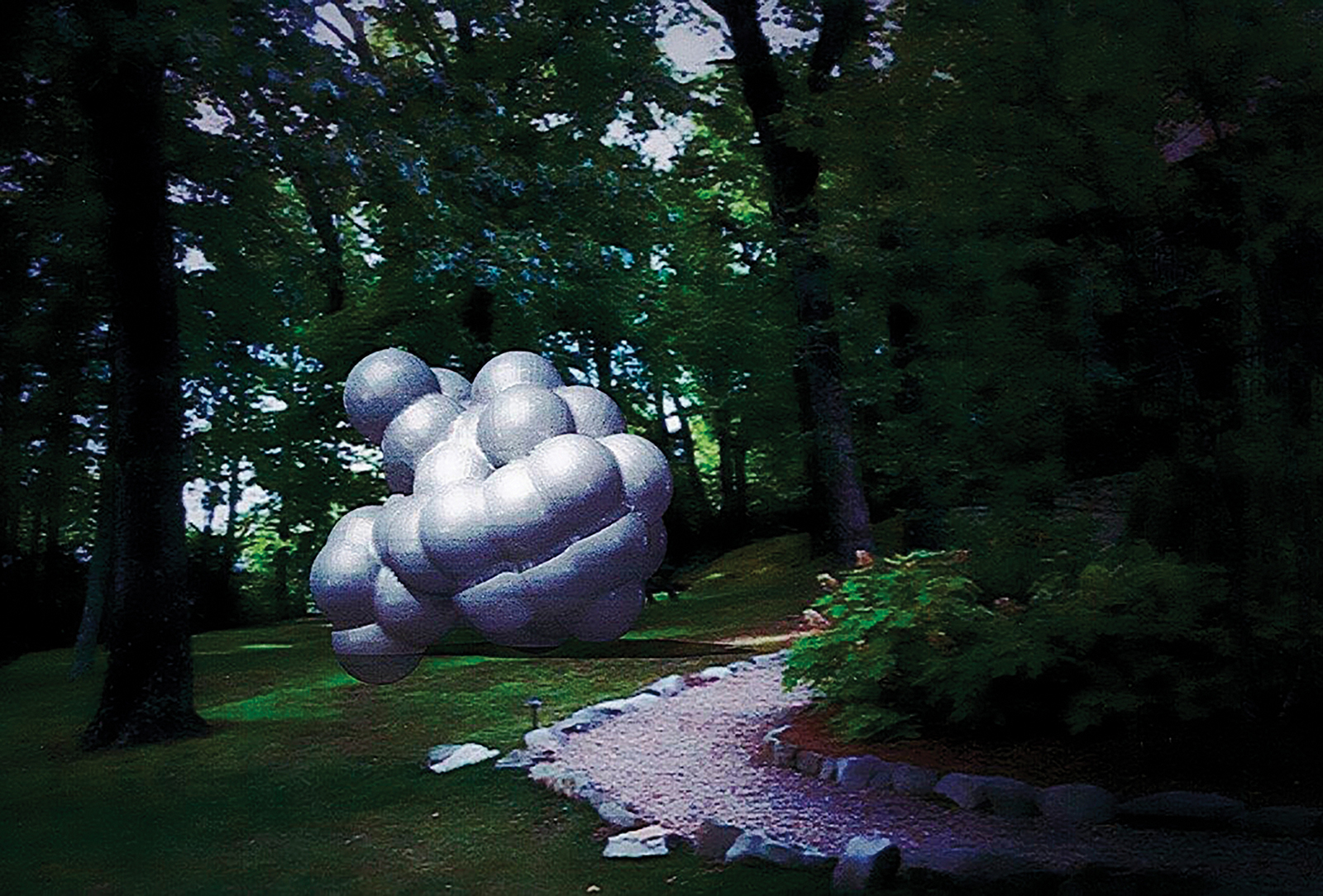 Written By: Donna Rhodes | Issue: 2017/07 - July
As much as we talk about going paperless, we continue to stumble around in an avalanche of print-outs, business forms, handouts, cancelled checks, receipts, memos, packaging, statements, and paper trails from here to eternity.
Society is so overwhelmed by paper (and plastic) it's numbed out to it. Photographer Anna Norton and sculptor John Melvin are using their artistic resourcefulness to raise awareness about this mountainous problem.
They are collaborating on a temporal construction entitled, "How Many Trees?" It's built out of willowy tree limbs (original tree parts,) and paper, (a by-product of tree parts).
John (you may know from his "Mountain Top Sculpture" on The Bascom campus) is constructing a tree-limb frame supported by large inflated balloons. It is being covered by recycled paper from local businesses. The paper is soaked in a flour/water paste much like we used in grade school to make Papier-mâché (French for chewed paper). Once the paper surfaces harden, the balloons will be popped and removed to create an internal space for viewers to investigate, making the piece viewable inside and out in
real time.
Taking it one visual step further, Anna, noted for her exceptional work in time-lapse photography, is preserving the project on film as it slowly interacts with sun, wind, and rain. The ephemeral light, translucent through the weathering paper, is a visual dance with Mother Nature. After the environment reclaims the sculpture, the finished time-lapse video can be viewed online.
"How Many Trees?" will celebrate Old Edwards Inn and Spa's initiative to create a smaller environmental footprint through its own recycling/sustainability program, and also create awareness to inspire broader community-based action in the form of an active recycling program in Highlands-proper.
Visit the work soon for it won't last long …and that's exactly what the artists intend. Experience Beauty, even in reclamation. Free and open to the public.
For more information about the artists and the project visit these sites: facebook.com/AnnaGNortonPhotography, and facebook.comJohnKennethMelvin, johnkmelvin.com, annagnorton.com, oldedwardsinn.com/calendar. Or call (267) 825-0716 to inquire about how you can contribute materials or time. Visit 200Main.com/HowManyTrees.
---
---